3,527 properties found
Page 1 of 294
Looking for the best homes for sale near Orlando FL?
The greater Orlando region is truly a wonderful place to buy a home, property or land. The area draws in millions of tourists a year and is home to some of the most famous theme parks in the world. Whether you're looking to relocate, buy a vacation home, or invest in a rental property, Orlando is the right place for you!
Why Buy a Home For Sale Near Orlando FL?
There are so many reasons to buy a home near Orlando, invest in an investment home or simply move there. Real estate is absolutely booming as more and more new homes for sale near Orlando Fl are becoming available, the weather is beautiful almost year round and the cost of living is low. Additionally, Orlando is a major, international travel hub with everything to offer in the way of food, entertainment arts, culture, music and sports. Furthermore, when you consider homes for sale near Orlando Fl all of these amazing opportunities for a full and well-rounded lifestyle become instantly available. Talk to the Authentic Real Estate Team today about real estate near Orlando Fl.
Great home prices near Orlando Florida
Orlando offers fantastic prices and inexpensive homes near the bustling city and also in the surrounding area closer to nature. Houses for sale in Orlando Fl near Disney are surprisingly within most family budgets. This city and the neighbouring areas offer affordable homes that are quality and new. Typically, you will find incredible single family homes, large pool homes, condominiums and townhomes in every community. Real estate here is "hot" and home values keep increasing.
Of all of the major Florida cities, Orlando is the best for great homes at even greater prices. Miami, by contrast, is quite expensive with price points similar to those of properties in New York and Boston. Orlando is exactly the right place to find your dream real estate near Orlando.
Great Schools Near Orlando
The communities around Orlando offer amazing educational opportunities for the children of central Florida. Schools here, private, public and charter, all offer quality education for students. There are 99 public elementary, middle and high schools as well as 214 private schools. Continuing on, some of the top-rated Florida schools can be found in the Orlando area. These schools are have high academic performance and equity.
Because the educational standard of the community is so high, the overall quality of residents living in these communities are equally strong. Teachers here are dedicated to the health, well-being and success of their students and "great communication" is often cited by pleased parents of Orlando children and students.
Best Locations Near Orlando FL
Orlando's central location makes it an excellent and easy city to travel through and to. Getting around Orlando and to the Florida coasts is fast and convenient. Orlando is known as an "inland beach empire." Heading both east and west from Orlando directs you to an amazing soft, pearly Florida beach. Beaches on central Florida's west coast include Clearwater Beach and Anna Maria Island on the Gulf of Mexico. On the east coast are Melbourne Beach, Cocoa Beach and Daytona Beach which all border the Atlantic Ocean.
All of these gorgeous, pristine beaches are just an hour's drive from houses for sale near Orlando Fl.
For instance, other beautiful beaches all within reach of Orlando are Canaveral National Seashore and New Smyrna Beach.
Additionally, homes for sale near Orlando FL are well connected to the city and all that it has to offer. From your Florida houses for sale near Disney, you can ride Space Mountain at Walt Disney World, explore the Kennedy Space Center, and meet sea life at the Orlando Aquarium all in one day.
Orlando Great Weather

Florida truly does have the best weather in the country. Orlando residents usually lead outdoor and active lifestyles simply because the weather allows. For example, central Florida experiences a long summer season and then a short winter. Water sports, golf, tennis, running, cycling and hiking are almost always possible. Use your pool home year round and enjoy the general ease of doing water sports whenever you please.
Because the weather in Florida is sunny and mild, people are happier and rates of depression are lower. Southern US states experience the benefit of subtropical weather patterns and the lifestyle that they allow.
Additionally, Orlando is perfectly located to provide protection from harsh winds and storms that sometimes pass over the Southeastern United States. Whenever hurricanes do pass over Orlando, they are greatly reduced to a much lower scale. The reason being is that hurricanes hit the coast lines and then break there. Orlando is well protected because it is inland and therefore much safer from hurricanes.
Very Safe to Live
When you buy a property near Orlando or in and around the greater Orlando area, you get not only comfort but also safety.
Orlando is ranked as a safe, American city. That is, residents of the Orlando region report feeling secure and at ease. This is largely due to the fact that Orlando is an extremely family friendly place.
Orlando's safety is one of the numerous reasons why it continues to grow and attract new residents every year. Orlando is ranked 51 out of 162 cities on the US index of safe cities. There are very few areas to avoid in Orlando with most of the city and surrounding area being residential with a great sense of community.
Family Oriented Place
One of the most important and notable characteristics of Orlando is that it is a family friendly city with balance and calm but is has lots of entertainment and useful amenities. The greater Orlando area is incredibly family-centric. Many central Florida residents have families and live in single family households. This shapes the culture and atmosphere of the Orlando area. In contrast, Miami, while also a pleasant place to live, attracts younger singles because of its beach culture.
However, Orlando, has a reputation for being a very nurturing place to raise well-educated, independent and worldly children. It is a city that makes health, safety and the closeness of its community its top priorities. Additionally, Orlando is home to some of the best public elementary, middle and high schools in the country.
Unending Things to Do
Orlando is known for its unlimited entertainment possibilities including theme parks, water parks, aquariums, museums, golf courses, and athletic centers. Race around Orlando's prime go-cart tracks at Fun Spot America, be amazed by the weird and fantastic at Ripley's Believe It or Not, and enjoy the most stunning view of Orlando from The Eye at the ICON centre Orlando. Whatever your desire, you are sure to find it in Orlando. Orlando truly is a city of entertainment and fun for everyone, young and old!
Restaurants Near Orlando
If you are driven by your appetite, the Orlando area certainly won't disappoint. Orlando is home to some of the best, five-star restaurants in Florida. If sushi and seafood are what you are craving, Kadence is the place to be. Kadence is a high class Japanese restaurant featuring multi-course sushi meals and world-renowned sake. If something hearty is on your mind, then Kres Chophouse is sure to please. Get amazing, perfectly cooked steaks in a historic building with delicious happy hour and late night dining. Santiago's Bodego offers a wide array of tapas-style dishes in a gorgeous and colourful restaurants with a full bar and patio. Whatever your taste, Orlando has it!
Nature
Orlando is a beautiful city but for those seeking natural beauty, the area surrounding Orlando offers incredible natural parks and preservations. The Tibet-Butler Preserve is the stunning representation of Florida's natural ecosystem. Here visitors find an abundance of Florida's native plantlife and wildlife. Lake Eola Park offers activities for the whole family including paddle boat rentals and often hosts Orlando races. The Walt Disney Ampitheater is located here and often holds concerts, movies and plays in the beautiful outdoors. Whatever nature adventure you're looking for, you're sure to find it just outside the Orlando area.
The Best Areas Near Orlando to Buy Properties

The Orlando area consists of 115 wonderful communities and neighborhoods, each with its own personality and flair. Some of the best Florida real estate is located in Celebration, Winter Garden, Windermere, Winter Park, Champions Gate, Clermont, and Kissimmee. World-class, new condos, townhomes, and cheap homes for sale near Disney World are available for interested real estate investors, families and retirees.
Homes For Sale In Celebration
Celebration is a masterplanned community with about 8,000 residents. It is an amazing neighbourhood that offers the best schools, fun things to do for the whole family, parks and dog parks. In downtown Celebration, there is a small lake for casual fishing and lots of beautiful, diverse restaurants that can host your family or celebration. Celebration events are also very popular. For example, the Fourth of July celebration in Celebration is out of this world and its Exotic Car Festival is known internationally. Every Sunday, a Farmers Market comes through Celebration offering fresh produce, cheeses and artisans products grown and made my local farmers and community members.
See In Celebration Flórida Homes For Sale
Homes For Sale In Winter Garden
Located just Northwest of Walt Disney World, this growing and developing family-oriented community has fantastic schools and properties selling at the best rates. Houses for sale in Orlando Fl near Disney offer lots of great shopping at the Winter Garden Village has a variety of open air shops and vendors suited for every kind of shopper. Hamlin Town Center in Winter Garden also offers a broad range of stores and shops, casual dining and live entertainment. Here, you'll find everything from Super Walmart to the luxurious cinema experience, Cinepolis. Winter Garden is truly one of the most beloved communities in the Southern Orlando area.
See All Homes For Sale In Winter Garden, Fl
Homes For Sale In Windermere
Windermere, a small town in the surrounding Orlando metropolitan area. It has a modest population of only 2,500 people and sits on 1.6 square miles of majestic Florida land. What makes Windermere most unique is its natural environment as the town sits on an isthmus between several lakes in the Butler Lakes chain.
Homes for sale near Orlando located in the Windermere community are absolutely beautiful with most offering water or lakeside views. You'll find an array of modern single family homes and townhouses for sale at very affordable prices as well as large luxury homes with gorgeous architecture. Windermere is continuously voted one of the most niche and beautiful places to live in suburban Orlando.
See In Windermere Homes For Sale
Homes For Sale In Winter Park
Winter Park is a high-end community located right next to downtown Orlando. Downtown Orlando itself mirrors Manhattan in architecture and feel and offers a young professional culture. The famous financial district is located here as well. However, just outside of the downtown area in Winter Park, you will find that the pace of life changes.
Winter Park is being rebuilt for buyers seeking lakeside luxury. The homes here are spectacularly decadent and offer a beautiful refuge for retirees looking for poshness and class.
There are many place to spend downtime in Winter Park. Plant Street Market is famous for its diverse array of shops, each offering quality products, fresh artisan specialties, live music, entertainment and event.
You'll also find the best schools here that offer state-of-the-art facilities, small class sizes, and advanced curriculums in Winter Park.
See All Homes For Sale In Winter Park FL
Homes For Sale In Champions Gate
Champions Gate is the premiere neighbourhood on the rise in suburban Orlando. This unique community offers the best and most diverse shopping experiences and entertainment for tourists, families, children and adults. Here you will find some of the most colourful range of real estate that includes luxury townhomes, condos and single family homes. This beautiful residential community is known for its incredible golf course views and is spread across central Florida's rolling hills.
Most famously, Champions Gate has a massive, entertainment clubhouse open to all residents and renters of the community. This clubhouse called Oasis has pools, fitness centers, cabanas, sports courts and events almost every day of the year.
See In Champions Gate FL Homes For Sale
Homes For Sale In Clermont
Clermont is one of the most historic Orlando settlements and is known for its pristine lakes and picturesque hillside. It has earned the nickname "the gem of the hills." Its various amenities make it an attractive place for families, retirees, business owners and investors.
Situated just 24 miles ease of downtown Orlando, Clermont in Lake County is one of the best places to live and retire. It offers a sparse suburban atmosphere with good public schools for the many families who live here. Clermont is only 30 miles from Orlando International Airport, 19 miles from Universal Studios, and 15 miles from Walt Disney World. It is home to the President Hall of Fame, the Florida Citrus Tower and Waterfront Park.
Homes here range is architectural style and design with modern touches and newly developed blocks. They range in size and price from 250,000 to 600,000 providing Orlando residents and families with a high quality of life and beautiful homes.
See All Homes For Sale In Clermont FL
Homes For Sale In Kissimmee
Kissimmee is home to the most vacation homes out of all of the regions in the greater Orlando area. Located just south of Walt Disney World, this city offers exceptional homes at affordable prices, an airport, and stores aplenty. This city is known for both its thrilling and unique experiences as well as its low-key character. It is located just miles from the famous Orlando theme parks but offers stunning nature and views of the Northside of Lake Toho. Kissimmee Waterfront Park has walking paths, playgrounds and a fishing pier for the whole community to enjoy.
Real estate here is highly affordable at 11% below the national average. This community is dotted with single family homes, townhomes and condos. They range in size and average about $250,000. Homes here are both new and belonging to well established neighbourhoods.
See All Homes For Sale in Kissimmee FL!
Homes For Sale Near Orlando Disney

Disney appeal is a real asset to real estate in the Orlando area. Living near Walt Disney World or owning a property near this famous theme park can be a great investment. Tourists and Florida visitors are always eager to stay near the most magical place on Earth. That is to say, when you buy or invest in homes for sale near Orlando Fl you're sure to reap a high return on your investment.
See In Orlando Houses For Sale Near Disney World
Homes for Sale Near UCF in Orlando
UCF, or the University of Central Florida, is the second largest university in the entire country. It sits just Northeast of Orlando and brings advanced research, student life and positive investment opportunities to the area. With 63,000 students, UCF is almost a city of its own. Homes for sale near UCF benefit from student life and university activities such as NCAA football, football and soccer games.
Homes for sale near UCF Orlando Fl are beautiful and range in price and size. Rental properties are also available for those interested in turning their home, townhome or condo into a hybrid investment.
See All Homes For Sale Near UCF In Orlando
Homes For Sale Near Universal Studios Orlando Fl
Universal Studios is located exactly in the heart of Orlando. Universal Boulevard and International Drive both attract hordes of tourists throughout the summer. Homes for sale near International Drive Orlando Fl are extremely popular and continue to increase in value year after year. This is because International Drive is a busy commercial area that is also home to Orlando's most popular theme parks like Walt Disney World and SeaWorld as well as The Wheel at ICON Park Orlando.
However, if you step just outside of the Universal Studios area, you will find the peaceful community of Dr. Phillips. In this incredibly high-end neighbourhood, just on the edge of Universal Studios, you'll find the most famous, five star restaurants in the city along with great schools and amenities. Homes for sale near Universal Studios in Dr. Phillips are in the middle of all the Orlando action while maintaining its pleasant neighbourhood feel.
See All Homes For Sale Near Universal Orlando
Homes For Sale Near Orlando Airport
Lake Nona, located right next to Orlando Airport, is another comfortable and high-end community. This well-connected community designed and built for the future. This area is well known for its medical city complex which houses five brand new hospitals. As one of the largest medical centers in the US, Lake Nona attracts the best researchers and medical professionals from around the world. Houses for sale near Orlando Airport benefit from easy international travel access and the thriving international medical community.
The USTA headquarters are also located in Lake Nona near Orlando International Airport. Currently over 100 tennis courts are being built at the USTA properties for aspiring tennis professionals to practice and hone their skill. Lessons are also provided here for those looking to pick up a new hobby. There is even an indoor tennis complex for days with inclement weather.
With the Lake Nona medical complex and the USTA headquarters bringing in visitors, tourists and industry, homes for sale near Lake Nona Orlando Fl are highly sought after and readily available for interested buyers and investors.
See All Homes For Sale Near Orlando International Airport
Take a Look: Homes For Sale Near Orlando Fl With Pool
Owners of homes for sale near Orlando Fl have the amazing benefit of the subtropical climate of the southeastern United States. Summers in central Florida are hot, long and sunny whereas winters are calm, short and mild. For this reason, many homes for sale near Orlando Fl come with heated pools.
As a Florida resident and homeowner you are free to use your Orlando-area pool home for all sorts of fun water activities year round. Host pool parties and barbecues even in December. Most homes for sale near Orlando Fl with pool have a special pool enclosure called a linai to keep out mosquitoes, bugs and other pests. Enjoy your pool time without any annoying buzzing and swatting.
Homes for sale near Orlando Fl with pool have added value and increase in worth over time. On average, a pool adds a five to eight percent increase in value to home properties. You and your family can enjoy swimming in the comfort of your home even in colder months like January and February. Take comfort knowing that your pool is actually increasing the value of your investment.
See All Houses For Sale In Orlando, Florida With Pool
Luxury Homes For Sale Near Orlando FL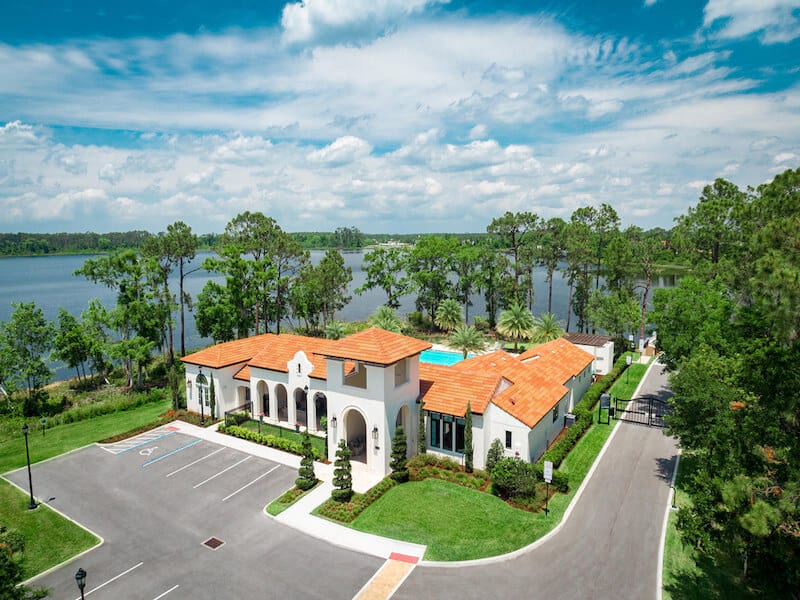 Orlando is known for its theme parks, tourist appeal, amazing lakes and surrounding nature. However, Orlando is also becoming more popular and notable for its luxury homes and properties. Land for sale in Florida near Orlando is relatively cheap and readily available which allows for the planning and development of many luxury homes. Some of the Orlando area communities that offer the most high-end properties are Bella Colina, Lake Nona, Kings Pointe and Reunion.
See All Luxury Homes For Sale In Orlando
Homes For Sale In Bella Colina and Lake Nona
Bella Colina is a high-end gated golf community offering new homes, luxury estate homes and best-class condos spread out across 1,900 acres of sparkling lakes and rolling hills. Lake Nona is a community ahead of its time. That is to say, this 17 square mile planned community is just southeast of Orlando International Airport and is also home to Lake Nona Golf and Country Club. Luxury homes for sale near Lake Nona Orlando Fl are waterfront estates with breathtaking views, huge windows and bedrooms in the double digits.
See The Best In Bella Collina Homes For Sale
See In Lake Nona Golf And Country Club Homes For Sale

Homes For Sale In Keene's Pointe
Likewise, Keene's Pointe is another charming, luxury home community sitting on the shores of Lake Tibet Butler. Keene's Pointe residents enjoy world class amenities, a massive clubhouse, a Jack Nicklaus Signature golf course, and recreational facilities. Here you will find fourteen unique mini-neighbourhoods each offering its own style and flair. Luxury homes for sale near Orlando in Keene's Pointe benefit from extreme privacy, great dining, shopping and the best amenities.
See In Keene's Pointe Homes For Sale
Homes For Sale In Reunion FL
In a similar vein, Reunion is yet another luxury community in the Orlando area. It offers modern, state-of-the-art luxury properties. Here home owners get luxury at its finest in close proximity to all of Orlando's major theme parks and attractions. Find the perfect luxury condo or house here and benefit from the wonderful Orlando lifestyle.
See In Reunion Homes For Sale
Looking Houses For Sale Near Orlando FL? Talk With The Best Real Estate Agent!
Above all, when you're looking for real estate near Orlando, there's only one team to call! The Authentic Real Estate Team specialises in helping buyers and investors find their dream home or property. We have the best listing in all of the major communities near Orlando. Homes for sale near Orlando have never been easier to find with the help of the Authentic Real Estate Team. Talk to your real estate agent today.
The Best Orlando Real Estate Agent
Buy a Property near Orlando with the Authentic Real Estate Team
The Authentic Real Estate Team can do it all! From searching and buying to renting and financing, our team is the most trusted and qualified in the Orlando area. Call us today!
The Authentic Real Estate Team has years of experience in selling, buying, renting and maintaining homes, apartments, condos and townhomes in the greater Orlando area. Our team are Orlando's real estate experts and we strive to understand all of our clients to meet their unique needs. We do thorough preliminary research to help you find your ideal home.
The Best Houses For Sale In Orlando Florida!
Expertise, Booking Assistance, and Trust
Our sales expertise benefits all home buyers and property investors interested in homes near Orlando Fl. We are trained to help people buy, maintain, and enjoy Orlando properties.
The Authentic Real Estate Team always goes the extra mile to provide after sale booking agent assistance. This service is owned and operated by the Authentic Real Estate Team. Orlando Vacation Rent focuses on helping property owners lease out their properties to quality renters. The Authentic Real Estate Team and Orlando Vacation Rent provide complimentary services for all of your home ownership and home rental needs.
In addition, we also provide expertise for foreign and out-of-state buyers and know the administrative and legal processes for these specific clients and their needs. The Authentic Real Estate Team does everything within our power to make Orlando home ownership dreams comes true for all.
Finally, the Authentic Real Estate Team is trusted and well-connected to the best Orlando vendors. We have long-standing relationships with management companies, home maintenance companies and cleaning services. Our list of vendors for all of your property needs includes pool cleaners, home care services, maintenance and cleaning services. Orlando's local accountants, lawyers, partners, financing consultants and lenders are here to help you get the most out of their property investment.