Lake Nona Homes For Sale by Orlando Homes For Sale

Sorry we are experiencing system issues. Please try again.

Orlando Homes For Sale Clients Testimonials
Lake Nona Medical City: A Brief History
The concept of a medical city inside of Orlando emerged in 2005, when the Tavistock Group made a donation of $12.5 million and 50 acres of land to enable the construction of a medical school for the University of Central Florida.
The move was approved by the Florida state government, and it was decided that the Lake Nona area would be the home of the new College of Medicine, as there were already many research centers close to each other.
In 2009, the college was inaugurated.
Three years later, another 25 acres of land were added for the construction of a teaching hospital.
This hospital brought even more strength to the college.
The Lake Nona medical city goes beyond buildings and institutes focused on health.
All its planning was done so that, long after the construction of the medical school, a successful community could flourish.
And that's exactly what happened.
Today, thanks to a smart layout, Lake Nona Medical City maintains a balanced mix of medical centers, commercial and residential areas, and the beautiful lake that gives the region its name.
It's no wonder Lake Nona is recognized as a success in urban planning!
According to Forbes magazine, Lake Nona is the most successful technological center in the United States, mainly due to the extensive planning, that has resulted in quality of life for thousands of residents.
Another point worth mentioning is that 40% of the total area of Lake Nona was reserved for parks and lakes.
While an interesting fact about Lake Nona Medical Center is that they are trying to find a cure for cancer.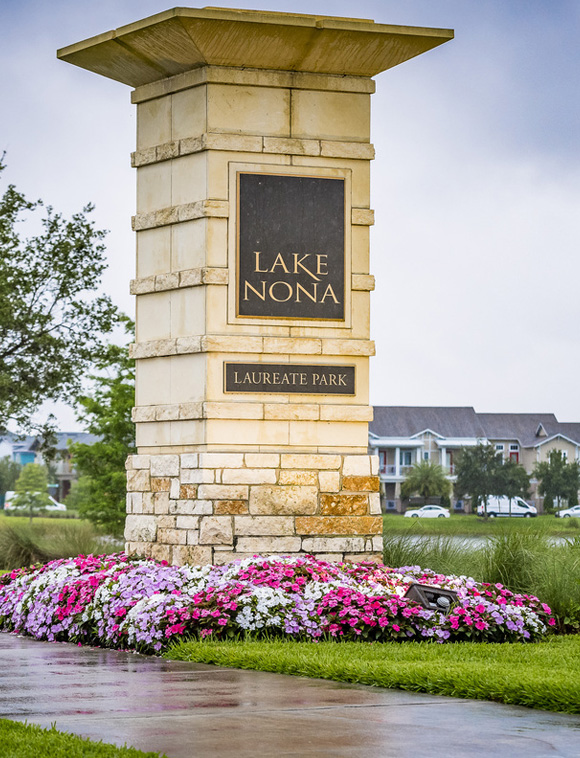 Where is Lake Nona?
Lake Nona is a community in Orange county, in the city of Orlando.
A differential is that Orlando International Airport is a few minutes southeast of the community.
Lake Nona Golf & Country Club is also located within the Lake Nona community.
The name of this community is due to the name of a lake that exists in the northern part of it.
Lake Nona Medical City contains several biomedical research and education centers, such as the College of Medicine at the University of Central Florida.
Several other private medical, government and educational centers are also located in the area.
The population of Lake Nona grew from just 1,500 in 2000 to more than 50,000 people in 2015.
Part of this population growth was due to immigration from Puerto Rico during the Puerto Rican crisis.
The Lake Nona community was divided into 4 neighborhoods:
Lake Nona Central - including Village Walk.
Lake Nona Estates - including Lake Nona Golf & Country Club.
Northlake Park - which includes Morningside and Water Edge.
Lake Nona South - including Medical City and Laureate Park community.
Education Village is considered a Lake Nona neighborhood, despite not being within the borders of the community.
Lake Nona High School and Valencia College Lake Nona Campus are located there
Why Choose Lake Nona to Buy Real Estate?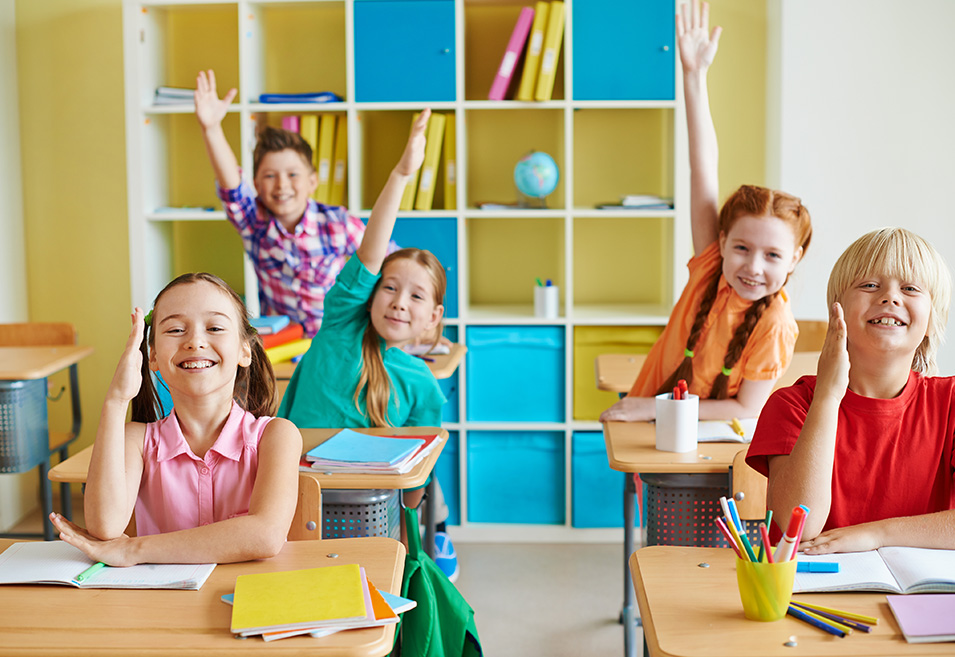 Great Schools
Lake Nona is a planned mixed-use community located southeast of the Orlando International Airport.
But, rest assured, despite being close to the airport, Lake Nona is not on their route.
So, there is no need to worry about aircraft noise.
Its location makes it convenient for all other points in the area.
Lake Nona has the main highways running through it, including 408 and 417, as well as 527A abd 528.
The Orlando Airport is 10 minutes away from Lake Nona.
If you want to see popular attractions, Downtown Orlando, or access the beaches on the east and west coast, Lake Nona can be a great starting point.
This 7,000 acre property began as a medical city in 2005.
Certainly, today, Lake Nona is the best option for those who want to live in the southeast of Orlando.
Medical City
If you live in Lake Nona, you can easily access the Medical City, which is known for its education, research and special care.
Lake Nona is home to the University of Central Florida Health Sciences Campus, Orlando VA Medical Center, Nemours Children's Hospital and the University of Florida Academic & Research Center.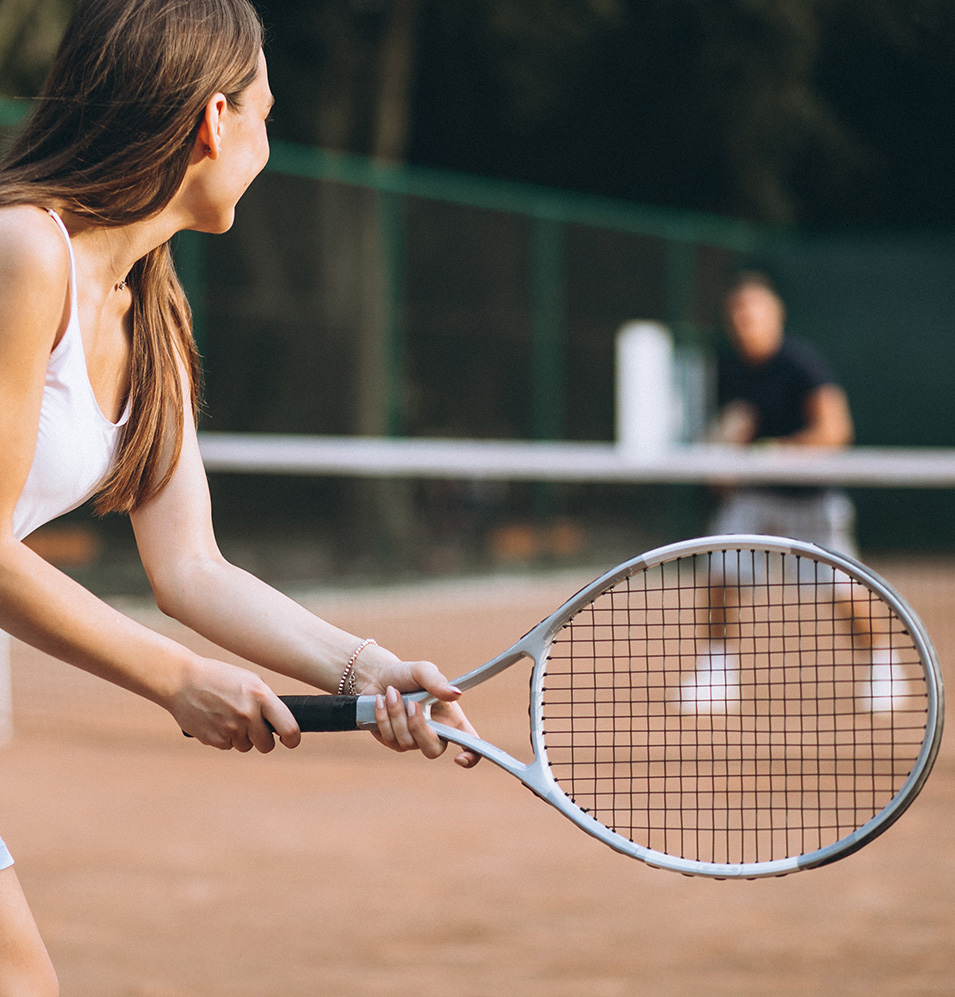 USTA National Campus
Lake Nona is known for being the home of American Tennis thanks to the USTA National Campus.
This is the place where tennis fans can come to watch, learn and play at one of the largest tennis facilities in the world.
The USTA National Campus has 100 courts spread across 64 acres, making the range of options for players quite impressive.
The campus offers peerless gaming, training and education experiences for recreational and competitive players, as well as for coaches and spectators.
More than 450 tons of red clay imported from Italy were used to create the six European blocks of red clay Terre Davis.
The university area, the new home for UCF's university tennis programs, is equipped with high spec lighting for televised events.
It also has elevated seats for 1,200 fans.
And the Nemours Family Zone is tailored for young players who are learning the game and offers numerous courts that are free to play with a reservation.
In the total, the campus features:
20 Team USA/League courts.
32 HarTru courts
16 Family courts
12 University courts
26 Smart courts with PlaySight technology.
Hours of Operation
The USTA National Campus is open:
Monday to Friday: from 7:30 AM to 9 PM.
Saturday and Sunday: from 7:30 AM to 5 PM.
Variety of Activities
Shopping will not be a problem at Lake Nona.
It offers many options, including an outdoor shopping mall.
Regarding restaurants, there is a wide variety of them featuring different cuisines.
If you are looking for fresh produce, Farmer's Market is the best option for you. Buying there, in addition to great quality products, you still support local sellers.
As for hotel options, there are plenty of accommodations to choose from.
These include the Courtyard by Marriot Orlando Hotel, the Residence Inn, as well as the Hyatt Regency.
Lake Nona residents can enjoy a wide variety of activities during their free time.
For those who love to play golf, they can visit Lake Nona Golf & Country Club.
There are also other championship quality golf courses in the area, like Eagle Creek Golf Club.
Moss Park, the largest park in Orange County, is located in Lake Nona, as well.
It's a popular place for people who want to enjoy the outdoors.
Moreover, if you love the arts, Lake Nona Town Center displays the arts, culture and even local produce weekly.
In addition, as 40% of Lake Nona's land is reserved for vegetation, hikers, runners and cycling enthusiasts can enjoy the 44-mile trail areas.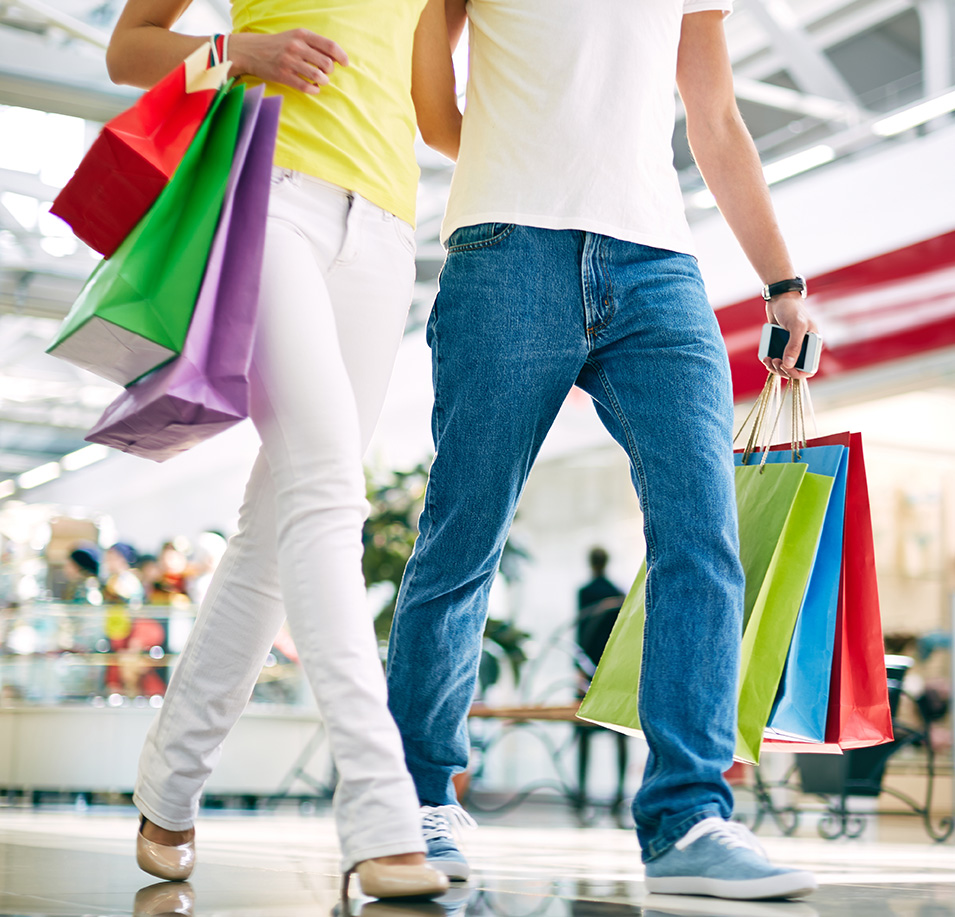 Growing Area
In addition to retail stores and recreational facilities, Lake Nona offers a wide variety of housing options.
The development of the Medical City area gave the area a great boost, as it opened up many career opportunities with high salaries.
Students also met in the field to study and train as medical professionals.
Family Oriented
Lake Nona is one of the best places to raise a family in Florida.
It's safe, has great schools, and plenty of social amenities.
Many of the things that make it great for families also make it great for retirees.
Whether you're a college student or a young parent, Lake Nona has lots to offer you.
Safety
The higher the population of a city, the more crimes it will have.
As Lake Nona is not in the city center, there are fewer people.
So, crime rates are low in all types of crime.
According to the FBI, here are some crime rates in Lake Nona:
Crime rates are 63% lower than the national average.
Violent crimes are 83% lower than the national average.
1 in 107 chance of becoming a victim of crime.
It is safer than 88% of the cities in Florida.
In addition, Lake Nona is a wealthy community.
The average family income is almost six digits.
So residents here are especially concerned with security.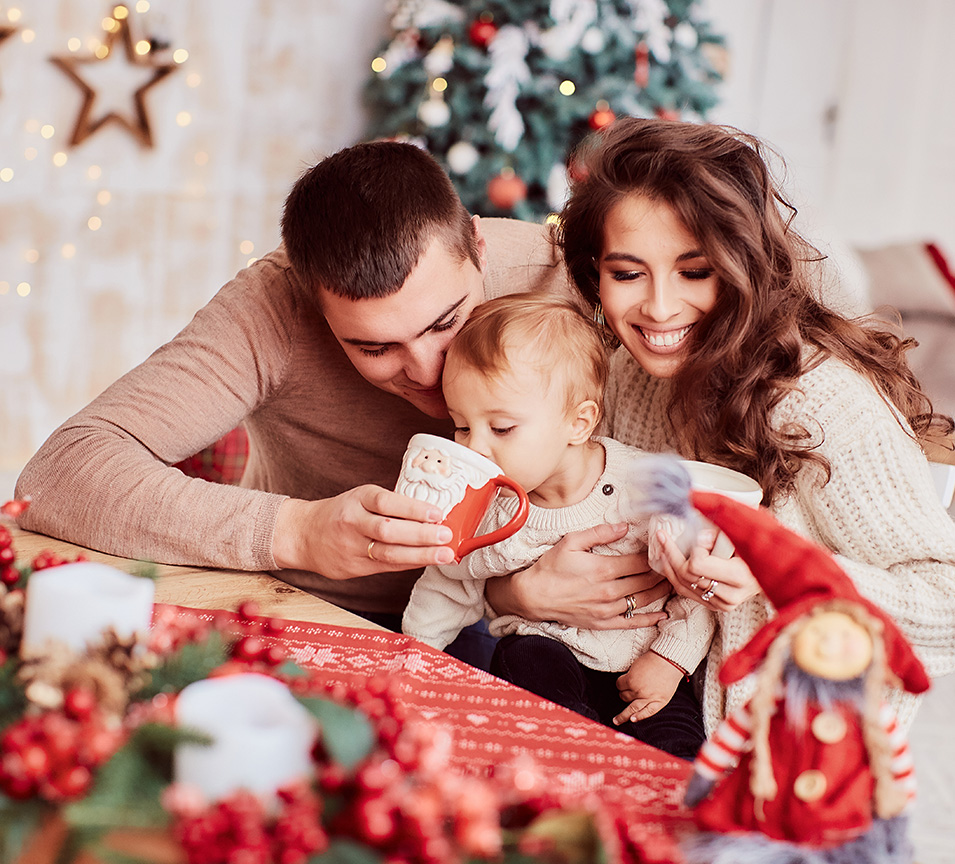 A Fun Fact about Lake Nona
In this digital age, having a fast Internet connection is essential.
Did you know that Lake Nona was recognized as the first gigabit community? This happened because, there, the speed of the wireless is 200 times faster than the average in the United States.
Lake Nona FL Communities - Homes For Sale!
Lake Nona Homes for Sale - Storey Park
If you're looking for a place to live out your own story, Storey Park was designed with you in mind.
Located in Lake Nona, it's just minutes from Walt Disney World and Orlando's main attractions.
It offers an attractive environment for families who are looking for good schools, safety, and a better quality of life.
With a recreational area designed to provide unlimited entertainment, your days in this community become even more fun with a friendly neighborhood to share stories.
From a luxury clubhouse with a wonderful swimming pool, to community courts with lots of life and contact with nature, Storey Park is without a doubt one of the best planned communities in the region.
Storey Park is a community that is friendly to nature.
Every house there should have a solar panel on the roof to save energy.
This saved energy goes back to the energy provider.
Making this community an energy-efficient place.
Property Types
In Storey Park, there are two types of buildings: single family homes and townhouses.
The single family homes are made with: 3 to 6 bedrooms, 2 to 4 bathrooms.
The price of these homes starts at $297,490.
They are quite large, from 1,765 to 3,950 square feet.
What about the townhouses?
The townhouses, by contrast, come with: 3 to 4 bedrooms, 2 to 5 bathrooms.
Their price starts at $262,490.
They are smaller than single-family homes, at 1,615 to 1,991 square feet.
But they're ideal for those who want a smaller and more cozy place to live.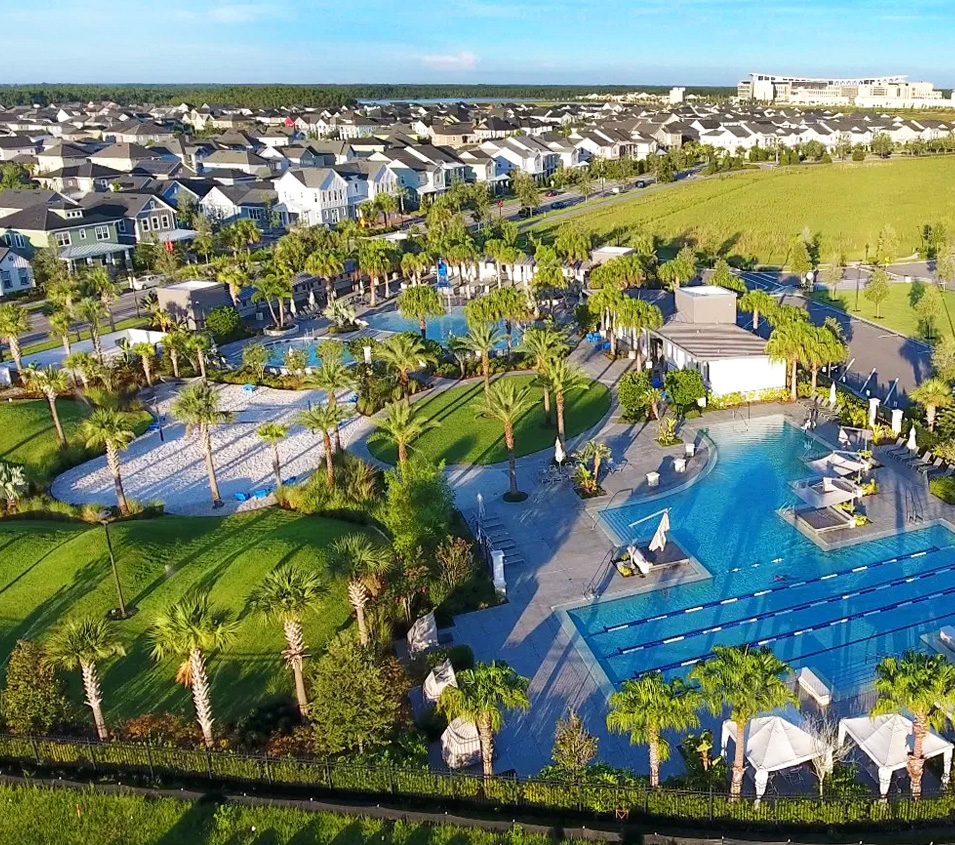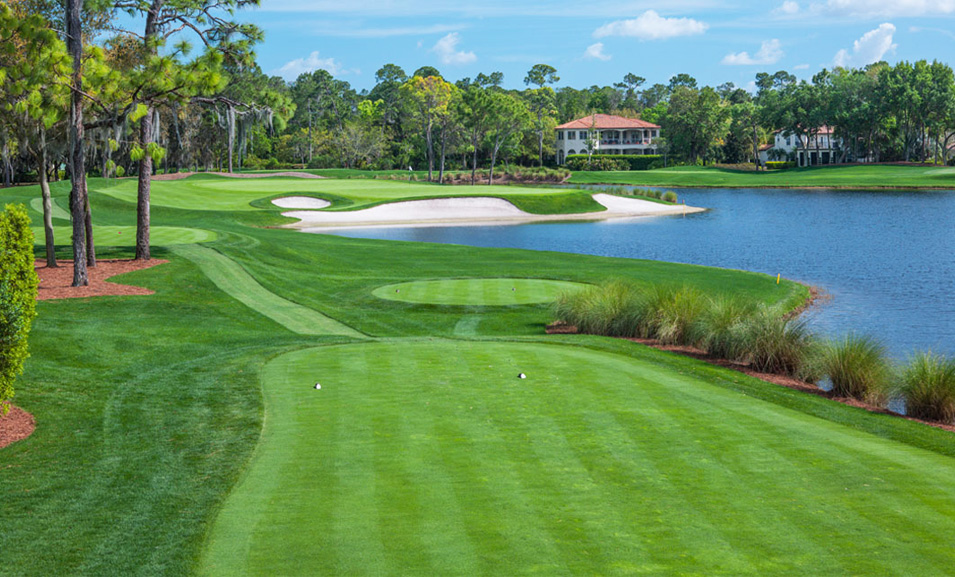 Lake Nona Homes for Sale - Lake Nona Golf & Country Club
With excellent amenities, exceptional family experiences and great service, Lake Nona Golf & Country Club community offers its members the highest quality of life in Central Florida.
A vibrant international population of members and residents enjoys an active lifestyle geared toward wellness, education, recreation and entertainment.
The Lake Nona Golf & Country club community offers great amenities, such as: a professional golf course, a 40,000 square foot clubhouse with an 18-room lodge, a Bath & Racquet Club with all-inclusive gym and tennis, a resort-style lakeside pool, a year-round children's program, 24-hour gated security and outstanding water-based recreation on a trio of waterways.
With easy access to the city's main road, the community is just minutes away from restaurants, nightlife and attractions.
As well as less than an hour from the beaches of the Atlantic coast.
For international residents, the community is a 10 minutes drive from Orlando International Airport.
A fun fact about Lake Nona Golf & Country Club is that the lake that gives the city its name is within the community, and only accessible to residents!
The single-family homes are luxurious and come with: 3 to 8 bedrooms and 3 to 8 bathrooms.
They are quite large, the smallest having 2,472 square feet and the largest 12,000 square feet.
And the prices start at $ 925,000.
The unique opportunity to live and play in just one place has attracted a lively community of members and residents who enjoy a wide range of social and recreational activities.
And who are united by a passion for Lake Nona Golf & Country Club!
Lake Nona Homes for Sale - Randal Park
Great for those who travel frequently, Randal Park is located near the Orlando International Airport.
It is set along Lake Nona, which is part of a large planned community project that takes advantage of the pristine lakeside environment and natural beauty of preservation areas.
One difference about this community is that it has a great public elementary school: the Sun Blaze Elementary School, within the community itself.
If you live there, you can walk to it.
The Randal Park community has a lot of comfort for its residents, including, for instance: a clubhouse, a resort-style swimming pool, a splash park for children, playground, an open air pavilion, a fitness center with the most modern gym equipment, many hiking or biking trails, walking paths and natural woods for nature lovers to enjoy.
Randal Park is an excellent opportunity for families who are looking for a home in the Orlando area.
This area is safe, convenient, and addresses all the educational, safety and medical issues that residents may have.
It is also an excellent real estate investment, as the area of Lake Nona is going through a strong growth period, and the demand for real estate in the area is high.
Property
The single-family homes come with: 3 to 6 bedrooms and 2 to 5 bathrooms, depending on the floor plan.
They are quite large, from 1,593 to 3,950 square feet.
With prices starting at $317,990.
The townhouses, on the other hand, come with: 3 to 4 bedrooms and 2 to 3 bathrooms.
They are smaller that the single-family homes, from 1,529 to 1,916 square feet.
Prices start at $214,990.
In both types of properties, kitchens are fully equipped with stove, refrigerator, microwave and dishwasher along with granite counters and cabinets.
Since it is a new development, it utilizes the newest construction materials as well as techniques to increase energy efficiency.
It significantly reduces the cost of air conditioning that is required in the warm Florida environment.
There is a $50 monthly fee for the maintenance of the grounds around the property.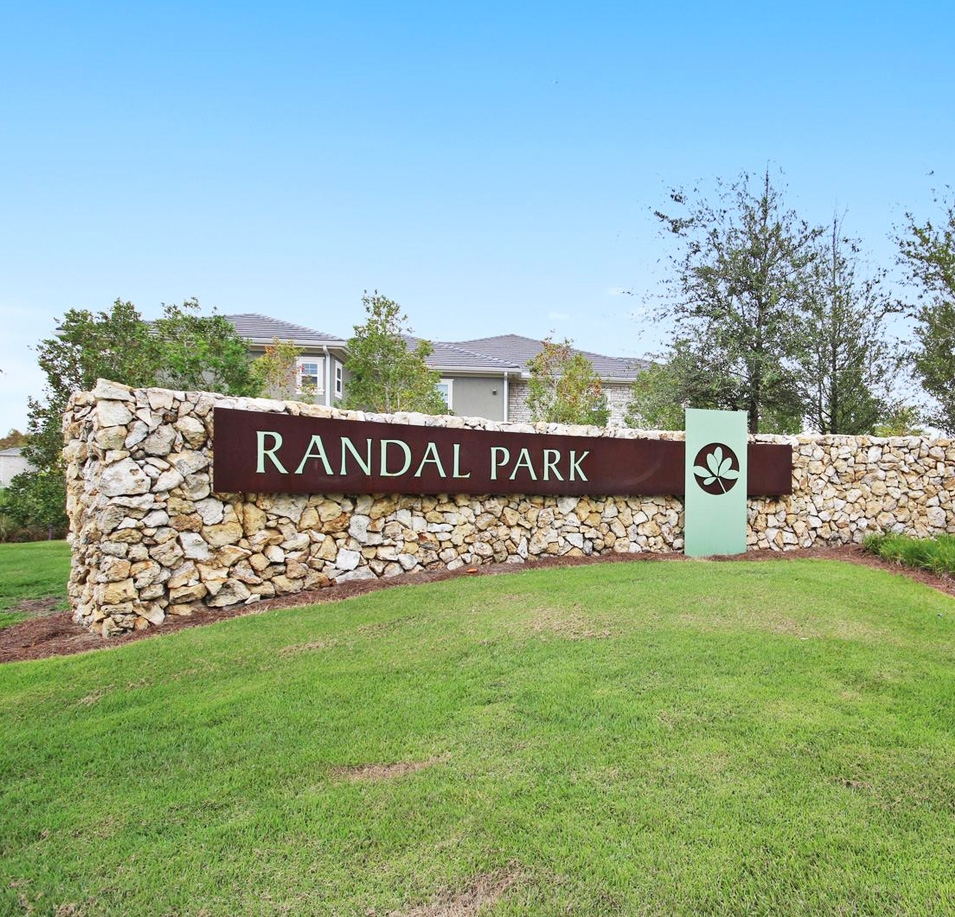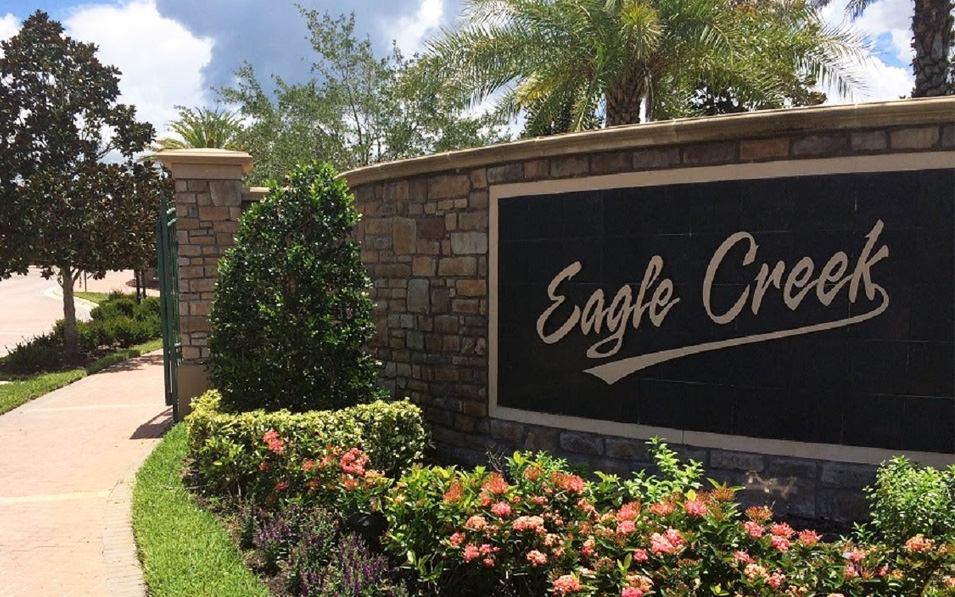 Lake Nona Homes for Sale - Eagle Creek
Eagle Creek is located in the highly desirable area of Lake Nona, a planned community that is receiving a lot of attention for its forward-thinking design.
A design which integrates the many medical research, care, and education centers that make up the Medical City, with the surrounding residential, commercial, and natural spaces.
The Eagle Creek community is well known for having several golf courses and beautiful gardens.
The community offers a swimming pool and a beautiful club for its residents, in addition to a famous restaurant widely used for weddings and graduations.
One benefit of this community is that it has an elementary school: Eagle Creek Elementary School, within the community itself.
The homes at Eagles Creek are luxurious.
With single-family homes boasting 3 to 7 bedrooms and 2 to 5 bathrooms.
They are quite large, from 2,175 to 4,158 square feet.
The prices start at $395.00.
There is a $125 monthly fee, including the maintenance of the yards, golf courses and community pool.
But there are also townhouses with more affordable prices.
Eagle Creek is a unique residential property.
It offers a lot for families, but particularly for golf fans, as this is one of the few opportunities to live in a complex that has its own full-size golf course: the Eagle Creek Golf Course.
This definitive feature makes Eagle Creek ideal for golfers.
While, in combination with Lake Nona's location and generally high standard of living, also making it ideal for real estate investors.
Ensuring Eagle Creek property values will continue to appreciate.
Lake Nona Homes for Sale - Laureate Park
The Laureate Park community is located in the heart of Lake Nona.
Right next to Laureate Park is a large complex with 5 new hospitals that defined Lake Nona as a "medical city."
Among these hospitals there is a children's hospital, veterans hospital, cancer research and study hospital, the UCF College of Medicine and a research center.
This enormous medical complex has brought great value to homes in Laureate Park, catching the attention of many investors.
Laureate Park also has its leisure areas that include an aquatic center for the whole family with good pools, a restaurant by the lake (Canvas Restaurant), sand volleyball and a gym for residents.
This community has properties from 2 to 6 bedrooms, 2 to 6 bathrooms.
The prices of the townhouses start at $259,900, and of the single-family homes, $342.900.
They are quite large, from 2,056 to 3,993 square feet.
The monthly fee is $114, which includes, for instance, community maintenance, cable, fiber optic internet and more.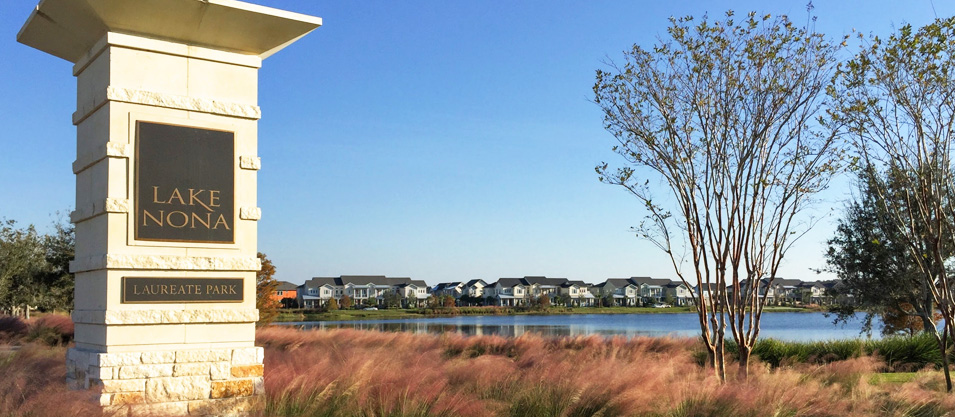 New Homes for Sale in Lake Nona, Florida!
There are many options for buying new homes in Lake Nona Florida.
Here, all communities have new homes for sale, for instance, Storey Park, Lake Nona Golf & Country Club, Randal Park, Eagle Creek and Laureate Park.
You can get affordable homes starting at 3 hundred thousand, going up to 7 million dollars in Lake Nona Golf & Country Club.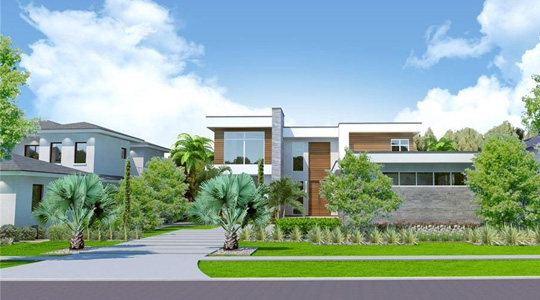 Benefits of NEW Homes for Sale in Lake Nona
First, you are going to be the first one to live there.
Second, you can choose the color of everything, such as: the cabinets.
Depending on the building you can choose a lot of things on the property.
Third, when you buy a new home, you get a warranty.
So, the builder covers anything that happens with the property in one year.
However, there is a 2-year warranty for the plumbing and electricity and a 10-year for the structure of the house.
The last is that new homes also appreciate in value much quicker than used homes.
Luxury Homes for Sale in Lake Nona
There are luxury homes for sale in Lake Nona: in Lake Nona Golf & Country Club community.
Lake Nona Golf & Country Club is a private community.
Where in addition to its own golf course, there are several types of houses to live in.
It has a space of 600 acres and also a professional golf course with 18 holes.
Set in a natural environment, between freshwater lakes and pine trees, Lake Nona Golf & Country Club offers a variety of residences, including properties built exactly as you desire.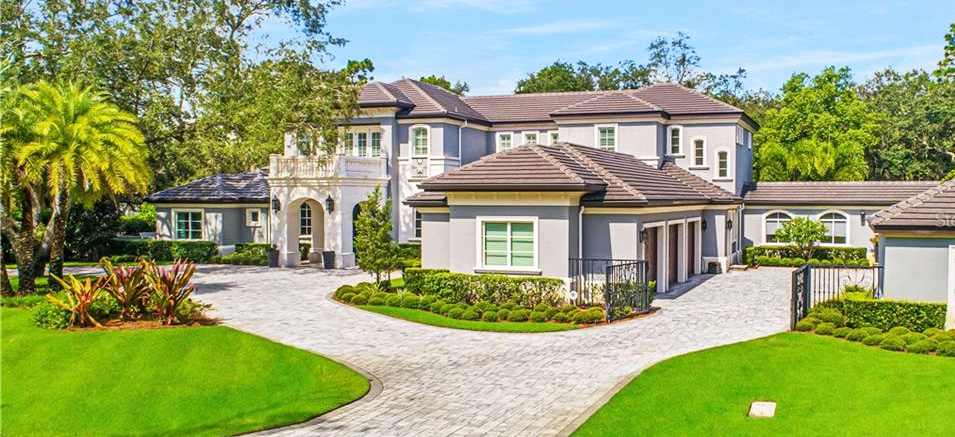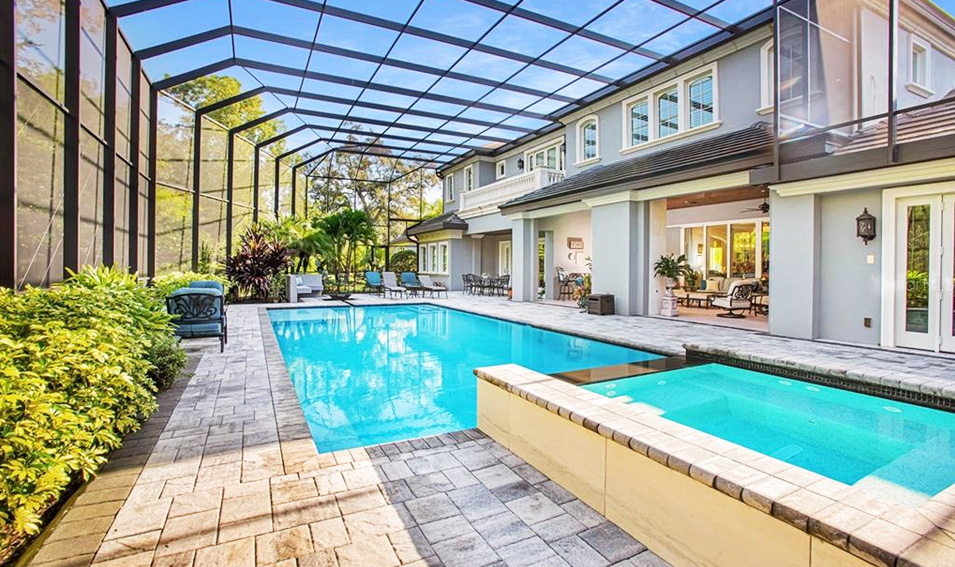 Lake Nona Homes For Sale With Pool
What do you think about buying a house with a pool in a place where the weather is always nice, such as Florida?
Amazing, right!
Well, in Lake Nona you can have exactly this.
As mentioned before, the weather is always nice in Florida, so buying a house with a pool is a good investment!
Especially here in Lake Nona, where there's also lots of growth. E
Every house that has a pool here also has a screen that protects it from insects, bugs and other pests.
So, in this case, you can leave your back door and back windows open.
Can you imagine how amazing it would be?!
Lake Nona Real Estate: FAQ
Best Places to Eat in Lake Nona
Nona Blue Modern Tavern
Nona Blue Modern Tavern is considered to be more than just a bar or a restaurant.
It was built to be a welcoming place and to create social moments, mainly reflecting its community.
This was Nona Blue's idea since the beginning.
When Joe Davi and Bill Bona, restaurant founders, thought about creating the concept of Nona Blue, they were able to blend the warmth and social atmosphere of a tavern with the refinement and quality of a sophisticated casual restaurant.
A key component of the Nona Blue concept was to offer a large selection of "Shareables" on the menu.
These items can be shared between the group or serve as a meal for a single guest.
This "community dining" helped to foster the idea of creating a social dining experience.
This is also why the menu is so diverse at Nona Blue.
You can bring anyone to Nona Blue.
For sure, they'll find something they love on the menu.
Nona Blue goes to great lengths to ensure that their ingredients are always fresh (not frozen) and of the highest quality.
They make the sauce daily as well as the spices and desserts.
The bar, which is the centerpiece of the Nona Blue, offers 16 craft beers (including a perfectly served Guinness pint), an extensive wine list and special drinks that add a modern touch to classic cocktails.
Hours of Operation
The Nona Blue Modern Tavern is open:
Sunday to Thursday: from 11 AM to 10 PM.
Fridays and Saturdays: from 11 AM to 11 PM.
---
Canvas Restaurant & Market
Inside the Laureate Park community in Lake Nona, there is the Canvas Restaurant & Market. This restaurant serves American cuisine dishes focused on regional and seasonal products.
Canvas Restaurant & Market has a lot of specialties, including, for instance: park brewing beer-battered fish and chips and sweet tea crispy chicken.
On Saturdays and Sundays, they serve brunch. In this brunch, there are sweet and savory dishes, such as strawberry shortcake French toast and crispy bacon hash skillet.
If you are thinking of a happy hour, their menu offers a variety of drinks from wines to seasonal cocktails.
And if you want to enjoy the variety of cocktails while enjoying the lake view or the sunset, you can. Canvas Restaurant & Market has an open-air restaurant just waiting for you.
Canvas Market is a communitarian market that brings together a collection of practical, beautiful and local products.
Including a large selection of gifts and household items.
Combined with a daily travel menu, coffees and vitamins.
Canvas Market has become a public meeting space for those who live, work and play in Lake Nona.
Hours of Operation
The Canvas Restaurant & Market is open:
Monday to Thursday: from 7 AM to 10 PM.
Fridays and Saturdays: from 7 AM to 11 PM.
Sundays: from 7 AM to 9 PM
In What City is Lake Nona Located?
Lake Nona is located in the city of Orlando, Orange County.
Things to Do in Lake Nona - Lake Nona Homes for Sale
Drive Shack
The interactive golf and entertainment attraction, Drive Shack, is a new addition to the public amenities in the Lake Nona Sports & Performance District.
It's located on the northwest corner of SR 417 and Lake Nona Boulevard.
This cutting-edge attraction offers a 57,000 square foot driving range with: restaurant, outdoor bar, lounge, free video arcade, bays, meeting spaces and rentable event space on the upper level with an outdoor terrace.
It is open daily from 1PM to 5PM.
The prices depend on the time of your arrival at the establishment.
Drive Shack is where everyone, from novice to pro, can tee up, get down, and sink everything they thought they knew about the game.
It's where you can play the game in your way, with your friends, family or co-workers, while enjoying a best-in-class menu and wide array of craft beer, wine and cocktails that are sure to satisfy.
It is the place where fun is bound to happen, no matter your drive.
---
Laureate Park - Bark Park
At Bark Park, visitors enjoy, for instance: shade, a large dog racing area, on-site parking, combined water sources for dogs and people and solar lighting.
Bark Park is open daily 24 hours a day, offering a space for exercise and socializing throughout the year.
These are important activities for your dog's personality and health.
Dog parks offer the opportunity for your dogs to run, legally, without the leash.
Bark Park has a small "dog fit area" that allows, for instance, new or aggressive dogs to settle and adapt to the environment before entering in the larger areas.
Some areas of the park have open spaces and agility equipment. Making this place perfect for activities that involve running, such as: tag. In this environment, your dogs can also socialize saying "hello" to other dogs.
---
Ride a Bike with Bike Share Program
A new bike sharing program is emerging in Lake Nona, with dozens of bikes scattered throughout the community.
As part of the larger Move Nona initiative, this new program aims to provide residents and visitors with a variety of easy and convenient ways to get around the community.
As part of the program, bicycles will be located at key points within the community.
So, the residents and visitors can enjoy this new amenity at a minimal cost.
---
Play Tennis - USTA National Campus
If you want to play tennis, Lake Nona is the right place to be.
Here is the largest tennis facility in the nation, a state-of-the-art training center with 100 courts and cutting-edge development programs.
It makes the USTA National Campus a training destination for professional, college and amateur players.
Home to thousands of players and training teams and hundreds of tournaments each year, the USTA National Campus has built training grounds for the next generation of great American tennis players.
The USTA National Campus is open to the public and serves all levels of play for all ages.
The cutting-edge center is located on 64 acres.
It has a total of 100 courts along with two stadium courts.
The campus is open at: 7:30AM to 9 PM (from Mondays to Fridays) and 7:30AM to 5 PM (on Saturdays and Sundays).
---
Ride your Boat, Jet Ski or Enjoy Other Water Sports
If riding a boat or jet ski, or practicing any water sport is one of your hobbies, and you would like to do that at Lake Nona, you need to be a resident or know someone who lives in the Lake Nona Golf & Country Club community.
Because only those who live there or know someone who lives there can go to Lake Nona.
Orlando Homes For Sale - Your Premier Source of Homes for Sale in Lake Nona, FL
Wonderful climate, contact with nature, security, great schools, variety of entertainment and a growing economy.
These are just some of the things that make Lake Nona a wonderful place to live.
So, if you're looking for new homes for sale, Lake Nona, Florida, may have just what you're looking for!
As the leading real estate service in Lake Nona, Orlando Homes For Sale is the broker to help you to make the best choice.
Lake Nona has an enormous variety of homes to suit all your needs and desires.
Because of that, it can be hard to find the one which is right for you.
But our knowledge in the area helps you to find the perfect home in the perfect setting.
While our market knowledge and negotiation skills help you to get a great deal!
So, in conclusion, if you are ready to start looking for homes for sale in Lake Nona, Florida, start with Orlando Homes For Sale!