Homes for Sale Windermere FL: Windermere Real Estate

Sorry we are experiencing system issues. Please try again.

Homes for Sale in Windermere FL – Where Luxury Meets Small-Town Living
Founded in 1915, Windermere, Florida is the ultimate combination of high-end luxury and small-town living. Whether you're looking for a lakefront mansion, a more affordable condo, or want to purchase vacant land to build the home of your dreams, the perfect property waits for you in Windermere. Choose from a range of gated and non-gated community homes for sale, all beautifully landscaped with exclusive amenities such as community pools, lake access points, tennis courts, and more! With so many gated and guarded community options to choose from, it's no wonder the affluent Windermere is one of the safest towns in Florida to live in.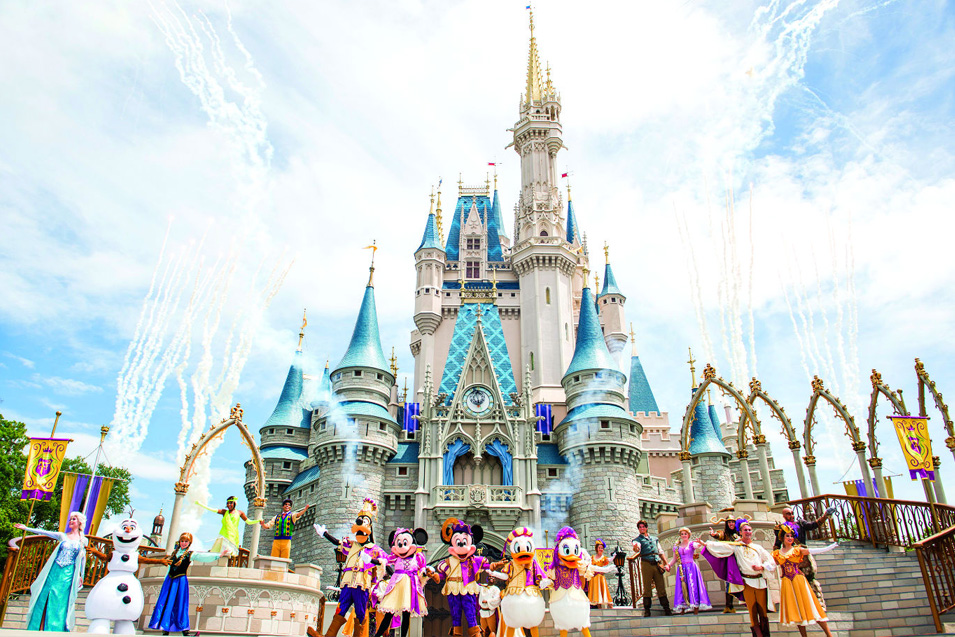 Endless Activities and Attractions
No matter where in Windermere you choose to settle, Windermere's famous Plaza is just a short walk (or even shorter drive) away. The Plaza boasts everything from quaint, small-town shops and cafes, to more lavish restaurants and large grocery stores. You can easily make it to work in the nearby city of Orlando and then retire in the afternoons to your own private escape. If you're just looking for a vacation home to get away from it all, then look no further than the many international attractions, such as Disney World, Universal Orlando Studios, and Sea World! Fun for the whole family is just around the corner. If retail therapy is on the docket, the Millennium Mall sits a mere 10 minutes' drive away, packed full of stores and restaurants and things to do.
One of the biggest attractions of the City of Lakes is the system of 13 interconnected lakes known as the Butler Chain of Lakes. With over 5,000 acres of water surface and a range of housing options with lakefront views, Windermere is perfect for all sorts of aquatic recreation. Most communities offer community lake access, and you can even choose a home with lakefront property to maintain your own private dock.
Windermere sits firmly in Orange County and is therefore zoned for Orange County's elite public education system. With every public school bringing home a rating of B+ or higher, and the elite A-rated Windermere Preparatory School, your child is sure to receive a fully-rounded education designed to put them on the right track for college.
Why Buy Homes for Sale in Windermere FL?
With luxury mansions, celebrity occupants ranging from Shaquille O'Neal to Tiger Woods, world-famous golf courses, and Disney World just 15 minutes away, there are lots of reasons why Windermere, Florida is perfect for you.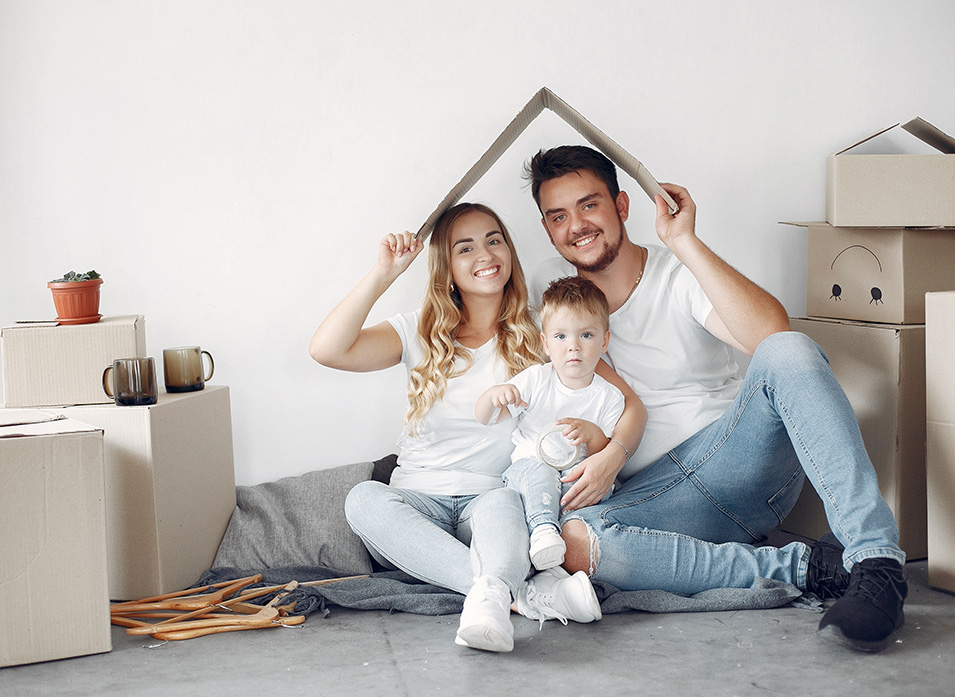 Location, Location, Location!
Windermere, Florida is located off the 535 in Orange County, next to the bustling city of Orlando. This pocket of secluded luxury is perfectly located for those who work in the city, but don't want to live amid the noise and traffic. Easily commute to the office in the morning and then return home to Windermere's little slice of paradise to relax in the evenings. Orlando's over 60 million annual tourists are drawn by the city's near-infinite possibilities for day trips, shopping, eating, amusement parks, and other adventures. With Windermere's close proximity, you can easily enjoy all Orlando has to offer without having to actually live or stay immersed in the tourism.
In addition to Orlando, Windermere is located right next to Disney World, Sea World, and Universal Orlando Studios! Fun for the whole family awaits just a short drive away. Living so close to the parks allows you to take your time enjoying every aspect of each park without the rush of time constraint. Windermere is also close to a range of other amusement parks, water parks, and theme parks that are always worth a visit.
Windermere itself also has a range of attractions. The ultimate vacation destination is the perfect choice for vacation homes and permanent residences. Every home in the relatively small town is within short walking or driving distance to both Windermere's renowned Main Street plaza as well as the larger West-side Shoppes. Between the two, you'll find everything you could ever need, including restaurants, cafes, banks, salons, local shops, grocers, and even a Goodwill. If you're looking for a more intensive shopping experience, the ultimate hub of retail therapy known as the Millennium Mall lies just 10 minutes away. Or you could spend some time over at Disney Springs for a more unique shopping experience.
Only the Highest Quality Education
Access to quality education is an important consideration for families looking to buy a home. Windermere has excellent education options. All the public schools in Windermere, Florida belong to the Orange County Public School System. Orange County schools are the finest school systems in the state. Every school is rated B or higher, with most bringing home the coveted A rating, so you can rest assured your child will get personal, caring attention and have access to everything they need to succeed. Windermere is also home to the elite Windermere Preparatory School, a private school with high education standards, an exclusive student body full of the children of the rich and famous, and a proven history of helping kids get on the path for college and real-life success. No matter which route you deem best for your child, there's no denying Windermere's excellent educational resources.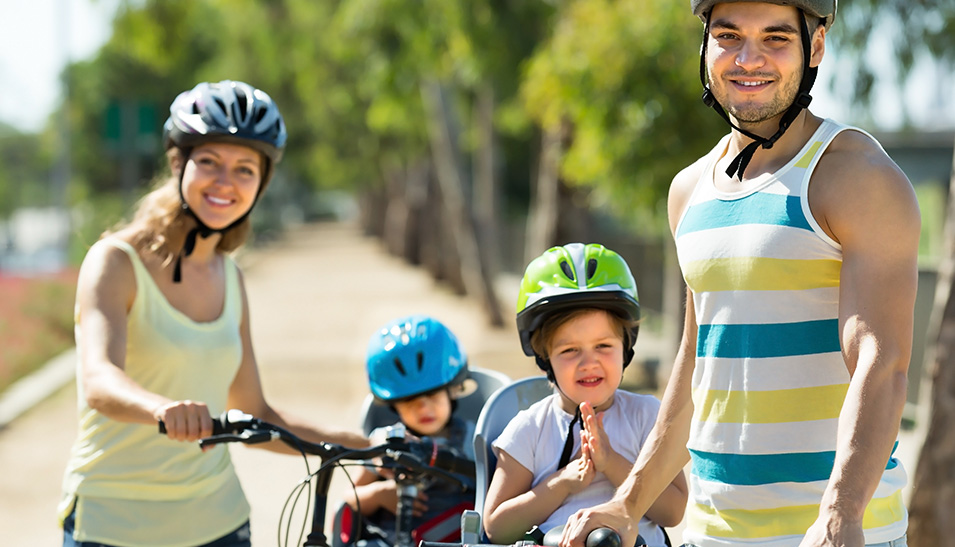 Safe Environment and Peace of Mind
Children or not, we know safety is of the upmost importance. Windermere's safety is rated A+ across multiple respected sites, such as Area Vibes and Niche, and the town itself is safer than 62% of America, with one of the lowest crime rates in all of Florida. These already-low crime rates only continue to plummet, with a year over year decrease averaging around 29%. Windermere is also home to a well-funded and competently-trained police force that maintains a steady presence throughout the town to ensure timely responses to emergencies and non-emergencies alike.
Windermere boasts multiple gated communities. Some employ 24/7 guard to keep residents protected at all hours of the day and night. Gated communities ensure only residents and registered guests are allowed anywhere on the premises. This means no unauthorized strangers will wander past your home late at night. In addition, Windermere is long-term rental only. This means your neighbors are either permanent residents or long-term visitors. There are little to no overnight or weekend tourists. The low rate of newcomers measurably reduces every type of crime. Windermere has one of the lowest crime rates in the greater Orlando area. Annual household income averages at just over $100,000. A large majority of the population are college-educated.
Luxury Living at Its Finest
Whether you prefer a small condo community or are looking to own a couple acres of lakefront property, Windermere is the place to be for high-end homes. All it takes is a look at some of the gorgeous landscaping to know how luxurious these communities truly are. After all, the rich and famous have chosen to make Windermere their home for a reason, right?
Most of the many stunning gated communities offer a range of community amenities designed to make your life full of adventure. Things like private lake access points and boat or jet ski rentals allow you to spend a day out on one of the many lakes. Community courts for tennis, basketball, and beach volleyball provide a more athletic outlet. Private pavilions and ballrooms offer the perfect venue for parties, events, and even weddings.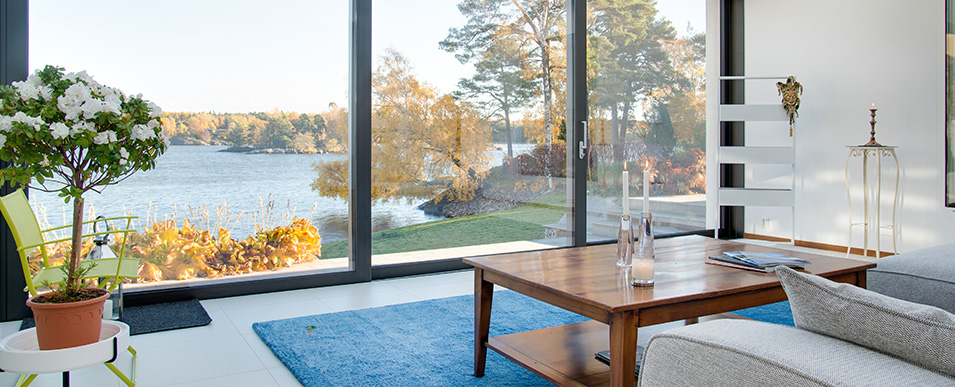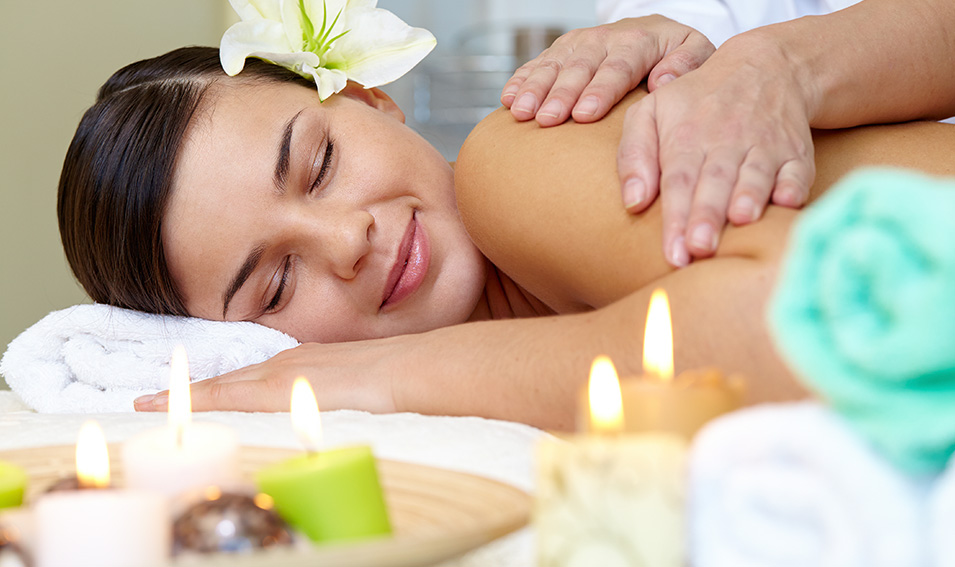 Luxury Homes Need Luxury Activities
Windermere also boasts one of the finest golf courses in the world, the Golden Bear Club. Frequented by celebrities and novices alike, the Golden Bear Club has everything you need for a successful day on the green. Shop for supplies and golf accessories at their convenient on-location shop. Book a lesson or two with a seasoned golf-instruction professional to up your game. You can even get some lessons for the kids with their children's introduction to golf program. If that's not enough, the Golden Bear Club also offers amenities such as a tennis court and swimming pool.
For more leisurely activities, head on over to Windermere's Main Street Plaza. There's a range of things to do. Sip designer coffee at the Dixie Cream Café. Taste delicate deserts at Glass Slipper Goodies. Recline and relax at the Nail Atelier at Spa Affair. Just down the road lies a more commercial plaza. There, you'll find necessities such as a Publix grocery store and family restaurants such as Starbucks and Panera Bread. There are also large chain bank locations like Chase and Bank of America. Member fitness centers provide more athletic outlets. The finest dry cleaners ensure your Sunday best will always be ready. There's even a Goodwill for the thriftier shopper! This center also hosts local attractions like My French Café and Jeremiah's Italian Ice. These offer a unique taste of Windermere. You'll also find plenty of opportunities for pampering at one of the many salons and spas.
Nestled in the Butler Chain of Lakes
Windermere is sometimes referred to as the City of Lakes. It sits in the middle of the Butler Chain of Lakes. It is also sometimes referred to as the Windermere Chain of Lakes. There are over 5,000 acres of water surface across the 13 interconnected lakes. Plenty of room to boat, jet ski, and enjoy other aquatic endeavors from public access points. Some communities have private access points. Some homes have their own private dock! Boat tours are available so you can relax and enjoy the sights, from waterfront mansions to local wildlife.
To ensure the safety of everyone on and around these lakes, the Windermere Water Navigation Control District employs a special "Butler Patrol" force. The "Butler Patrol" is comprised of over a dozen state police officers from the Florida Fish and Wildlife Conservation Commission are empowered to enforce and uphold the boating, fishing, and environmental laws and policies of the lakes and canals that make up the Butler Chain.
Thanks to the lakes' naturally excellent water quality and highly attentive maintenance from Windermere and surrounding areas, the Butler Chain of Lakes is the first lake system in Florida to receive the Outstanding Florida Waters designation from the Florida Department of Environmental Protection in 1985.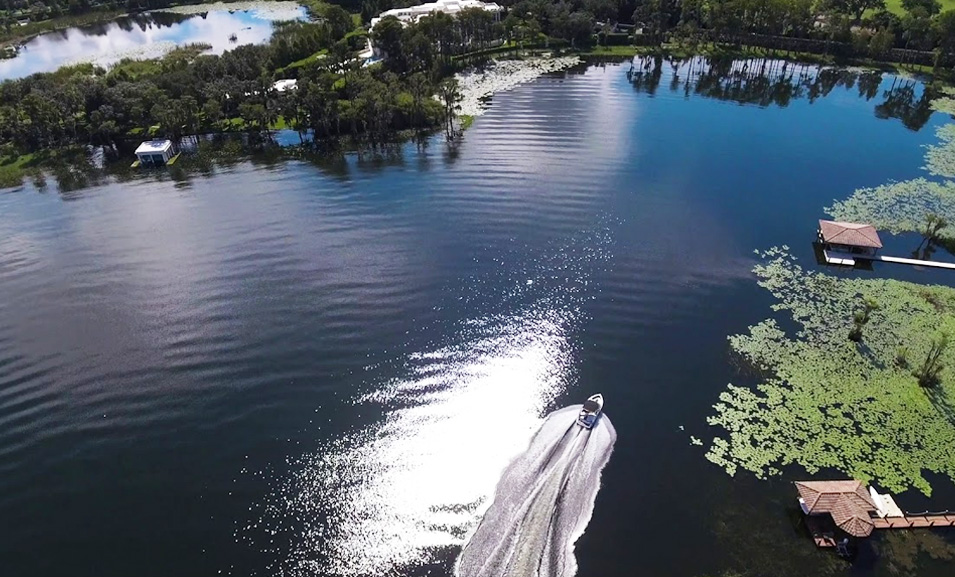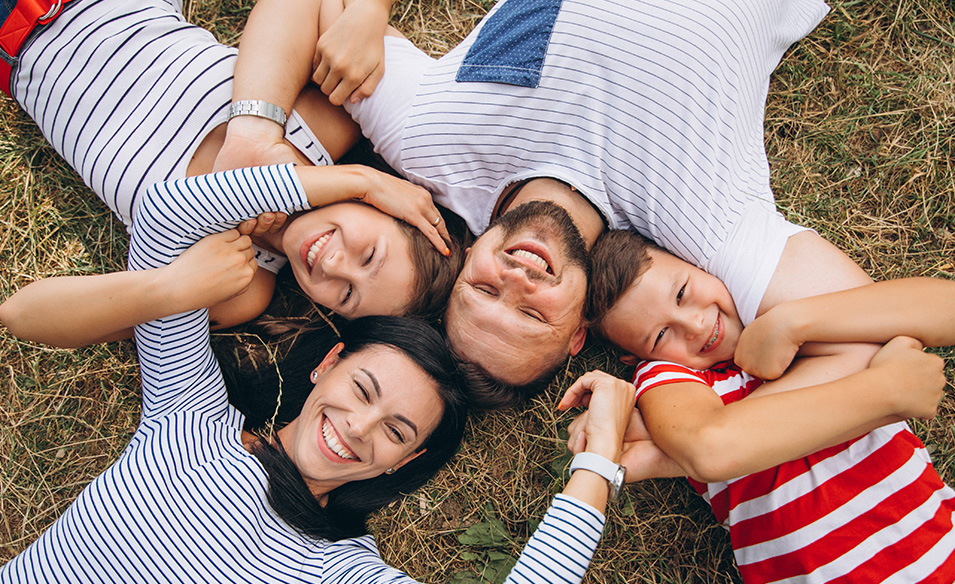 Family-Oriented Town Where Family Truly Matters
Windermere, Florida is well-known for its family-oriented community, and is the perfect spot for couples and multi-children families alike! The highly-desirable school systems provide only the best education. The many sights and attractions in the area ensure there will never be a boring moment. Imagine raising a family in a lakefront home, with a private dock and access to the finest amenities gated communities have to offer. Enjoy family outings to the shops in the Plaza or the Millennium Mall. Plan days of endless fun for everyone at Disney World or Universal Orlando Studios.
In addition to a great school system and a wide range of fun activities for the whole family, Windermere is uniquely populated by long-term residents for a more family-friendly community. No properties in Windermere may be used for short-term rentals such as Airbnb. Both the town of Windermere and Orange County itself prohibit short-term rentals. Tourists still visit the area. But they stay in rentals or hotels out of town. Your neighbors will always be fellow Windermere-ians.
The Golden Bear Club – Every Golfer's Dream!
As a Jack Nicklaus Signature-designed course, the Golden Bear Club is one of the finest golf courses in Florida, and sets the standard for elite golfing in the greater Orlando area. GBC is located in Keene's Point Community near the heart of Windermere, and like the town, is bordered by the Butler Chain of Lakes. From majestic cypress trees to surrounding natural flora, each picturesque course is a sight to see in and of itself. All courses are well-maintained with near-constant inspections to ensure players have the best possible experience out on the green.
If you're in need of some new gloves and shoes, or if you're just looking for some Golden Bear Club merchandise, look no further than the on-site Pro Shop. The elegant store is packed full with golf accessories. They sell everything from clubs and equipment from the finest manufacturers to tournament prize selections and Club souvenirs to display your experience with pride.
The Golden Bear Club offers a range of instructional golf classes designed for both the expert and novice alike. Whether you're new to the golf scene and looking for tips and tricks, or you're a seasoned pro wanting to broaden your purview, book a session with one of GBC's many professionals. Private and group lessons, as well as clinics and junior academy programs, are available for youth as well, to bring up the next generation of avid golfers.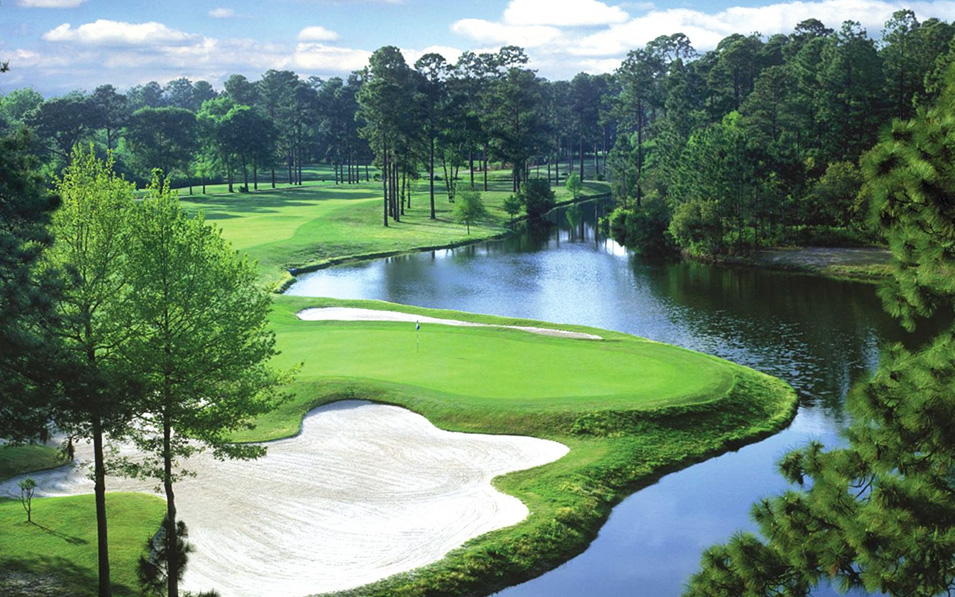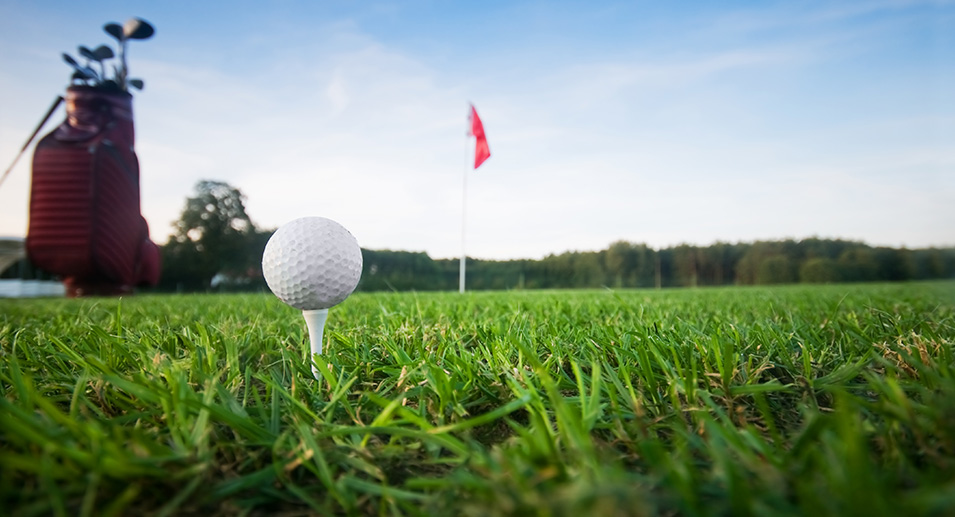 More than Just Golfing
In addition to golfing, the Golden Bear Club offers other amenities. The luxurious clubhouse features wall-to-wall windows for a panoramic view of both #9 and #18 finishing holes. If you're looking for a more intensive work-out, look no further than the Club's on-location fitness center. GBC supplies only the best equipment, top-of-the-line facilities, and knowledgeable, friendly staff. GBC employs a personal fitness trainer with an ISSA certification for those who prefer a more regimented or assisted routine.
The fitness center sits adjacent to the Club's swimming pool. Members and day-visitors can transition from an indoor workout to a cool-down swim, or vise versa, with ease. Pool-side cabanas provide plenty of lounging space for adults to enjoy the sunshine or even a specialty cocktail. The children's area ensures kids can have plenty of fun both in the water and out.
The Golden Bear Club's world-class tennis courts feature covered seating areas. Players can recharge and spectators can sit back and enjoy. Both private clinics and group mixers are available for experts who want to hone their skills as well as novices who want to try something new.
Vacation Homes for Sale in Windermere FL
Windermere is the perfect place for your vacation home. It can be a private escape from the hustle and bustle of everyday life. Or maybe you need somewhere warm and sunny to go in the colder months.
Windermere is located only minutes from America's ultimate vacation destination, Orlando. With more than 60 million tourists annually, you can enjoy all the famous city has to offer without having to spend your down time among the clamor.
Windermere features private, gated communities, access to endless summer activities like boating and jet skiing, and the gorgeous Main Street Plaza. The entire town exudes the quiet, relaxing aura of small-town living of the highest quality. And let's not forget the convenient proximity to the Millennium Mall, Disney Springs, Disney World, and Universal Orlando Studios! Plan an adventure at Harry Potter World, or spend a day at the Epcot Center. At the end of the day, make the short drive back home.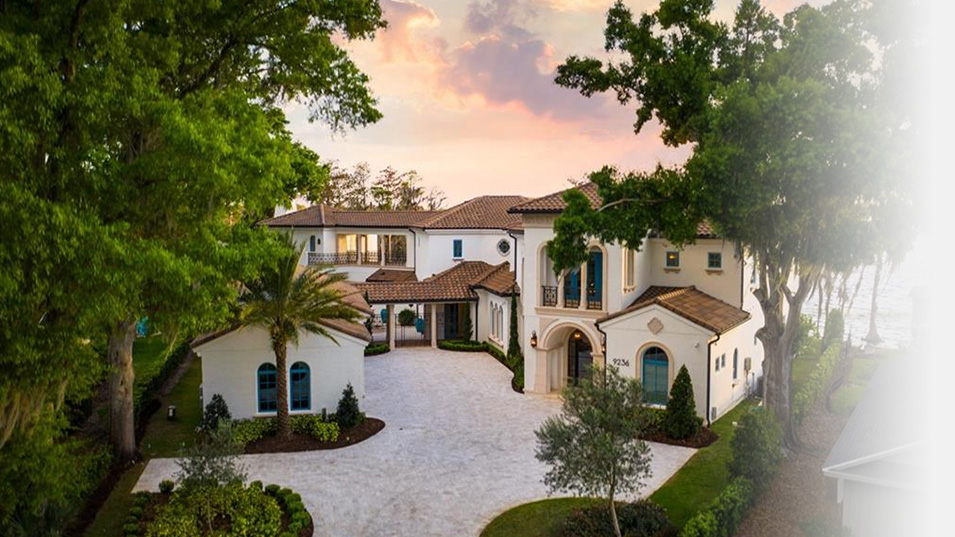 New Homes for Sale in Windermere FL
Windermere has a lot of established homes for interested buyers. But there are still plenty of new constructions available for you to call your own! Buying a new home is a great choice for many reasons. New homes are a great investment. They appreciate value at a higher rate than older homes. You won't need to worry about replacing major appliances or components. Everything is brand-new! An older home's HVAC might be on its last leg when you buy the home, and you'll have to replace it soon after moving in. Roofing is also a major concern when it comes to older homes with more wear and tear. You will also probably save money on your monthly power bill. Newer homes have updated, energy-efficient systems.
Plus, if you're building the home, you get to choose things like paint color and flooring. The house will look and feel like home! You'll also probably have a builder's warranty to protect against any issues.
Windermere, FL has an array of veritable mansions, lakeside retreats, and condo communities to choose from. The wide range of pricing will suit most any budget. Or, if you already know what you want, check out the available vacant plots. Many of these are lakefront. You can bring in a construction team to build the home of your dreams!
Homes for Sale in Windermere FL with Pool
Though most homes in Windermere have either private lake access or community lake access, sometimes, you want something just a little more private. That's why so many properties in Windermere have their own pools! Just imagine lounging with your feet in the water and the sun warm on your skin, all in your backyard. Some pools are even enclosed in screened-in porches or located inside the home altogether, granting you the ultimate private escape. Most pools are already set up with heating, so you can even enjoy a swim in the colder months. This heating is often powered via solar panels, meaning it won't cost you a dime to regulate water temperature!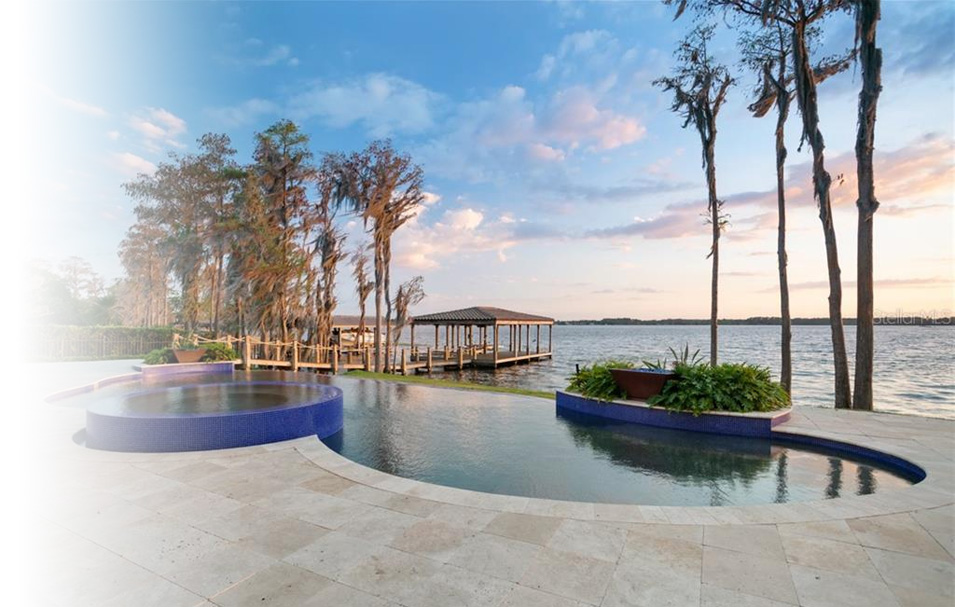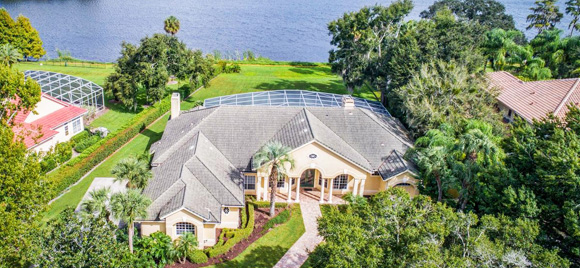 Luxury Mansion Homes for Sale in Windermere FL
Though Windermere may be a small town, don't let that fool you. It's no stranger to extravagance. Many of the gated communities have their fair share of luxury mansions. Some even house mansions exclusively! Boat tours are even available to travel along the Butler Chain of Lakes system and see some of the incredible homes and attractive landscaping.
Just imagine it: walk-in closets big enough to dance in. An open floor plans with an elaborate kitchen perfect for making gourmet meals. A large master bedroom with an en-suite bathroom. You can enjoy your own personal spa experience in an over-sized garden tub and multi-stream shower. Even the smaller condominium communities are a study in elegance, with smaller floor plans that still boast the elite aesthetic Windermere is known for.
Whether you're looking for the ultimate opulence for the everyday or just want plenty of beautiful space to escape to on vacation, Windermere is the place to go for mansion living.

Community Homes for Sale in Windermere FL
One of the draws to living in Windermere, Florida is the many communities. Most are gated and fully private, only allowing entry to residents and registered guests. 24/7 guards ensure everyone is safe and secure all hours of the day and night. They often charge monthly HOA fees, and in turn offer amenities. Imagine spending your days at golf courses and courts for things like basketball or beach volleyball. Some communities even have private restaurants and ballrooms available for reservation to host parties, events, and weddings. Fees also contribute to Windermere's famous landscaping, ensuring your home and the surrounding area is as beautiful to look at as it is enjoyable to live in!
Lake Burden
Starting at $275,000, Lake Burden is a residential community located by the 535 Freeway. With both town homes and single-family homes, there's something for everyone. No matter where you are inside the gated premises, you're a short walk from the local restaurants, grocery stores, shops, and cafes. And don't forget the Millennium Mall, a short 10 minutes' drive away! The community itself offers exclusive amenities such as a tennis court, hiking trail, playground for the kids, and a party pavilion for the whole family. With gorgeous lake views and lakefront property options, the picturesque Lake Burden is a front-runner for both recreation and relaxation.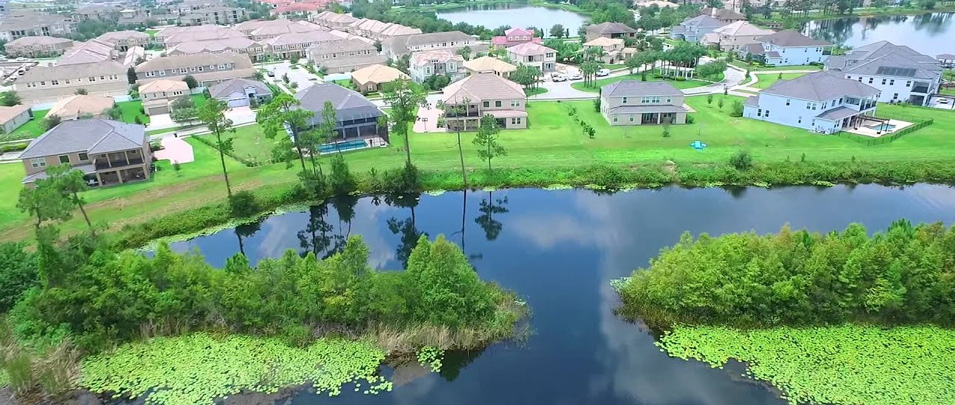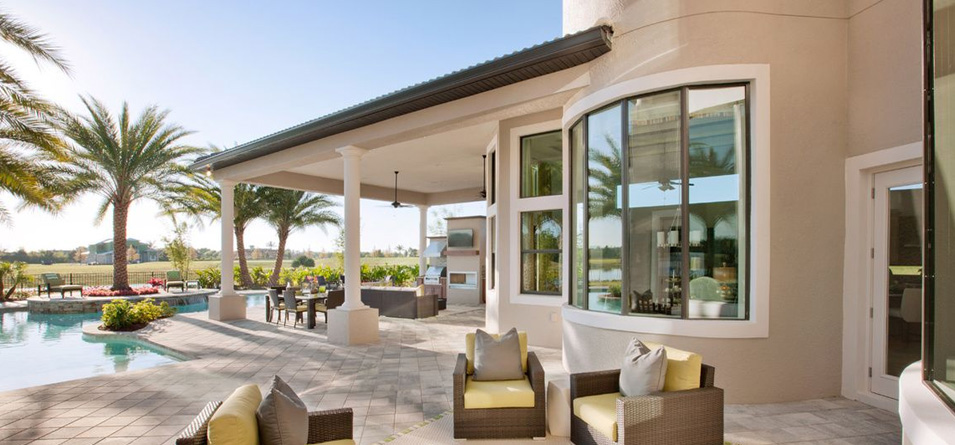 Casabella at Windermere
Casabella properties start at $897,995. The community lives up to its name, which means "beautiful home." The gated community sits near the center of Windermere, Florida. It has easy access to all the Windermere Plaza has to offer, including restaurants, shops, cafes, and grocery stores. Though one of the smaller gated communities in Windermere, Casabella is home to extravagant mansions and upscale homes designed with luxury in mind. With spacious floor plans, walk-in closets, and gourmet kitchens, each home is like a private castle of which you are the ruler. The community itself does not have an amenity center, but most all Casabella properties are outfitted with their own pool. You can enjoy a swim from the privacy of your own home.
Keene's Pointe
Homes in the famous Keene's Pointe start at $490,900. Keene's Pointe maintains a high standard of safety, and features gated entrances with 24-hour security for round-the-clock peace of mind. Community amenities include multiple swimming pools, basketball courts, tennis courts, golf courses, leisure areas, and a pavilion for events and parties. Keene's Point is minutes from Disney World and days of family fun. It's also nestled in a quiet area zoned for the finest schools in the county, making it perfect for raising a family.
Keene's Pointe is also home to the famous Golden Bear Club, one of the finest Jack Nicklaus Signature-designed golf courses in the state. The private club hosts frequent tournaments and socials, and is available for rent for weddings and personal events. After a few rounds, don't forget to stop by the fitness center. Maybe take a dip in the swimming pool, or challenge a friend to a game of tennis.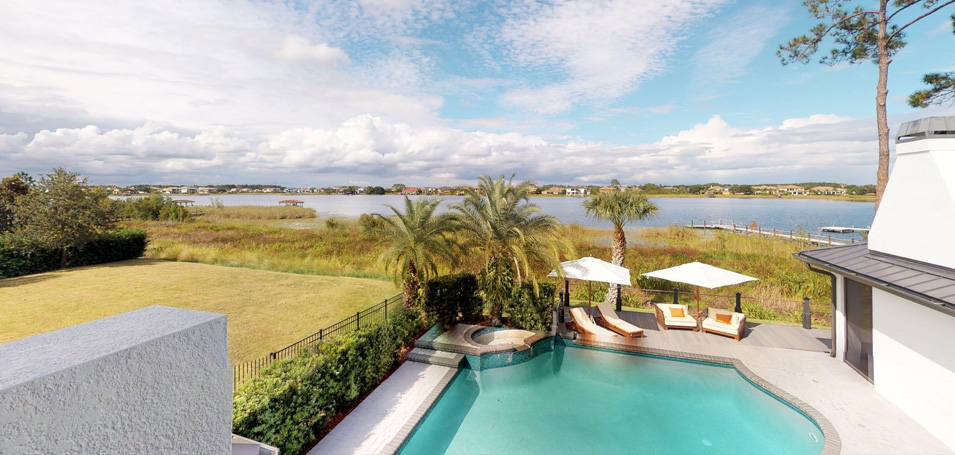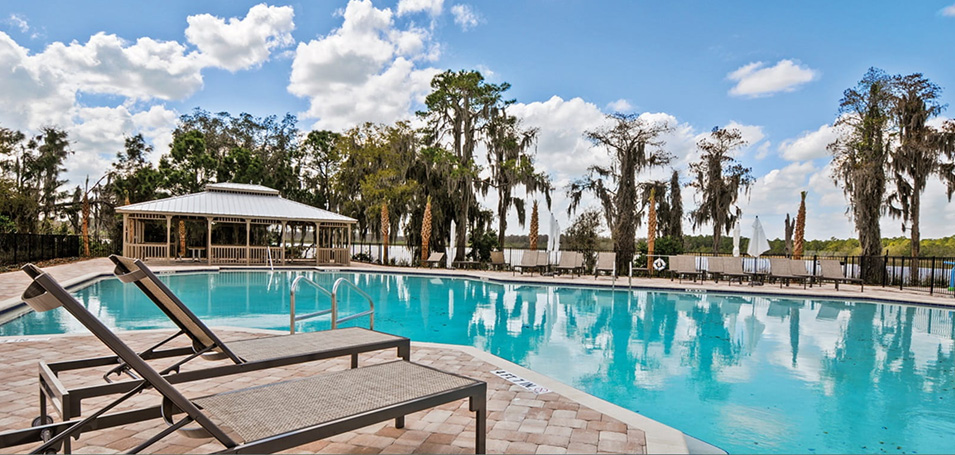 Windermere Trails
Another private community located in the heart of Windermere is Windermere Trails. This community is within walking distance of Windermere's Plaza, shops, grocery stores. It's also only a short drive from surrounding attractions such as the Millennium Mall, Disney World, and Universal Orlando Studios. Homes in the community start at $259,990.
The community itself offers amenities such as a community swimming pool, playground for the kids, dog park for your fur babies, and a picnic area for the whole family. The low monthly HOA fee of less than $55 includes all these benefits! Zoned for some of the best schools in the state, this luxury location houses a wide range of properties to suit any budget, family size, and lifestyle.
Windermere Sound
Starting at $270,990, Lennar Construction's Windermere Sound is just 5 minutes from the Cornerstone shopping center. It is also conveniently close to the other attractions of Windermere. Windermere Sound is so close to Disney Parks that you can watch the fireworks from your backyard! Community amenities include a swimming pool, various sport courses including basketball, playgrounds for the little ones, and event private parks with hiking and bike trails for outdoor recreation. Lakefront property is available with private lake access, and the pride of the community lies in the gorgeous landscaping.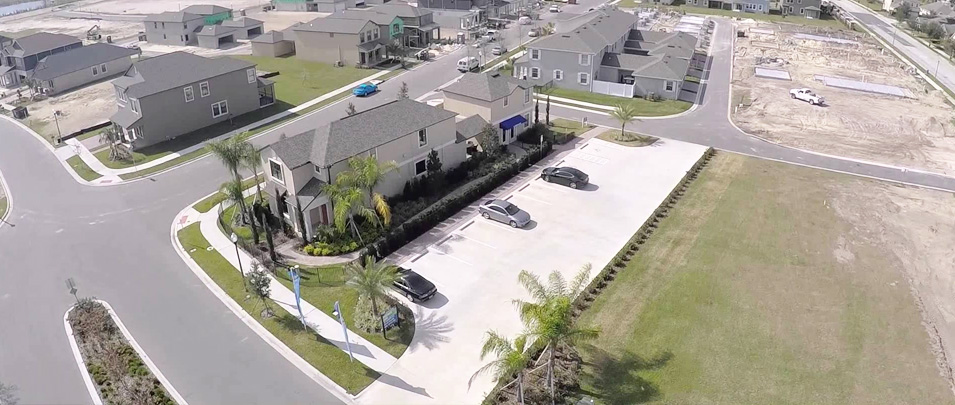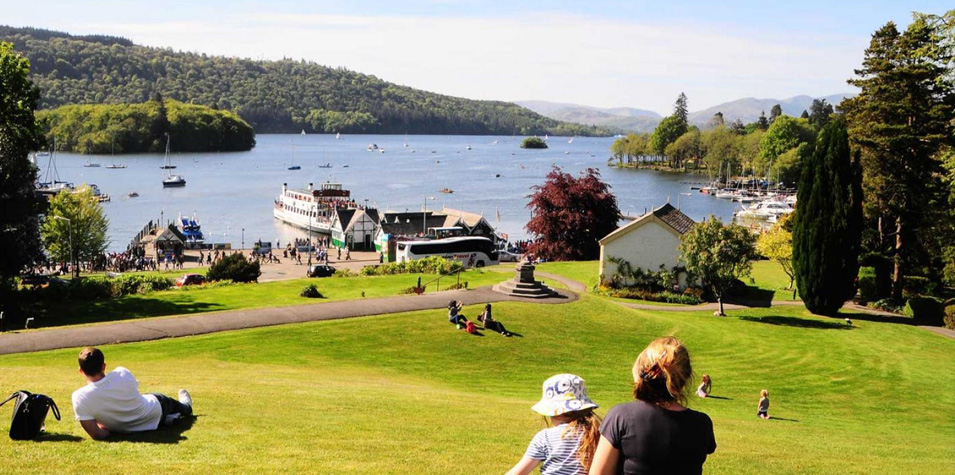 Lakeside at Windermere
While Windermere is known for its opulence, sometimes all you really need is the cozier elegance of a smaller community. Lakeside at Windermere offers just that. The affordable condos start at $199,900 but don't sacrifice luxury in the name of affordability. Community amenities include a beach volleyball court, tennis court, and swimming pool for recreational outlets. There is also a playground and barbecue area for leisurely family time. Lakeside at Windermere is located conveniently on route 535 (the same road that leads directly to Disney!). It has easy access to all the city of Orlando has to offer from the relaxing comfort of small-town Windermere.
Condos in Lakeside at Windermere are also a great property investment, as they are strictly long-term when it comes to rental purposes.
Royal Cypress Preserve
Starting at $505,995, the Royal Cypress Preserve community is full of luxury-style homes and resort-style amenities. Think full-size swimming pool, state-of-the-art fitness center, postcard-worthy dock with lake access, and neighborhood parks reserved specifically for those living within the community. Plus, the homeowner's dues include lawn maintenance and care. You'll never even have to think about a lawn mower ever again!
Beautiful cypress trees and other native species line the entire community, which is where the name "Royal Cypress Reserve" comes from. The neighborhood gives off a cozy, secluded feeling no matter where you are thanks to this lining of trees. Gated entry ensures only residents and authorized guests are allowed on the premises. This ensures both you and your family are safe and protected 24/7.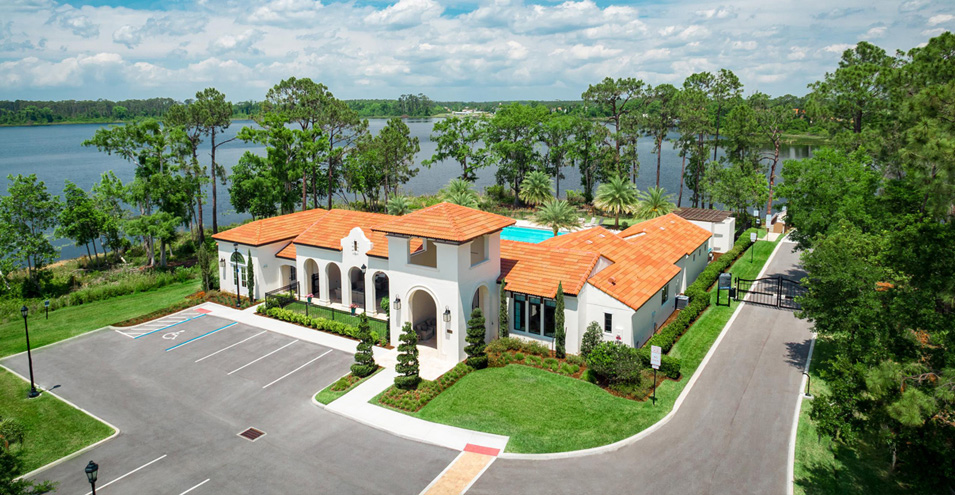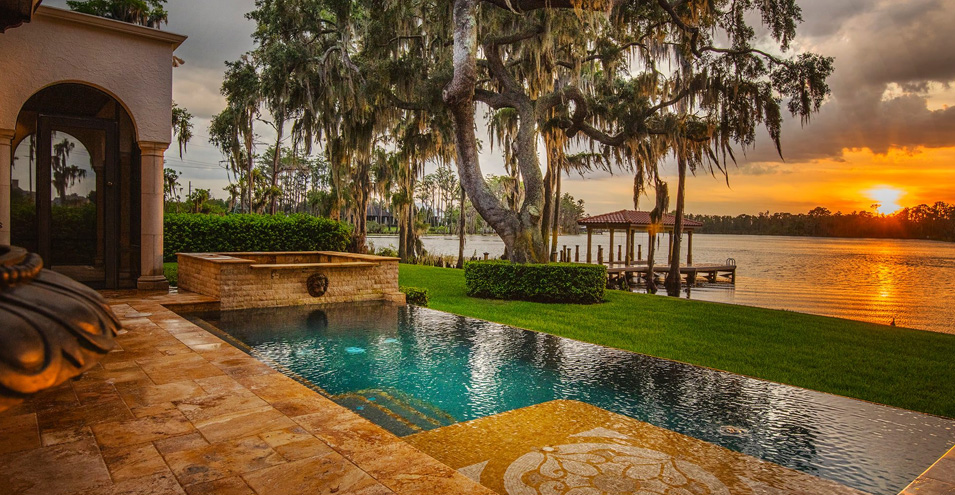 IsleWorth
IsleWorth has the endorsement of the many celebrities that reside there, such as soccer player Kaka and golf master Tiger Woods. The IsleWorth community brings home the gold when it comes to luxury. Homes start at $1,350,990, and range from 3-bedroom homes to 10+-bedroom mansions. Thanks to the gated and guarded entrances to the community, you and your family are safe and protected. You can rest easy, whether you're in your home, swimming in your pool, or enjoying your private dock.
In addition to the more common amenities like the fitness center and tennis court, IsleWorth boasts separate swimming pools for children and adults. There's also a game room and spa/salon for ultimate pampering. Many residents choose to simply boat or jet ski their way from their private docks to the amenities center, as it sits right on the lake!
Frequently Asked Questions: When Looking for Homes for Sale in Windermere FL
Q: What County is Windermere FL In?
A: Windermere, Florida is located in Orange County, the same county as Orlando, and is zoned for Orange County schools.
Q: How Far is Windermere FL from Disney?
A: The exact distance from Disney World (and other theme and amusement parks in the area, such as Universal Orlando Studios and Sea World) depends on where in Windermere you are. On average, the international attraction is less than 15 minutes away by car.
Q: What to Do in Windermere, Florida?
A: Endless activities and outlets for any and every lifestyle await you in Windermere and the surrounding area.
Ride Your Boat or Jet Ski on the Butler Chain of Lakes

There are many ways to get on the water in Windermere. Many homes in Windermere have their own private docks. Some communities also offer community access points. Windermere itself boasts public lake access points. Bring your own boat or jet ski, or rent something new! Boating can be a relaxing, lazy-day endeavor. You can also go out to fish or get to a specific destination. Jet skis are a great way to get around, and are also fun to use.
Schedule A Boat Tour with Orlando Lake Butler Tours

If you'd like to get on the water with more guidance, you can schedule a boat tour. These travel some of the Butler Chain, and will tell you the history and interesting information about the area. You will get to see some of the extravagant mansions and elaborate landscaping in the area. Rather than worry about steering, sit back and enjoy the sights!
Luxury Home Sight-Seeing

You can still enjoy those sights if boating isn't your thing. Take a drive all on your own through some of the public neighbors and non-gated communities. You'll catch a glimpse of the extraordinary living unique to Windermere!
Take A Walk Through Downtown Windermere

Windermere's Main Street Plaza is well-known for a reason. With just a short walk, you can peruse unique local shops, grab a coffee at artisan cafes (or Starbucks, if you prefer), and enjoy some fine dining at both local hot spots and well-known chain restaurants. The entire town features beautiful landscaping, so there is no lack of pretty things to look at.
Spend A Day at the Golden Bear Club

If you're looking for some recreation on dry land, you can join or purchase a day pass to the Golden Bear Club. Play a few holes on one of the finest golf courses in the world. Schedule a lesson with one of their professional golf instructors. Or challenge a friend to a few friendly rounds of tennis on their exclusive court
Q: What to Do Around Windermere, Florida?
A: In addition to the many pastimes to enjoy in Windermere, the town is conveniently located close to a range of fun attractions! The Millennium Mall lies a quick drive down the road for further shopping and eating. Bring the whole family and spend a day at Disney World, or in Harry Potter World at Universal Orlando Studios. Both parks are located within 20 minutes or so from town. If aquatic animals are more your thing, stop by Sea World to "sea" the dolphin show! With Orlando right around the corner, you can also easily access everything the city has to offer. Whether it's a ride on the Wheel at ICON Park or exploring Madame Tussaud's, there's an endless list of activities. Everyone is sure to find something they'll enjoy!
Q: Is Windermere, Florida Safe?
A: Windermere, Florida is one of the safest towns in the state of Florida. It's safer than 64% of the rest of the United States of America and safer than 82% of the cities in the US. As a more affluent town with access to high-end education options in the Orange County school system, Windermere experiences a lower rate of every kind of crime than neighboring towns. Not only that, but Windermere's crime rates continue to plummet, with an average decrease of around 29% year over year! Most communities protect their residents with gated entrances. Some also employ 24-hour guards. The town of Windermere also maintains a well-funded and trained police force presence. You and your family will be completely safe and sound within Windermere's borders.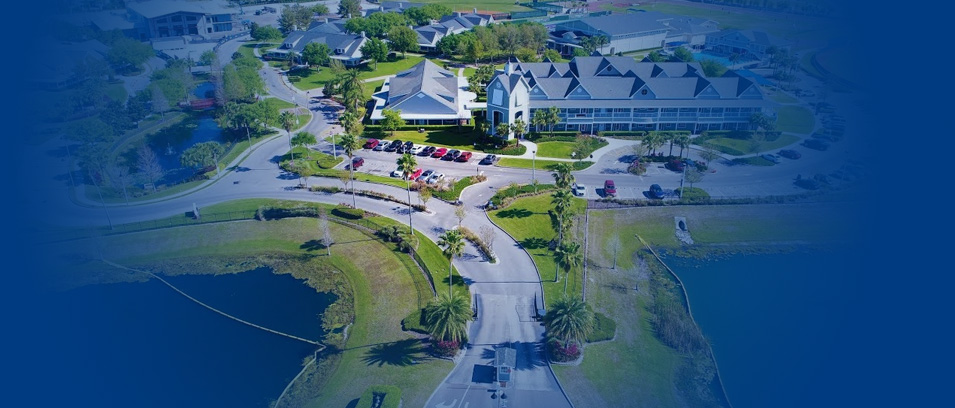 Why Is Windermere, Florida For You?
Windermere, Florida is the ultimate destination for vacation homes and permanent residency alike. Whether you're looking to boat, golf, play tennis, jet ski, or enjoy a day at the spa, between the community amenities right next to your home and Windermere's Main Street Plaza, just a short walk away, Windermere is full to the brim with attractions, recreation outlets, and fun things to do! The Millennium Mall is a short 10-minute drive away for an all-day shopping adventure. Disney Springs lies a stone's throw further for a more unique shopping experience. All the excitement Orlando has to offer, including theme parks, museums, and all the sights, is just down the road. Enjoy the attractions and still retire to the quiet tranquility of Windermere's small-town aura.
Looking for A Home for Sale in Windermere FL? Count on the Orlando Homes For Sale!
The international tourist hub Disney World is just down the 535 from Windermere. You can easily plan a day or afternoon trip as often as you want. Experience each park to the fullest without the fear of time constraint. With Sea World right nearby, you can meander your way through ocean wildlife. Maybe watch the seal show, or even swim with dolphins! Find your wand at Harry Potter World, or run from the Tyrannosaurus Rex at Jurassic Park, both of which live at the closely-located Universal Orlando Studios
Family and safety are both of the utmost importance to both you and everyone in Windermere, a family-oriented town. The town is safer than 64% of the country. With gated and guarded community options, you and your family will never be safer than in Windermere. And with some of the best schools in the state, your children are sure to get the best education that will lead them to future success. So bring your family and your taste for adventure to Windermere, Florida. Find your dream home or vacation oasis today!