How Much is a Vacation to Orlando Florida?
Want to know how much to budget for your vacation to Orlando, Florida? If you're wondering how much a vacation to Orlando, Florida costs, stick around – Authentic Real Estate Team has the answers!
As a licensed real estate brokerage specialized in the sale of vacation homes, Authentic Real Estate Team are your Orlando vacation experts, and your source for great deals on vacation real estate throughout the Greater Orlando area. Whether you're planning a weekend getaway, a cost-effective 2-week holiday, or you want to take an extended vacation, we can tell you how much to budget, the cheapest month to visit, and everything else you need to know for your Orlando, Florida vacation. But on average, a family of four should expect to spend around $7,653.
Want to maximize the magic of your vacation? Our partners at ILoveVH can help you book the vacation home of your dreams.
Where is Orlando Located?
Orlando is located in the US state of Florida, in the middle of the Florida peninsula.
It's just over an hour from the Atlantic Ocean, and a little under two hours from the Gulf of Mexico.
With a latitude of 28 degrees north, Orlando enjoys a subtropical climate with hot, humid summers and mild winters sans snow.
Thus, it makes a great place to vacation any time of year!
Why Should I Travel to Orlando Florida?
Orlando is the family-vacation capital of the world.
But more than just a popular place to vacation, it's also a major center of industry and premier destination for business tourism.
But whatever your reasons for traveling to Orlando, a vacation home can help you maximize the magic of your stay.
Check out a few reasons why you might travel to Orlando, then call and ask how our partners at I LoveVH can help you get great rates on a great vacation rental in Orlando!
Family Vacation
Orlando's reputation as the family vacation capital of the world as well deserved.
As home to Disney World, Universal Studios, SeaWorld, and many other top parks and attractions, a trip to Orlando promises fun for the whole family, and is sure to win You plenty of cool points with the kids.
Of course, cramming the whole family into hey single hotel room can put a damper on your vacation magic.
But when you buy a vacation home from Authentic Real Estate Team, or book one with our partners at ILoveVH, you can have all the comfort, privacy, and luxury of a single-family home, and maximize the magic of your family vacation in Orlando.
Business Convention
As a central hub of tech, finance, and many other vital industries, and as home to the Orange County convention Center, one of the busiest convention centers in the world, Orlando is a premier destination for business tourism.
But just because you're visiting on business doesn't mean you can't mix in a little pleasure.
Renting a vacation home is a great way to not only enhance your comfort while you're in Orlando, Florida, but also to enhance your performance at your business function.
Golf Vacation
Did you know Florida boasts more golf courses than any other state in the US?
And a great many, including some of the best, are located in the Greater Orlando area.
From Reunion Resort's signature Watson, Palmer, and Nicklaus courses, to Champions Gate's Greg Norman-designed National and International, to Lake Nona Golf and Country Club, Bay Hill Club and Lodge, Orange Tree Golf Club, and more, Orlando's highly rated golf courses have made it a world-renowned destination for golf tourism.
And with it's warm subtropical climate, Orlando's golf courses can stay open all year long!
Want to make Orlando your personal golf haven with a dream golf-view vacation home of your own?
Authentic Real Estate Team is your source for great deals on golf course real estate throughout Orlando!
Visiting Parents and Grandparents
With year-round warm weather and abundant opportunities for Orlando is one of the premier retirement destinations in the United States.
Thus, one of the most common reasons people travel to Orlando to visit aging parents and grandparents.
Want to make seeing your in-laws a bit more fun?
Book a vacation rental with ILoveVH!
Honeymoon or Anniversary
Another popular reason to travel to Orlando's for honeymoons and anniversaries.
Orlando is full of romantic things for couples to do.
From Disney's Magic Kingdom, to the worlds 9th-tallest Ferris wheel, the Wheel at Icon Park, to fine dining in WalletHub's second-best foodie city in the US, Orlando offers plenty of ways to make that special someone feel, well, special.
Want to level up the love on your honeymoon or anniversary vacation in Orlando?
Book a cozy vacation home with ILoveVH home for the ultimate romantic way to stay!
Meet The Best Things To Do In Orlando Florida

Orlando is famous as the theme park capital of the world.
But while the theme parks aren't to be missed, they're far from the only fun thing to do on your Orlando vacation.
Scroll below to discover a few of the best things to do in Orlando, Florida!
1. The Theme Parks
Orlando's reputation as the theme park capital of the world is well-deserved.
As home to Disney World and Universal Studios, Orlando boasts the world's first- and second-most-popular theme parks, respectively.
Other theme parks in Orlando include SeaWorld, a slew of Disney, Universal, and SeaWorld sister parks, water parks, and several smaller amusement-style parks and attractions.
Thus, vacationers of all predilections will find a theme park to delight them in Orlando.
For a family of 4 who wants to make a major theme park the main event on their vacation, the average cost of a 2-week holiday in Orlando, Florida is around $11,400.
However, by visiting during the cheapest months (January and February), and by taking measures like packing your own food for the parks, vacationers on a budget will find plenty of ways to save on their Orlando, Florida theme park holidays.
2. Go Golfing
Florida is home to more golf courses than any state in the country.
And Orlando hosts many of the best.
Golfers of all abilities will find a course to challenge and delight them in Orlando.
And with year-round warm weather, the courses are always open!
You'll find a wealth of great golf resorts in Orlando, from Reunion to Champions Gate and beyond.
And with Authentic Group, you can find great prices and rates on Orlando golf course real estate and rentals.
Want to save on your trip?
For vacationers on a budget, the cheapest time to golf in Orlando is during the summer months.
3. See Orlando's Famous Freshwater Springs
Did you know Orlando is home to the world's largest concentration of freshwater springs?
Seeping up through the Florida limestone, these swimming holes are naturally filtered to crystal clarity and remain a refreshing 72 degrees Fahrenheit all year round.
Orlando's famous freshwater springs make the ideal way to beat the summer heat, and as many have been designated as state parks complete with trails and pavilions, they're also ideal for hiking and picnics.
Moreover, the springs offer one of the cheapest ways to vacation on a budget in Orlando, Florida any month of the year!
4. Take a Hot Air Balloon Ride
From the theme parks to the golf courses to the freshwater springs, Orlando has a lot going for it.
Unfortunately, scenic vistas aren't one of those things.
With an average elevation of 6 feet, Florida is the flattest state in the country, and Orlando is no exception.
However, with a hot air balloon, you can see Central Florida's unique landscapes from a whole new perspective.
You'll find a wealth of hot air balloon operations in Orlando, offering stunning panoramic views of Central Florida's prairies, wetlands, scrubs, forests, and lakes.
5. Tour Orlando's Wetlands By Airboat
Part land, part water, Orlando's wetlands are a truly unique landscape not to be missed.
However, with too much water for roads, but not enough for prop boats, there's only one way to see explore them – by airboat.
Luckily, you'll find a number of companies offering airboat tours of Orlando's wetlands.
See Old Florida the way it's looked for thousands of years, while encountering alligators and other unique wildlife that have been around for millions.
Thanks to Florida's warm climate, airboat tours run every month of the year, and at prices starting around 30 dollars a head, they're one of the cheapest things vacationers on a budget can do on their Orlando holidays.
What is the Airport in Orlando?
Orlando's main airport is the Orlando International Airport.
Handling more than 20-million annual passengers in 2021, and averaging more than 50-million in pre-pandemic years, the Orlando International Airport ranks as the 8th busiest in the United States, and the 26th busiest in the world!
Does Orlando Have a Beach?
While Orlando is more than 60 miles from the nearest ocean, its position in the middle of the Florida peninsula offers vacationers a unique opportunity.
When you choose Orlando, Florida as your holiday destination, you can visit two oceans in the course of one vacation.
Heck, with the Atlantic Ocean just an hour away, and the Gulf of Mexico about an hour and a half, you could conceivably see both shores in one weekend!
Scroll down to learn more about the beaches near Orlando!
1. Cocoa Beach
Cocoa is famous for surfing, golden sands, and alcohol-friendly beaches.
And at just 60 miles away, it's Orlando's closest beach!
2. Tampa Bay
Where Cocoa is known for big surf, Tampa Bay is renowned for its glassy turquoise waters, ideal for swimming.
Stroll the powdery white sands by day, and hit the Cuban clubs by night!
3. Daytona Beach
With big-wave surfing, and famous events like Bike Week and the Daytona 500, Daytona is arguably the most famous beach in the world.
And at just over an hour from Orlando, you can add it to your next vacation itinerary!
What Types of Vacation Home Can I Have When I Travel to Orlando Florida?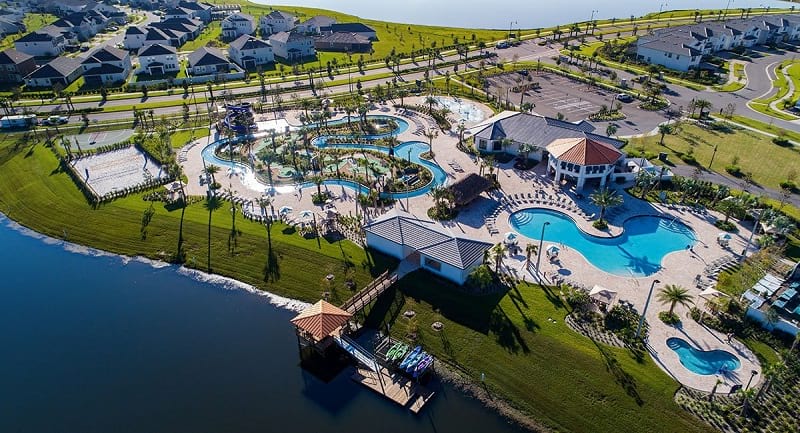 Orlando's vacation rental market is large and diverse.
But hey, what else would you expect from the vacation capital of America!
Learn about a few of the vacation home types on offer in Orlando below!
1. Vacation Homes Near the Theme Parks
The days of cramming the family into a hotel room for your Orlando vacation are over.
Today, you'll find a wealth of vacation rentals available near Orlando, Florida's theme parks.
And with our partners at ILoveVH, you'll find them for less!
2. Golf Course Vacation Homes
Planning an Orlando golf vacation?
With a golf course vacation home, you can stay where you play!
Authentic Real Estate Team and ILoveVH are your sources for the best golf course real estate and rentals in Orlando, including at Reunion Resort, Champions Gate, and beyond!
3. Vacation Condos in Orlando Florida
Want to make Orlando your honeymoon or anniversary destination?
Or perhaps you're visiting Orlando on a budget.
Whether you're looking for a place to cozy up with your significant other or a way to save money on your stay, a condo rental offers compact lodging at a compact price.
4. Multifamily Orlando Vacation Rentals
At the other end of the size spectrum, a multifamily vacation rental offers luxury lodging and big saving for vacationers traveling in a group.
With 15 bedrooms and more, these vacation rentals are the ultimate practical party houses, letting you and 30 to 40 of your closest friends split the bill and save!
5. Lakefront Orlando Vacation Homes
With hundreds of lakes, Orlando is the ultimate place to rent a lakefront vacation home.
After a long day at the theme parks, there's nothing more relaxing than coming home to lake views.
And with many homes offering fishing piers, boat docks, and canoe/kayak rentals, these are views you can use!
So Why is Orlando Florida the Best Place to Travel in the USA?
With the world's best theme parks, and a wealth of all-natural outdoor attractions, Orlando is truly the best place to travel in the United States.
And while the average vacationer should budget for costs of around $3,365 ($15,306 for a family of 4) for a 2-week Orlando, Florida holiday, by visiting in the cheapest months like January and February, and by strategically planning what you do and eat, and where you stay, you'll find plenty of ways to save.
Maximize the Magic and Savings of Your Orlando Florida Holiday With a Vacation Home From Authentic Group!
So, if you want to have a magical vacation, Orlando is the place to visit.
And if you want to maximize the magic and savings of your holiday in Orlando, Florida, count on Authentic Real Estate Team and our partners at ILoveVH for the best deals on vacation real estate and rentals.
Call today!