ORLANDO'S HOUSING MARKET AND CORONAVIRUS
The Orlando's housing market and coronavirus (Covid-19)  have been a question mark for many investors. It's April 2020, and the coronavirus pandemic has turned the world upside down. As the virus continues to spread through the world's populations, its economic consequences continue to spread through its markets. Leaving many to wonder if the housing market might be next. Will it collapse like in 2008?
Housing Markets Vary – Orlando's Real Estate Market and Covid-19
So far, the big-picture answer isn't obvious.
But one important thing to remember about real estate markets is this: though they are all interconnected, there is still significant variation market to market.
Not just state to state, but city to city, too.
And as of the writing of this blog, the city of Orlando's housing market is as strong as ever.
Orlando is Growing!
Orlando is one of the fastest-growing cities in the United States.
The Orlando Metropolitan Area gained over 60,000 residents in 2019, and it's projected to gain more than that in 2020.
Demand for investment and seasonal properties is on the rise, too.
According to the Orlando Association of Realtors in March 2020, Orlando home sales have increased 2% over this time last year.
Now, add to that a 10% decrease in inventory, and what do you get?
Rising home values.
2020 has seen a 6% increase in the median sale price for single-family homes, and an 8% increase across all home types.
So, while the fate of the national housing market may still be in question, the Orlando market is showing no signs of slowing.
An External Crisis
But even if Orlando weren't an exceptionally fast-growing city, it might not matter.
Whether or not, and to what degree, the coronavirus pandemic will impact the housing market at all is still an open question.
For those drawing parallels between the pandemic and the 2008 financial crisis, remember:
The 2008 crisis BEGAN in the housing market.
With investment banks handing out mortgage-backed securities like candy, and investors flooding the market with subprime mortgages.
It was only a matter of time before the web of risk between lenders, investment banks, investors, insurance companies, ratings agencies, and homeowners, got too big and collapsed under its own weight.
Taking the economy with it.
The coronavirus pandemic, on the other hand, is an external, worldwide crisis, the likes of which hasn't been seen in the modern era.
Some of the impacts have been obvious: stocks experiencing their worst percentage drop since 1987, oil prices hitting all-time lows, and travel and leisure industries furloughing millions of workers. (bbc.com).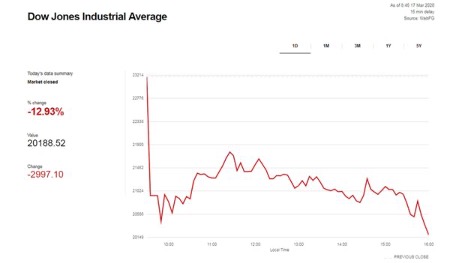 But as for the impact on the housing market, many realtors are optimistic.
Like Tiago Ferreira, owner of Authentic Real Estate Team.
Ferreira believes that, because the pandemic is external and worldwide, as opposed to internal and localized, home prices won't fall as they did in 2008.
And most realtors agree that Orlando's housing market and coronavirus did not create a major impact.
Toward a Brighter Tomorrow
So, while the pandemic has caused some sellers to postpone listing, others are reaping the benefits of a less saturated market.
And in Orlando specifically, sellers and buyers alike are reaping the benefits of local growth.
Giving sellers plenty of demand to work with, and buyers plenty of room to grow their investments.
But whether you're a seller or a buyer, if you want to get the best deal on your home, hiring a realtor is imperative.
Especially in times of uncertainty.
As Orlando's most trusted real estate firm, Authentic Real Estate Team is here to help guide you through these uncertain times.
Toward the deal you deserve.
And toward a brighter tomorrow.