Homes for sale in
Randal Park Homes For Sale

3 to 6 Bed

2 to 5 Bath

1593 - 3950 SqFt
Available
homes
7 properties found
Page 1 of 1
Good news!— there are new Randal Park homes for sale in Lake Nona. Firstly, we can't rave enough about this great community, ideal for families seeking a calm atmosphere and retirees seeking quiet. Secondly, The Authentic Real Estate Team is here to assist you in all of your home buying and property buying needs. Call us today to inquire about Randal Park homes for sale.
In a word, Randal Park is another wonderful community inside Lake Nona. Randal Park Lake Nona and Storey Park are quite comparable. For instance, it is just a short drive from all of the most popular and useful Lake Nona shops and amenities. Read on to find out how Randal Park homes for sale offer something for everyone.
Lake Nona: The Premier Medical City
This Florida community is home to the largest medical campus in the United States. Lake Nona Medical Complex is comprised of five research hospitals, each specialising in its own category. Furthermore, each facility is a leader in its field, offering some of the best medical care in the country. When you buy a Randal Park homes for sale, rest assured knowing that the best medical care is right at your doorstep.
Where are Randal Park Homes for Sale in Lake Nona?
Lake Nona is a large community located in the Orlando area. Though some refer to Lake Nona as a city because of its land mass, it is actually a suburban community. In general, Lake Nona is a family-friendly residential area.
The Lake Nona community sits just east of the Orlando Airport. Though it is just a short drive to the airport, it is still far enough away where it is not hounded by international air traffic.
Additionally, Lake Nona is home to The United States Tennis Association. The USTA established 103 indoor and outdoor tennis courts to enhance the tennis resources and accessibility here. The USTA encourages athletes, young and old, to pick up the sport.
Where is Randal Park?
Randal Park is located centrally in the Lake Nona region. Randal Park homes for sale sit just northeast of the larger community and are surrounded by many small bodies of water. This quaint community is well-connected to the rest of the Lake Nona and Orlando communities. However, it still has an identity of its own.
Why Choose to Buy Randal Park Homes for Sale?
Great Location
The family friendly Randal Park neighbourhood is a sub-community of Lake Nona located in Orlando, Florida. Moreover, it is just a short drive away from all of the Orlando attractions and some of the most famous theme parks in the world. The Orlando International Airport is also just nine miles east of this pleasant Orlando sub-community.
Great School District

Randal Park homes for sale are in the same school district as Storey Park, which is known for its high-quality education. This means that the Storey Park curriculum pushes young academics to their highest potential. The public schools here achieve a high score year after year in the educational ranking index.
Furthermore, Randal Park offers great local opportunities for students pursuing higher education. Valencia community college is located just 24 miles from Randal Park homes for sale. Additionally, the University of Central Florida, the largest university in the nation, is just a twenty minute drive away. The University of Central Florida's football team is one of the best in the country. One of the best elementary schools in the area is called Sun Blaze. Altogether, this school has a reputation for having highly invested teachers and excellent education standards.
Randal Park Homes for Sale at the Best Prices
Although Randal Park homes for sale are newer, modern, and stylish. The majority are in a family-friendly, affordable price range. The value of Randal Park homes is high. Most of the homes in this community were built in the last five years. They range in size from three to five bedrooms and two to four bathrooms.
Furthermore, Randal Park Lake Nona is a sub-community that offers townhomes and single family homes alike. They range from $300,000 to $500,000 depending on their size, model and age.
Newer Homes
The Randal Park Lake Nona community is built by Mattamy Homes, a trusted builder with decades of experience. Consequently, the community is planned with townhomes and single families homes in a reasonable price range. This is one of the aspects that makes it similar to Storey Park. As there are new Randal Park homes for sale in this sub-community, the market here remains well-balanced.
Safe Place to Live
Yes, the entire Lake Nona, Florida community, including Randal Park is a very safe place to live, visit and raise a family. Mattamy Homes' Randal Park community sits about 20 miles southeast of Orlando. Therefore, its proximity to Orlando adds to its international flair and connection. However, it is still free of the hustle and bustle of metropolitan life. This allows it to maintain its reputation as a safe and secure residential community.
Plenty of Things to Do
The Randal Park community centre is a popular family hang-out. Here, you'll find a fun water park and pool for kids to enjoy year-round. Additionally, owners of Randal Park homes Orlando Fl get to take advantage of all of the great amenities of Lake Nona and even Orlando. These include incredible lakes, a famous water sport complex, miles and miles of hiking and biking trails, and the most famous theme parks in the country.
New Randal Park Homes for Sale in Lake Nona
Furthermore, One thing that truly sets Randal Park homes for sale apart from the rest are their modernity. This community is truly a new family-living gem in the Orlando area. The builder, Mattamy Homes, is still developing Randal Park which means there are many completely brand new homes. Additionally, there are re-sell homes for sale that have their own unique styles.
See Lake Nona New Homes For Sale
Luxury Randal Park Fl Real Estate Orlando
Luxury homes in Randal Park Orlando Fl are readily available. These large Randal Park homes for sale are perfect for raising bigger families in style and comfort. They are great for families looking to entertain and impress their guests. In luxury estates in Randal Park, there is plenty of room for a home office, a game room, and even a home gym. Homes here start at only 600,000—truly an unbeatable price point for luxury and lifestyle.
See In Lake Nona Luxury Homes For Sale
Randal Park Homes for Sale With Pool
The hot and humid Florida climate makes pool homes very attractive. Randal Park does offer a good number of pool homes, however, some home buyers choose to add a pool after purchase. Not only are pools a great way to escape the Florida heat and sun, they are also a great investment. On average, pools increase a property's value by approximately 7%. According to Review Home Warranties, pool home ownership is on the rise: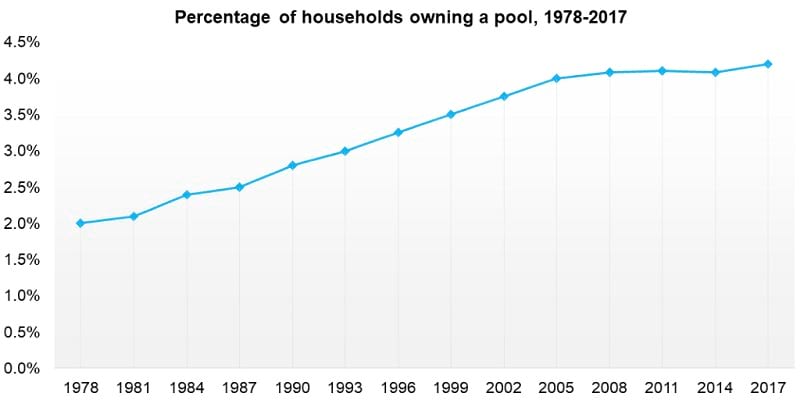 See In Lake Nona Homes For Sale With Pool
Homes For Sale in Lake Nona and Other Communities
If the Randal Park Orlando area peaks your interest, we can recommend similar communities with homes for sale. The Authentic Real Estate Team has one of the largest real estate portfolios in the central Florida area. Feel free to take a look at some of our other communities with homes on offer.
See All Homes For Sale in Lake Nona!
Lake Nona Golf Country Club
Lake Nona Golf and Country Club is home to some of the most luxurious homes in the county. Many of these properties are lakeside, some with upwards of eight bathrooms.
What makes this community so exclusive and sought after is its lake access. Only home owners and residents of Lake Nona Golf and Country Club can enjoy this beautiful lake.
This community is a luxurious, high-class neighbourhood. Homes here can be quite massive, offering more space for entertainment and multi-family activities. Typically, these homes are at a higher price point but offer all the luxury, style, and comfort that money can buy. Not to mention, homes here are right on the lake. Only Lake Nona Golf and Country Club residents can access and use the lake which adds to its aura of privacy. The Lake Nona Golf and Country Club community is famous for its high level of water activity. These activities include jet skiing, boating, and water skiing. Additionally, the clubhouse and golf course here is a beautiful, top-of-the-line, wellness facility.
See All Homes For Sale Lake Nona Golf And Country Club
Storey Park
Storey Park is one of the most sought after communities in Lake Nona. Lake Nona itself is situated just next to the city of Orlando and, most conveniently, right next to Orlando International Airport. This makes it one of the top communities for retirees, families, students, and internationals. The proximity of the airport, in addition to the highly ranked public school system make it one of the best central Florida communities to live in.
See All Homes For Sale In Storey Park, Lake Nona
Eagle Creek
Eagle Creek is a safe, gated community that leans towards luxury. What makes Eagle Creek so special in relation to the other Lake Nona neighbourhoods is that it is actually a gated community made up of smaller, sub-communities. This means that its safety and security is unbeatable. Homes here range in age, size and model with something for every buyer. Eagle Creek offers large, luxury homes as well as single family homes and townhomes. Furthermore, Eagle Creek is known as a golf community and a top Florida golfing haven. Furthermore, the Eagle Creek Elementary School is one of the highest ranked schools in the state. Its amenities centre is built for the comfort and convenience of its family residents.
See In Eagle Creek Homes For Sale
Laureate Park
Laureate Park is a community just touching the Lake Nona Medical City. Lots of the medical professionals and researches that work at the Lake Nona Medical Complex choose to live in Laureate Park. This tight-knit community is also well-known for its restaurants, shops and amenities. For example, Canvas Restaurant and Market is a beloved community staple. This unique eatery offers new, American cuisine. It sits on a large plot of well-manicured grass and backs up to a crystal-blue lake.
Furthermore, the Laureate Park community is built around a large park with grass fields and an outdoor amphitheater. It regularly hosts musical and theatre events as well and local bands and artists. Children and families like to spend time here, playing and picnicking.
See In Laureate Park Homes For Sale
Randal Park Homes for Sale in Lake Nona: FAQ
Unsurprisingly, home buyers have generally high interest in buying Randal Park homes for sale. Based on the date of our customers and buyers, we've compiled a list of the most frequently asked questions. These are to help you make the best real estate and investment decision. It goes without saying that the Authentic Real Estate Team is also here to assist you with all of your real estate needs. Simply call or email us with any inquiries you may have.
Where are Randal Park Homes for Sale in Orlando?
Randal Park in Lake Nona is located conveniently close to the Orlando International Airport. While its close proximity gives residents and families the ease of travel, it is still far enough from the airport and city that it maintains its quiet atmosphere. Randal Park homes for sale, therefore, are in high demand for their perfect location.
Is Randall Park Fl a good place to live?
Yes, Randal Park Fl is a wonderful, Lake Nona sub-community. It is very special and is generally revered for contemporary living flair. This incredible sub-community is well-connected to all the central Floridian water and nature ecosystems just southeast of Orlando. However, Randal Park homes for sale are perfectly situated just enough outside of the city, to maintain its peace and calm.
Is Randal Park safe?
Randal Park, Florida is a family-friendly. Furthermore, it is a safe place to live, invest, vacation and visit. Mattamy Homes' Randal Park community sits just north of the central Lake Nona area. The entire region is a very safe, residential place. Randal Park homes for sale and Randal Park townhomes for sale are in close proximity to Orlando. However, they still manage to shrug off all of the "hustle and bustle" characteristics of a city. Therefore, it is generally a very safe and secure neighbourhood for its community of families and residents.
Fun Things To Do Near Randal Park Orlando Fl
Orlando Water Sports Complex
Kids, families and adults rave about having the Orlando Water Sports Complex right in their backyard. This water activity facility is unlike any other. Generally, it is visited by thousands of residents and tourists every year. Truly, it is one of the best places in the southern United States to swim, jetski, and wakeboard. This one-of-a-kind sports complex offers beginner to advanced classes for all water enthusiasts. Additionally, it features the best and most professional coaches. Therefore, investors who buy Randal Park homes for sale benefit from having this water thrill park in their community.
Plenty of Restaurants Options
There are lots of restaurants options to choose from in the Randal Park and Lake Nona area. These eateries have something for everyone—even the pickiest of eaters. Park Pizza and Brewing company is a great place to hang out with friends on a Friday night. This special brewery is most notable for its in-house craft brews on tap.
If pizza is not on your mind, Canvas Restaurant Market is another great option. This local spot serves up new American cuisine with a focus on seasonal and regional produce as well as fresh seafood. They even offer a "family meal" menu section for larger parties. This restaurant is just a few minutes away from the Randal Park community. It sits on a little lake with a grass area that hosts community events and live music. You can also stop by the Canva Market and get deli supplies for the week.
Short Drive to Disney and theme parks
By now, it's quite obvious why the Randal Park community and Randall Park homes for sale are so beloved. In addition to all that it has to offer, it is also located very close to the Orlando theme parks. This private sub-community is only a 30 minute drive to Universal Orlando Studios. SeaWorld is just 35 minutes away. Of course, it's only a 26 minute drive to Walt Disney World, the happiest place on earth.
Walking Trails
Randal Park is home to an extensive network of walking trails. People come from all over the county to run, bike and hike around this beautiful community. They are ideal for hikers and bikers of all ability levels.
The Randal Park community offers its own bike rental program to promote health and fitness. Here, residents can rent a bike easily. All you have to do is download the app and pay as you go. Use your rented cruiser to explore Randall Park's miles of trails.
Drive Shack
Drive Shack, located in Lake Nona, is a golf driving range perfect for golfing enthusiasts looking to practice their swing. The golf driving range is special, however, because it offers players the chance to golf in augmented reality. Here, you'll also find an arcade, fun games, and a full service bar.
Bark Park
For all of the four-legged friends of the Lake Nona and Randal Park community, Bark Park is the place to be! Here dogs can roam freely, and get the exercise and socialisation that they crave. The dog park and recreation areas are closed off. This lets dog owners have freedom and peace of mind during puppy play time.
Play Tennis at the USTA
Play tennis easily when you buy a home in Randal Park! Join a doubles team. Take lessons from the most professional tennis coaches and play in tournaments at the USTA campus. The Orlando area and the state of Florida are famous for two sports—golf and tennis. With the relocation of the USTA to Orlando, tennis is gaining popularity in Florida.
Randall Park Homes for Sale Orlando – Truly a Wonderful Place to Live
It's not hard to see why Randal Park homes and townhomes are so popular. Truly, this Lake Nona sub-community is one-of-a-kind. To clarify, it's perfect for those seeking a community with a fast and easy connection to the larger Orlando metropolitan area. This sub-community's great amenities, new homes, restaurants, beautiful natural surroundings will make for the perfect place to call "home." Call the Authentic Real Estate Team today to inquire about your new home in Randal Park Orlando.
Looking for Randal Park Homes for Sale? Contact Authentic Real Estate Team!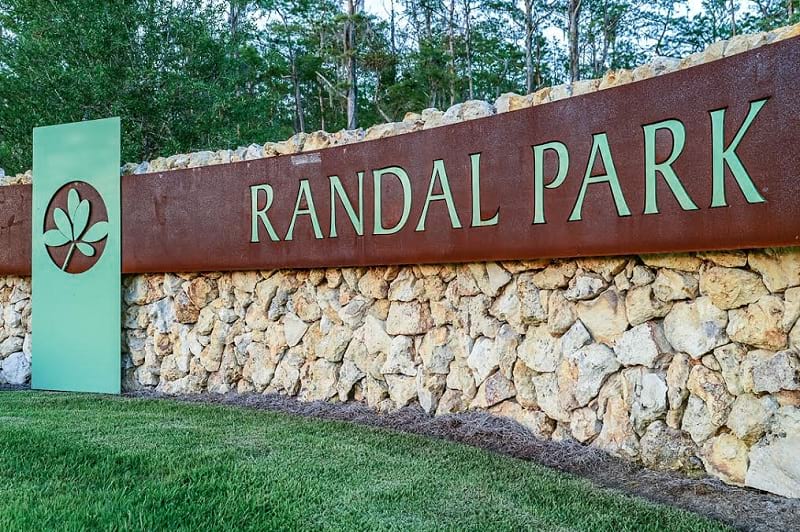 The Authentic Real Estate Team is your go-to team when you are considering a new home. Our team always promises dedication, trust and commitment. That is, we pull out all the stops to make sure that our clients' home ownership dreams come true!
Authentic Real Estate Team is a family-owned business with all of the right connections and experience. Furthermore, we are a full-service property agency here to help you find exactly what you are looking for.
Additionally, our real estate experts at Authentic Real Estate Team are simply the best and most professional you will find. Residential and vacation homes and properties are our specialty. Our sales expertise can definitely benefit you in finding the right property near Randal Park Lake Nona. Not to mention, our team provides the highest quality support. We help our clients buy, maintain and enjoy Lake Nona Orlando properties.
Your Orlando Real Estate Experts
The Orlando Homes For Sale Team always goes one step further—we provide after-sale booking agent assistance for all our clients. Orlando Vacation Rent, our Authentic Real Estate Team subsidiary, helps home and property owners find suitable renters. Easily book up your rental calendars to maximum capacity. In short, the Authentic Real Estate Team and Orlando Vacation Rent together provide all the services that you need as a property owner.
Additionally, we also provide expertise for foreign buyers and non-Florida residents. Our team has years of experience navigating the administrative and legal real estate processes. We promise to do everything we possibly can to make buying a Randal Park Lake Nona property possible.
Finally, the Authentic Real Estate Team has relationships with only the best Orlando vendors. Our relationships with management companies and cleaning service providers are sure to make your life painless and even easy! Our extensive vendor list includes home care services and pool cleaners. Randal Park's local vendors are here to help you manage your home, property, or investment. Call your Authentic Real Estate Team today! Customer satisfaction is our promise, no questions asked.
If you're looking for homes for sale in Randal Park Lake Nona the choice couldn't be easier. Call the Authentic Real Estate Team today!