16 properties found
Page 1 of 2
Looking for a great place to live in Central Florida?
How about a lucrative investment location? Want to take your quality of life or ROI to the max? Then our inventory of gated community homes for sale in Clermont, FL might be just what you're looking for. With high-performing schools and low crime, Clermont makes a fantastic place to live. And with short-term rental zoning and proximity to Disney World, it makes a lucrative place to invest.
Now, add the exclusivity of a community's limited inventory, safety of a gated entry and security detail, and luxury of high-quality homes and resort-style amenities, and it's easy to see why our selection of gated community homes for sale in Clermont, FL are ideal for residential and investment buyers alike.
So, if you're thinking of buying a community home in Clermont, the choice is clear: contact Orlando homes for today!
Why Buy Gated Community Homes for Sale in Clermont FL?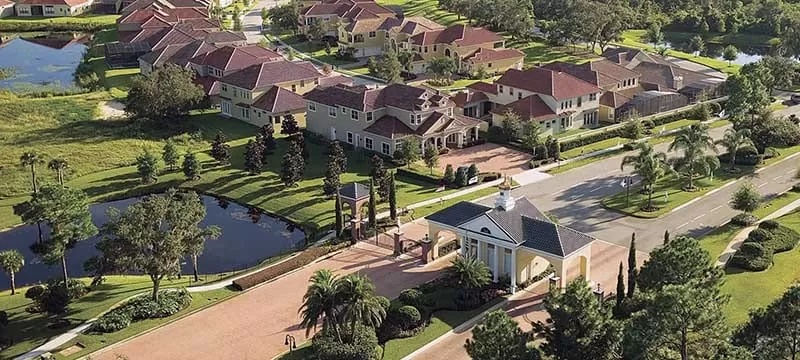 Whether you're looking for a place to call home, a home away from home, or your next great investment opportunity, look no further than a gated Clermont community home from Authentic Real Estate Team.
1. Next-Level Safety, Comfort, and Fun
Moving the family to Central Florida?
Looking for a safe, comfortable, fun place to live?
You'll find it in Clermont, FL, and with a gated community, you can take the safety, comfort, and fun to the next level.
Clermont is a family-friendly town, with an idyllic setting amongst rolling green hills, Low crime, and highly ranked public and private schools.
It's also ideally located near Orlando's most famous parks and attractions, including Disney World, SeaWorld, and Universal Studios.
But if you want to give your family the luxury lifestyle they deserve, a community is key.
With our selection of gated community homes for sale in Clermont, Florida, you can enjoy the peace of mind of a gated entrance and security guards, comfort of high-end homes by top builders, and fun of resort-style amenities right outside your door.
2. Live Like You're on Vacation
Always dreamed of a home away from home in the Sunshine State?
Clermont is perfectly suited for seasonal living, with a lush natural setting, a wealth of outdoor recreation options, and mild weather to let you enjoy it all any time of year.
But if you want to level up the luxury of your seasonal lifestyle, a gated community might be for you.
With our selection of gated community homes for sale in Clermont, FL, you can live like you're on vacation for half the year with 5-star amenities both inside and outside the home.
Enjoy incredible private perks like screened-in pools and spas, home movie theaters, rec rooms with both classic tabletop games and high-tech consuls, and themed bedrooms.
You'll also find a range of theme park-worthy shared amenities right on site, like sparkling
pools, water slides, lazy rivers, splash parks, mini golf, arcades, playgrounds, fishing piers, and more!
3. The Perfect Balance of Fun and Comfort
Central Florida is the number-one vacation destination in the country, bringing in more than 70 million visitors, and over 6 billion dollars, a year.
And every year, more and more of these visitors are booking vacation rentals.
A vacation rental combines the fun of a resort with the comfort of home.
And in Clermont's best gated communities, they've found the perfect balance.
At around half an hour from Disney World, Clermont offers vacationers peace, privacy, and a home-town feel in an idyllic setting.
Meanwhile, Clermont's short-term rental communities have taken Clermont's natural charm and added theme park-level amenities.
Thus, vacationers can enjoy nonstop vacation fun without fighting the crowds, making Clermont's short-term rental communities Increasingly popular, and increasingly lucrative.
Invest with Authentic Real Estate Team today!
The Top Gated Communities in Clermont FL

Whether you want to invest in Central Florida tourism, Central Florida growth, or your family's happiness, Clermont makes a great place, and gated communities make a great way, to do it.
Clermont boasts a wealth of gated communities to choose from.
Check out a few of our favorites below!
1. Serenity Resort
At Serenity Resort, you can own a low-overhead, high-occupancy townhome just minutes from Disney.
Serenity features 136 luxury townhomes priced low, yet large and luxurious enough to make renters feel at home.
Moreover, every townhome at serenity comes with energy-efficient appliances and eco-friendly design that helps you save!
So cast a magic spell on your investment portfolio with one part small-town serenity, one part vacation convenience, and get the great ROI you deserve.
The Best Deals In Serenity Townhomes Clermont For Sale
2. Victoria Estates
Looking for luxury and convenience of the highest order?
With limited large home sites enabling large floor plans, Victoria Estates boasts spacious luxury homes starting in the 400's.
This premier Clermont community also features a prime location on West Orange Trail, with convenience to the turnpike and zoning for esteemed Lake Minneola High School.
Thus, Victoria Estates is one of the most in-demand communities in Clermont.
Count on Authentic Real Estate Team to help you pay less.
3. Hidden Lake
Want the energy efficiency in a more classically luxurious home?
At Hidden Lake in Clermont, spacious high-end homes are powered by solar panels for the perfect balance of stunning and stunning.
Enjoy convenience to major highway access points, for quick connection to shopping, dining, and entertainment, all while Hidden Lake's waterfront setting lets you escape to your happy place.
4. Serenoa
Want a community where you can raise your family?
Serenoa offers family-friendly living in a safe and quiet, yet fun, setting.
Keep your kids entertained with a resort-style swimming pool, children's splash zone, and traditional playground, while enjoying the security and serenity of a gated entry and conservation views.
5 Sawgrass Bay
Like Serenoa, Sawgrass Bay is a family friendly community in a natural setting.
Give your kids leg up on their futures with top-ranked Sawgrass Bay Elementary School located on site, while rewarding them with Disney, located just up the road.
Meanwhile, get a leg up on your finances with prices starting In the mid-200s, and reward yourself every day with tranquil conservation views.
See All Types of Homes for Sale in Clermont FL Gated Communities
Our all-star lineup of gated Clermont communities offer a diverse selection of home types, floorplans, and amenities.
Find your ideal combination below:
Clermont Golf Course Real Estate
Gated Communities In Clermont FL
55 Plus Communities In Clermont FL
Pet Friendly Apartments In Clermont
Homes For Sale In Clermont FL With Boat Dock
Furnished Homes For Sale Clermont FL
Conservation View Homes For Sale In Clermont FL
Communities With Fitness Center In Clermont FL
Communities With Tennis Court In Clermont Florida
Open Houses In Clermont FL
Communities With Pool In Clermont FL
Homes In Clermont FL With 1 Acre
Two Story Homes For Sale In Clermont FL
One Story Homes In Clermont FL
3 Car Garage Homes For Sale In Clermont FL
Meet the Best Gated Communities Near Orlando Florida
Looking for something a little closer to the excitement of Orlando?
Authentic Real Estate Team has your key to the best gated communities across the region, with the area knowledge to help you find the best location for your needs.
Homes For Sale Near Orlando FL
Talk With the Best Real Estate Agent in Clermont FL for Your Gated Community Home

Authentic Real Estate Team are your community real estate specialists in Clermont.
We've found Clermont, FL's best gated communities, with the best homes and amenities, and our partners at Authentic Real Estate Team are working to bring them to Clermont buyers at great low prices.
Talk with one of our experienced realtors today and see how we can help you Get a great deal on a great Clermont community home.
Meet The Best Realtors In Clermont FL
Property Management Services in Clermont FL
Investing in a gated community is a great way to protect your assets.
But to maximize the care and results of your Clermont investment home, you need quality property management.
Keep all your real estate needs in one place with Orlando's one-stop real estate shop – Authentic Real Estate Team.
At Authentic Group, we can help with all your property management needs in Clermont, from short-term rental booking and management referrals, to long-term leasing and maintenance, to seasonal home inspections, lawn care, occupancy-boosting promotion, and more!
Meet The Best Property Management Clermont FL Services!
Sell Your Home in Clermont
Orlando is undergoing historic population growth, causing home prices to surge in neighboring Clermont.
Now is the time to sell, but if you want to maximize your results, you need to bring in the professionals.
At Authentic Real Estate Team, we approach every sale with high levels of professionalism, trustworthiness, and care.
We treat every sale like it's a million-dollar sale, striving for the best results while providing the best service.
Count on us for all you're selling needs, including:
renovations, depersonalization, and staging to optimize your home for the unique demands of the Clermont market
Pricing that brings in buyers without selling you short
Professional photography, including Breathtaking aerial photos and video by licensed drone pilots
Listing on more than 150 high traffic real estate sites and Authentic's own platforms
A blend of old and new marketing techniques, from newsletters, to email campaigns, to social media marketing, high quality signage, live presentations, virtual and in person showings, open houses, and more
Fielding offers and crafting shrewd counter offers
Title and escrow services from trusted third-party professionals
An orderly closing that brings all players together for a satisfactory conclusion to your sale

See how fast, easy, and fruitful selling your home can be with Clermont's number-one realtor, Authentic Real Estate Team.
Sell My House Fast Clermont Today!
Buy Your Home in a Clermont FL Gated Community
Clermont community real estate is in high demand for its high quality, great location, and investment viability.
Don't let market forces cheat you out of a great deal.
With Authentic Real Estate Team, you can get the family-friendly residential home, luxury second home, or high-yield investment rental of your dreams for a great low price.
We offer end-to-end buyers services to take you through your purchase fast, and with great service and results.
Let authentic handle all your homebuying needs, including:
Pre-approval
Financing
Making informed offers
Negotiating counteroffers
Title, escrow, and closing services
Moving
And we don't stop there.
As your one stop real estate shop in Clermont, we go be on the sale with services you need to protect and potentiate your assets, including home watch for your second home, leasing for your long-term rental, occupancy-boosting promotion and property management referrals for your short-term rental, and more!
See All Homes For Sale In Clermont FL
Investment Property in Clermont FL Gated Community
With short-term-rental zoning, proximity to Disney and other points of interest, and strong growth in the region, Clermont has investment potential written all over it.
Let Orlando Homes For Sale and Authentic Real Estate Team Team help you turn potential to profit. We bring you a handpicked selection of Clermont's fastest-appreciating, fastest-renting, highest-yielding investment homes at the best deals, while providing the after-sale services you need to maximize the care and results of your investment.
The Best Of Clermont Property Investment
Clermont FL Gated Community for Second Home
If you want to make Central Florida your seasonal home away from home, then Clermont is a great choice of location.
Here you'll find your escape among Clermont's rolling green hills and sparkling lakes, while enjoying quick and easy commutes to local amenities via major points of access.
And with our selection of gated community homes for sale in Clermont, FL, you'll also find plenty of fun things to do – from resort-style pools, to hiking/biking trails, to fully equipped fitness centers – just steps from your home.
The Best Of Second Home In Clermont For Sale
Get the Most Updated Clermont Real Estate Market Data and Statistics!
Are you the type of person who makes five-year plans?
The type who makes checklists for your checklists?
Being prepared is key to making a successful purchase, and at Authentic Real Estate Team, your success is our success.
Therefore, we provide you with all the latest data, changes, and projections from the Clermont real estate market, so you can make a more informed, more successful home purchase.
See what the market data it's saying today!
Clermont Real Estate Market Statistics
Looking for Gated Communities in Clermont FL? Count On the Best Clermont Florida Real Estate Team!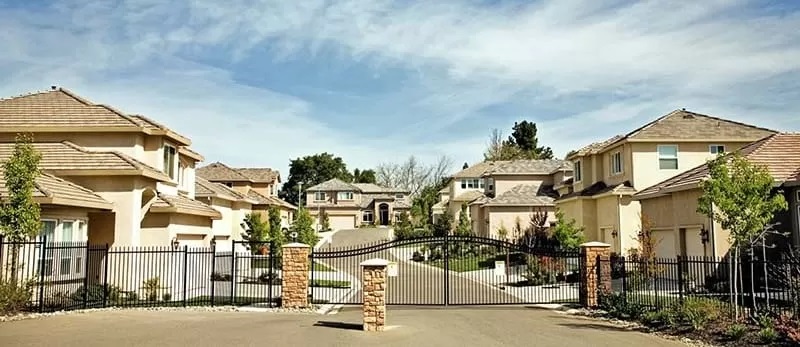 In conclusion, whether you're looking for a great place to live or invest in Central Florida, the choice is clear.
Because Clermont, FL has everything you need to maximize your quality of life or ROI.
And as your full-service real estate specialists in Central Florida, Orlando Homes For Sale and Authentic Real Estate Team Team have everything you need to succeed.
So what are you waiting for…