270 properties found
Page 1 of 23
Orlando is full of great gated communities, which in turn are full of great amenities and luxury homes by premier builders. And Authentic Real Estate Team is your premier source for houses for sale in gated communities in Central Florida. Whether you're a residential buyer or an investor, Authentic Real Estate Team can help you take your life, or your portfolio, to the next level with great deals on gated community homes for sale in Orlando. And, for seasonal buyers and investors, we go beyond the sale with quality property management to protect your assets and potentiate your returns. So get the luxury, safety, convenience, and ROI you deserve with our handpicked inventory of houses, townhomes, and condos for sale in Central Florida's best gated communities.
Why Buy Gated Community Homes for Sale in Orlando?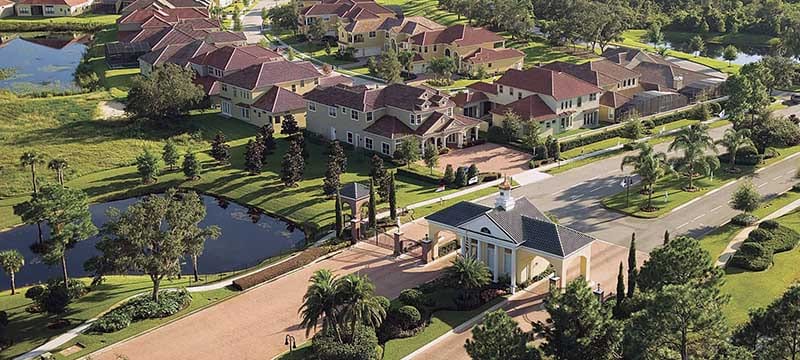 Orlando is one of Florida's premier markets for luxury gated-community real estate.
And Authentic Real Estate Team is your premier source for great deals on Central Florida community houses.
Here are just a few reasons why you should buy a home in one of our handpicked Orlando communities.
1. Safety for Your Family and Assets
Whether you're looking for a place to buy a permanent residence, second home, or a short- or long-term rental, Authentic Real Estate Team collection of community real estate gives you more protection and peace of mind.
Orlando, is safe to begin with, especially the areas in which you'll find our luxury communities.
But on top of that, you'll also enjoy the added peace of mind of 24/7 gated, often guarded, entrances, security patrols, closed-circuit monitoring systems, and an HOA.
Thus, residents can give their families the safe environment they deserve.
And remote owners of all kinds, from seasonal residents to investors, can rest assured that their assets are safe, no matter how far away they are.
2. Top-Shelf Homes
Our handpicked selection of community homes represent the best of the best in luxury Orlando real estate.
You'll find homes by the top builders in the southeast, from Mattamy Homes to Toll Brothers, to Taylor Morrison, Park Square Homes, Casiola, and more.
These luxury properties come in a range of styles, sizes, and prices.
However all homes, regardless of price or location, come with an array of standard features, such as:
modern open-plan layouts
high-end finishes
quality materials made to last
energy-saving appliances and design elements
fully-equipped kitchens
thoughtful attention to detail
Moreover, some homes come with optional extras to help your investment dollar go farther.
These include:
game rooms
themed bedrooms
swimming pools
hot tubs
views of both lakes and conservation areas
3. Exclusive Amenity Centers
When you buy a house for sale in one of our gated Central Florida communities, you get more than just a home.
Indeed, you get access to a world of world-class amenities you have to experience to believe.
Many of these communities were built with the Orlando vacationer in mind.
Therefore, their amenities packages are generous and designed for maximum fun and relaxation.
Among the many shared amenities at our gated Orlando communities, you'll find:
golf courses
huge resort-style pools
poolside tiki bars
water slides
lazy rivers
splash pads for the kids
playgrounds
hiking trails
lake access
onsite restaurants
fitness centers
mini golf
arcades
meeting spaces
4. Short-Term Returns
Many Orlando vacationers are choosing gated communities as their vacation-home destinations of choice.
And it's not hard to see why.
In addition to all the reasons already mentioned – added safety, luxury homes, and great amenities – gated communities are often well-located, with easy access to major highways and points of interest.
And as Orlando's popularity as a world tourist destination continues to grow, so too does the popularity of gated community vacation rentals.
Thus, our inventory of homes for sale in gated Orlando communities promise high average rates and high average occupancy.
And of course, with the great deals you can get with Homes In Orlando For Sale, that means a great ROI you'll start to see right off the bat.
So contact Authentic Real Estate Team today to see how we can help you make a lucrative investment with our selection of Central Florida community houses.
5. Long-Term Gains
Orlando is growing at a rate of 1,500 new arrivals a week.
And that's just the population.
With new residential developments, attractions, commercial spaces, infrastructure, and jobs popping up everywhere, Orlando's economy is on the rise, as well.
In fact, experts predict that within ten years, Orlando could rival cities like LA and New York for size and cost of living.
Don't wait until it's too late.
Rather, let Authentic Real Estate Team help you get a great deal on an Orlando community home while they're still available.
Then sit back and wait for the appreciation to grow your investment dollar.
The Top Gated Communities in Orlando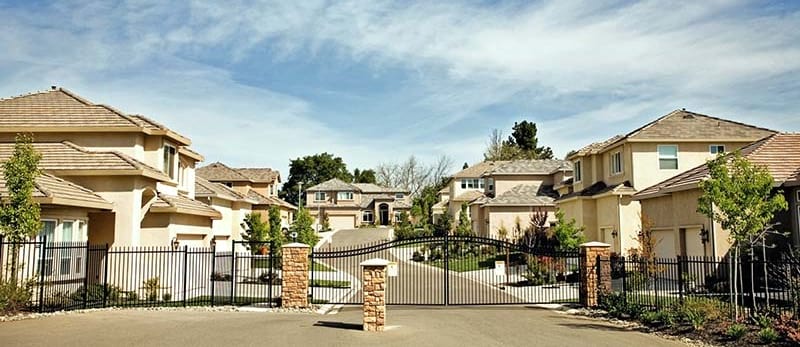 Orlando has a wealth of amazing gated communities to choose from.
And Authentic Real Estate Team has handpicked the best of the best.
Our selection of Orlando community real estate gives you the luxury, convenience, and viability you need to make your homebuying dreams a reality.
Here are 5 of our favorite gated communities in Orlando:
1. Paradiso Grande
While this gated community is still under construction, it had to take our number-one spot.
Because when it's finished, Paradiso Grande will be Orlando's premier real estate investment destination.
Not only will it boast an amazing location off world-famous International Drive in the heart of Orlando, Paradiso Grande will also be the FIRST AND ONLY community with single-family vacation homes in Orlando (Orange County).
For years, single-family homes have remained the most popular option for vacation renters, and for years, International Drive has remained one of Orlando's most popular attractions.
But until now, tourists who wanted to rent a vacation home in Orlando proper had to rent a condo or townhome.
Paradiso Grande, however, changes all that.
Thanks to a grandfather clause, Paradiso Grande will soon let you corner the market with Orlando's only single-family rental homes, in its best location.
And Authentic Real Estate Team can help you get a great deal at this exciting new gated community.
Join our exclusive waiting list to reserve your lot today!
See In Paradiso Grande Authentic Real Estate Team
2. Lake Buena Vista Resort Village and Spa
Want a lucrative investment vacation home sure to be popular with tourists?
How about one located 5 minutes from one of the most popular tourist destinations on earth – Disney!
At just 3 miles from Walt Disney World, Lake Buena Vista Resort offers renters unparalleled convenience.
And that means an unparalleled opportunity for investors as well.
In fact, Lake Buena Vista Resort is so confident you'll find success with your short-term rental, they offer a "lease-back" program guaranteeing 6% ROI for your first two years.
Talk about a low-risk, high-reward investment!
See In Lake Buena Vista Resort Condos For Sale
3. Floridays Resort
Nestled on world-famous tourist destination, International Drive, Floridays Resort boasts Orlando's best location.
Not only do our gated community homes for sale at this Orlando, Florida resort boast convenience to I-Drive's many attractions, like Icon Park, Ripley's, and WonderWorks, they're also just steps from the Orange County Convention Center, and minutes from the parks.
Moreover, with affordable condos starting in the low 200's, you can start your investment off right with a low-overhead closing price that boosts your relative returns right away.
See All Floridays Resort Orlando For Sale
4. Champions Gate Resort
As home to two of Florida's best golf courses, and with a prime location just 10 minutes from Disney, Champions Gate Resort is a popular place to stay for both Disney-goers and golf enthusiasts.
The resort features high-end single-family homes and townhomes with golf course views, as well as a range of world-class amenities.
Count on Authentic Real Estate Team to help you invest like a champion at Champions Gate.
See In Champions Gate FL Homes For Sale
5. Vista Cay Resort
Looking for a great hybrid investment?
With affordable condos and a great location near parks and attractions, Vista Cay makes a reliable, low-overhead investment option.
Moreover, with a tranquil setting on picturesque Lake Cay, it's a great place to own your home away from home in Orlando.
See All Vista Cay Orlando For Sale
Meet the Best Gated Communities Near Orlando Florida

At over 4,000 square miles, the Greater Orlando Area is huge.
And as Orlando's premier realtor, so is Authentic Real Estate Team range of service.
Therefore, we can help you find the Central Florida gated communities that best meet your needs, wherever in Central Florida they happen to be located.

Homes For Sale Near Orlando FL
Houses For Sale Near Disney World
Homes For Sale Near UCF In Orlando
Homes For Sale Near Universal Orlando
Homes For Sale Near Orlando International Airport
Homes Or Condos For Sale Near International Drive Orlando
Homes For Sale Near Seaworld Orlando
Talk With the Best Real Estate Agent in Orlando for Your Gated Community Home
Looking for the best gated communities in Orlando?
Then talk to the best realtor in Orlando.
Authentic Real Estate Team experienced agents and brokers have helped over 200 clients succeed in their real estate needs.
Now let us help you find your gated community home for a great deal.
We'll take you through the entire homebuying process, from finding financing, to shopping for homes, to making smart offers, negotiating with the seller, escrow, and closing.
The Best Orlando Real Estate Agent
Property Management Services in Orlando FL
Where other real estate companies might call it a day after closing, we go beyond the sale to help you maximize your returns and extend the life of your home.
Authentic Real Estate Team offers premium in-house property management services, including but not limited to booking, cleaning, pool care, inspections, maintenance, and repairs.
Save money and effort by bundling your real estate and management services, and get the added peace of mind of a company you already know and trust.
Meet The Best Orlando Property Management Services!
Sell Your Home in Orlando
Moving out of Orlando? Want to cash out of your investment and enjoy or reinvest your hard-earned returns?
Whatever your reason for selling, Authentic Real Estate Team can help you save time, effort, and money.
We'll be there for you every step of the way, helping steer your sale to the successful conclusion you deserve.
Our comprehensive seller's services include:
a large referral network of Orlando's best industry pros to help you prep your home for market, including appraisers, renovation experts, landscapers, home stagers, movers and more
pricing your home for perfection
professional photography, including dramatic drone footage that takes your listing to new heights
a multimedia marketing campaign using listing services, quality signage, social media, mail and email, live presentations, private showings, open houses, virtual tours, and more!
crafting effective counteroffers that bring you and the buyer together on the deal
title and escrow
a smooth, successful closing
So, whether you're looking to sell a community or standalone home, look no further than Authentic Real Estate Team to help you get the deal you deserve.
Sell My House Fast Orlando!
Buy Your Home in Orlando
Ready to buy that Orlando residential or investment home you've been dreaming of?
Then your first step is to call Authentic Real Estate Team.
Because in the end, it doesn't matter how well you know the local housing market, or how shrewd a negotiator you are, the seller's agent will be shrewder, and more knowledgeable.
As their client's fiduciary, the seller's agent will do everything in their power to close at their client's asking price.
Therefore, your best chance at getting a great price on your end is having your own fiduciary in your corner.
Enter Authentic Real Estate Team.
We've helped hundreds of clients buy the Orlando home of their dreams at a price they never dreamed possible.
See how fast, easy, and affordable buying your Orlando, Florida gated community home can be – with Authentic Real Estate Team.
The Best Houses For Sale In Orlando Florida!
Investment Property in Orlando Gated Neighborhood
As previously stated, a gated community makes an ideal place to buy your investment home.
Why?
Firstly, there's the added safety of a gated entrance, security guards, and closed-circuit monitoring systems, all working together to help protect your assets.
Secondly, resort-style amenities increase your demand, giving renters everything they need to have a great vacation, all inside resort gates.
Thirdly, in a gated community, you know what you're getting in terms of quality.
And with homes by renowned builders like Toll Brothers and Mattamy Homes, what you're getting in terms of quality is, well, quality.
And finally, our handpicked gated communities boast prime locations near Orlando's most popular attractions, giving renters more convenience, and investors higher demand, higher rates, and higher long-term appreciation.
The Best Of Orlando Property Investment
Orlando Gated Community for Second Home
Another great use for your Orlando community home is as a seasonal property, also called a second home.
With its year-round gorgeous weather, and no end of shopping, dining, and entertainment options, Orlando makes a popular place to winter.
And gated communities, with their luxury amenities and prime locations putting everything at your fingertips, and gated entrances to protect your home through the summer, make ideal options for second-home buyers.
Count on Authentic Real Estate Team for great deals on seasonal houses in gated Central Florida communities.
The Best Of Second Home In Orlando For Sale
Get the Most Updated Orlando Real Estate Market Data and Statistics!

Before you invest in an Orlando community home, it's imperative that you get to know the local market.
And what's the best way to do that?
By looking at the numbers, of course!
To this end, Authentic Real Estate Team helps you invest better with all the latest Orlando real estate market data and statistics.
See All Orlando Real Estate Market Statistics
Looking for Gated Communities in Orlando? Count On the Best Orlando Florida Real Estate Team!
So, if you're looking for houses for sale in the best Orlando, Florida gated communities, count on the best Central Florida real estate team.