Homes for sale in
Vista Cay Orlando For Sale

2 to 3 Bed

2 to 3 Bath

1,112 - 1,823 SqFt
Available
homes
9 properties found
Page 1 of 1
Looking to buy a high-occupancy, low-overhead investment rental in Orlando? Vista Cay has what you're looking for, and Authentic Real Estate Team Group can help you get it for a great deal! Located on Universal Blvd, Vista Cay is right next door to the Orange County Convention Center, and boasts easy access to I-Drive, I-4, and all Orlando's most popular points of interest, including Disney World and Universal Studios. Thus, it's ideal for business tourists and vacation tourists alike. But Vista Cay is no tourist trap. Featuring high-end condo suites and townhomes by Casiola Builders, premium property management by Millennium Homes, and five-star amenities including concierge service, Vista Cay is an upscale community for vacationers who want to lodge in luxury. Consequently, it's also one of Orlando's hottest investment destinations. To add a Vista Cay townhome or condo to your investment portfolio, contact Authentic Real Estate Team today!
Why Buy A Townhome or Condo In Vista Cay Orlando?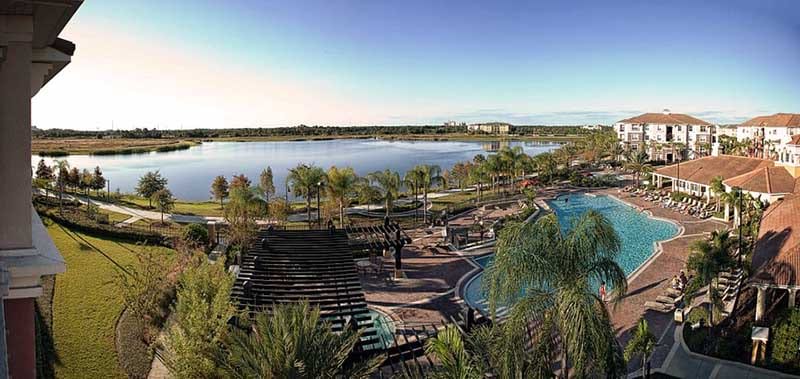 If you're looking to buy a low-overhead, high-yield vacation rental in Orlando, Florida, look no further than Vista Cay Resort.
Here, a prime location, affordable homes, and five-star amenities combine to make one of Orlando's most attractive investment destinations.
Here are just some of the reasons why you should buy a home in Vista Cay, Orlando.
1. Vista Cay Real Estate Boasts an Amazing Location!
Our selection of condos and townhomes for sale at Vista Cay accounts for some of the best-located investment real estate in Orlando.
Vista Cay lets vacationers stay a mere 10 minutes from Disney World, SeaWorld, and Universal Studios.
But it's not all fun and games at Vista Cay.
At just 5 minutes from the Orange County Convention Center, it's one of the most popular places to stay for business tourists, too.
Enjoy the high rates, high occupancy rates, high appreciation, and, when you want to use the property, convenience, of one of Orlando's best locations, at Vista Cay Resort.
2. Vista Cay Investment Real Estate Lets You Charge Higher Rates
It may be obvious to an investor, but a prime location increases renter demand.
And increased renter demand lets you raise your rental rates.
Don't feel guilty though; your renters will be happy to pay a little more for the convenience of a 10-minute drive to their favorite theme parks, including Disney, Universal, and SeaWorld.
Moreover, as Orlando continues to grow and add new attractions, your rates will grow along with it.
We can even help you adjust them accordingly!
Call today and ask us about Vista Cay, and how our property management services can help your investment thrive.
3. Vista Cay Investment Real Estate Enjoys High Occupancy Rates Year Round
Vista Cay's amazing central location promises high occupancy rates all year long.
Think of it as a way of hedging your bets.
Should any one of the nearby attractions hit a lull, or in the worst case scenario, close for good, you'll have no shortage of other points of interest around to keep your home viable.
Moreover, where other vacation homes have a high and a low season, thanks to their location in sunny Florida, our condos and townhomes for sale in Vista Cay enjoy a steady flow of renters throughout the year.
In short, it's always high season at Vista Cay!
4. Vista Cay Real Estate Enjoys Strong Appreciation
As mentioned, Orlando is growing.
In fact, in terms of population, Orlando is the second-fastest-growing city in the United States.
But it's not just new Orlandoans popping up everywhere.
From new theme parks, to new residential developments, to new commercial spaces, Orlando is building like mad.
So what's it all mean for your investment?
Well, again, it might be obvious to an investor, but where there's strong growth, you see strong appreciation.
Thus, Orlando Homes For Sale Group's premium selection of Vista Cay townhomes and condos are set to grow in value as the years go by.
And according to the experts, there are many years of growth still to come.
5. Vista Cay Real Estate Makes a Great Home Away From Home
Owning a vacation home isn't just a chance to make money.
As a hybrid investment, your property can be yours to use whenever you want.
In fact, depending on how often you use it, your Vista Cay vacation home could pay for itself in savings alone.
You'll save on lodging (by skipping the overpriced hotels), meals (by cooking in your own kitchen), and fun (by utilizing Vista Cay's free amenities).
Vista Cay offers a luxurious, convenient place to stay whenever you feel like a trip to Orlando.
And for anyone who commutes to the City Beautiful for work, they're a no-brainer.
Enjoy the convenience, comfort, and savings of a home away from home at Vista Cay Resort.
What Property Types Can You Find In Vista Cay Orlando?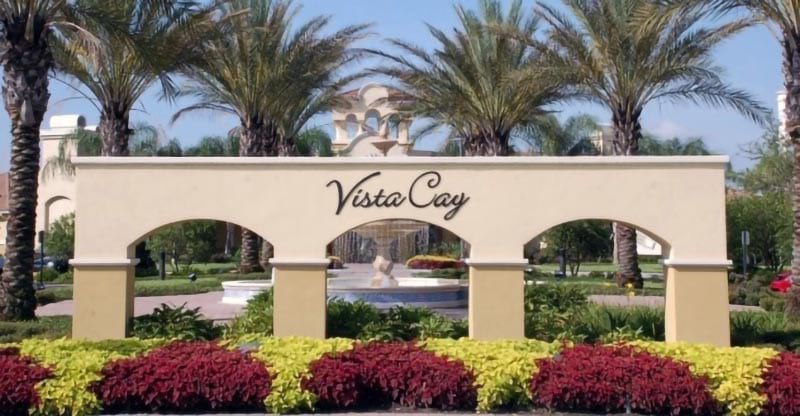 Vista Cay Orlando offers chic townhomes and luxury condo suites on the shores of tranquil Lake Cay.
Built by trusted builder, Casiola, these high-end homes come complete with everything you need to winter or invest with success.
Looking for a place for just you and your significant other?
Then a condo might be for you.
Or, to get the whole family involved, upgrade to a townhome for a little more space.
Looking for a lucrative investment opportunity?
Both Vista Cay townhomes and condos make excellent short-term rentals!
Vista Cay Townhomes For Sale
Vista Cay townhomes are full of great luxury features and finishes and elegant design elements.
These deluxe homes come in floor plans of two or three stories, with up to three bedrooms, and up to three and a half baths.
Optional features include lake views, game rooms, video game consuls and more!
See All Townhomes For Sale Orlando
Vista Cay Luxury Condos Orlando
Vista Cay condos pack a whole lot of luxury into their economically sized spaces.
These high-end condo suites come in options of 2, 3, or 4 bedrooms and 2 baths.
Other options include views of Lake Cay, private balconies, state-of-the-art games, and much more!
See The Best Condos For Sale In Orlando
Houses For Sale in Other Communities In Orlando

Orlando is overflowing with amazing gated communities for living and investing.
These communities are your go-to destination for high-end homes by the best builders, all-inclusive clubhouses with resort-style amenities, and gated, guarded entrances to give you peace of mind.
Check out our handpicked selection of luxury Orlando communities today to find the investment or residence of your dreams!
Royal Cypress Preserve Homes For Sale
Havencrest Authentic Real Estate Team
Solaire Apartments For Sale
Paradiso Grande Authentic Real Estate Team
Floridays Resort Orlando For Sale
Lake Buena Vista Resort Condos For Sale
Authentic Real Estate Team: Your Definitive Realtor For The Best Deals!
Shopping for a home by yourself is a herculean task.
But closing a great deal by yourself? Forget about it.
Because regardless of how knowledgeable you are about the local real estate market, nor how adept you are at negotiating, you can bet that the seller's agent has you beat on both fronts.
After all, it's what they do every day, and as their client's fiduciary, it's their duty to fight hard for their client's asking price.
So don't go up against the seller's agent alone.
Instead, hire the realtors whose duty, and pleasure, it is to get you the price you deserve.
As Orlando's premier real estate team, Authentic Real Estate Team knows every inch of the Central Florida market, and how the market behaves on a neighborhood-by-neighborhood basis.
And with over a decade fighting for our client's needs, we've built up some serious negotiating chops.
Therefore, we can help you make smart offers that get sellers to stand up and take notice.
Then, after we've helped put you firmly in the running, we help keep you there with creative negotiating tactics that help bridge the gap between you and the seller, finding just the right balance of price, terms, and conditions for your needs.
The Best Orlando Real Estate Agent
List Your Home In Vista Cay Resort (Or Other Orlando Location)
Thinking about listing your Vista Cay Resort townhome or condo?
Don't go it alone!
Because while the sell-by-owner approach can certainly get your home sold, if you want to sell in as little time, for as much money, as possible, you need to bring in the big guns.
With Authentic Real Estate Team in your corner, you'll have your best shot at scoring the offer you deserve.
Because anyone can list a home, but to close a great deal takes a more aggressive strategy.
To that end, we'll take you through every step of your sale with a proactive plan that gets your home out there, and brings buyers to the table.
Our full-scale seller's services include:
home prep, including renovations, remodels, home staging, landscaping, and more
professional photography, including stunning aerial drone shots and video, that captures your home's good side and captures buyers' attention
pricing for perfection with a number that entices buyers without selling you short
listing your home to over 150 popular websites
social media marketing
email campaigns
mailed newsletters
open houses and private showings
live presentations
smooth, well-coordinated closing
The Best Vista Cay Orlando Property Management Services
Buying the perfect Vista Cay rental is just the start of your investment journey.
Now comes the real work of keeping your property clean, maintained, and booked.
It's a monumental task, made even more insurmountable for out-of-state, and worse, out-of-country owners.
But it doesn't have to be.
With Authentic Real Estate Team, property management is in the bag.
We can help you market and book your rental, clean it between bookings, and make repairs when necessary.
So sit back, relax, and enjoy all the upsides, and none of the downsides, of investing at Vista Cay.
Meet The Best Orlando Property Management Services!
Support for Investing In Vista Cay Real Estate For Sale
Need a loan?
Even the most savvy investors need boost from time to time.
It's part of the investment process, except that instead of borrowing from yourself in the present with the promise to pay yourself back in the future, you're borrowing from a lender.
If you need support buying your Vista Cay condo or townhome, let Authentic Real Estate Team Group help.
We have in-house lenders, as well as a wide network of trusted financial institutions, including banks and private lending houses, all waiting to help you get your foot in the door.
So don't let your current financial situation hold you back.
Just call Authentic Real Estate Team!
The Best Of Orlando Property Investment
Buy Your Second Home In Vista Cay With Authentic Real Estate Team
Orlando in general, and Vista Cay in particular, make great places to own a home away from home.
In Orlando, you'll find no shortage of amenities, activities, and essentials, from conservation areas and green spaces, to lakes renowned for bass fishing, to an endless array of entertainment venues, to restaurants, shops, and supermarkets.
And in Vista Cay, you'll find them all just minutes away.
As one of Orlando's best-located resorts, Vista Cay puts you in the middle of the magic.
And as Orlando's premier real estate team, Authentic Real Estate Team puts you in your Vista Cay second home for less.
The Best Of Second Home In Orlando For Sale
See The Best Of Orlando Houses For Sale!
Whatever kind of home you're looking for, Authentic Real Estate Team has the variety, quality, and access to help you find it.
Our inventory includes mega-mansions, chic apartments, and everything in between, in a range of locations and settings suited to a range of needs.
And best of all, no matter what type of home you choose, you'll know you're getting the best deal with Authentic Real Estate Team.
The Best Houses For Sale In Orlando Florida!
Make the Right Choice: Find the Best Deals On Vista Cay Orlando For Sale With Us!

So, if you're in the market for a condo or townhome in Vista Cay, let Authentic Real Estate Team bring the market to you.
Our handpicked selection of Vista Cay real estate is perfect for your next second home or investment rental.
And with Authentic Real Estate Team, you can buy it for less.