Homes for sale in
Floridays Resort Orlando For Sale

2 to 3 Bed

2 to 2 Bath

957 - 1,200 SqFt
Available
homes
11 properties found
Page 1 of 1
Tucked just off International Drive, Floridays Resort is a popular place to stay for visitors to Orlando, and a great place to invest. Floridays Resort real estate is located just minutes from Orlando, FL's most famous theme parks, such as Disney World, Universal Studios, and SeaWorld. And, with its prime I-Drive location, Floridays is within walking distance of other great attractions like Icon Park, Ripley's Believe it or Not, and Madame Tussaud's. Our handpicked selection of Floridays Resort real estate make lucrative short-term rentals, promising high occupancy and high average rates. And with Authentic Real Estate Team, you pay less upfront, so you'll start seeing profits fast. Call us today to schedule a showing, or read on to learn more about our Floridays Resort Orlando, FL condos and other real estate for sale.
Why Buy A Condo In Floridays Resort Orlando?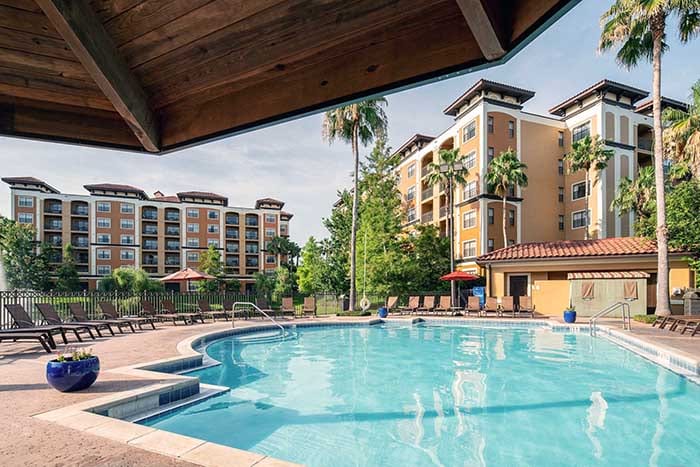 Floridays Resort condos and other real estate for sale enjoys high occupancy and high rates all year round.
But that's not all this great Orlando condominium has to offer.
Here are a few of the reasons you should consider Floridays for your next Orlando home purchase.
1. Bet Long on Short-Term Returns
Thanks to its prime I-Drive location, Floridays remains a popular vacation-rental destination throughout the year.
Here, renters will find easy access to Orlando's most famous theme parks, including Disney and Universal, as well as the many amusement park-style attractions on I-Drive.
They'll also enjoy convenience to a wealth of great restaurants and shops.
And business tourists will love staying just a stone's throw from the Orange County Convention Center.
Thus, with our selection of Floridays Resort Orlando, FL condos for sale, you can bank on high occupancy (near 80% during high season) and rates averaging close to $200 a night.
2. Appreciation for Years to Come
Did you know Florida was growing at a rate of 1,000 new residents a day?
And Orlando, where a booming job market meets a low cost of living, has been the beneficiary of much of it.
Moreover, according to the latest market projections, the growth is expected to continue far into the future.
Much of this growth is concentrated in the heart of Orlando, which just so happens to be where Floridays resides.
Therefore, our condos and other real estate for sale at Floridays Resort in Orlando, FL give you a nest egg you can sit on for years and hatch when the time is right.
3. Incredible Amenities Package
Floridays Resort is committed to giving its owners and renters a high standard of living.
To this end, they provide an incredible amenities package that makes Floridays Resort real estate an even better value.
Renters and owners will enjoy 24/7 concierge service, a state-of-the-art fitness center, resort-style pool, and more.
4. Winning Weather
With annual temperatures averaging 72 degrees, and copious sunshine, Orlando is famous for its winning weather.
And when you buy at Floridays, winning weather benefits you in a couple different ways.
For one, you'll have a balmy retreat to help you escape those dreary northern winters.
And of course, with 233 days of sun per year, and not a flake of snow in sight, you can expect round-the-calendar occupancy that never flags.
5. Spend Fewer Days on the Market
Did you know that homes that spend fewer days on the market tend to earn higher offers.
In fact, the ideal timeframe in which to sell your home for the best deal is in the 3rd and 4th weeks after putting it up for sale.
Anything left on the market for longer than this becomes what's known as a "stale listing."
Selling your home within this 3- to 4-week window can be tough to do.
But at Floridays, you'll have the advantage of one of Orlando's most desirable locations.
In short, these properties are in high demand with investors.
They flock to Floridays to cash in on Orlando's multi-billion-dollar tourism industry.
Thus, when it comes time to sell your Floridays condo, you'll spend less time on the market, and get more competitive offers.
And of course, you'll have the assistance of Authentic Real Estate Team to help give your listing the exposure it deserves.
What Property Types Can You Find With Floridays Real Estate?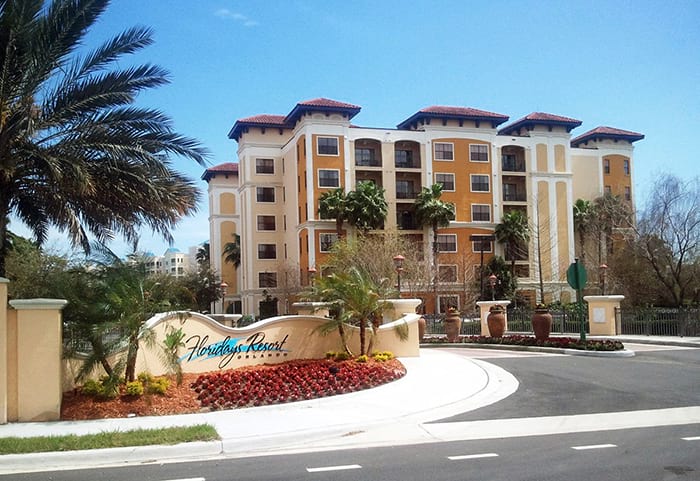 Floridays features luxury condo suites on world-famous International Drive!
With a condo, you get more luxury per square foot, lower overhead, access to great amenities, and the added security of an HOA to help protect your assets.
Floridays Resort Condos For Sale
Floridays condos come in options for two or three bedrooms, two to three bathrooms, and sizes up from 947 to 1,194 square feet.
Prices range from the low to the mid 200's.
However all condo suites, regardless of size or price, come with high-quality finishes and materials, fully equipped kitchens with updated appliances, and of course, access to all Floridays' luxury amenities.
Peruse our full lineup of condos for sale at Floridays Resort, Orlando today to find the Orlando real estate investment of your dreams.
See The Best Condos For Sale In Orlando
Homes For Sale in Other Communities In Orlando
Floridays has a lot to offer, for sure.
But so do many other vacation and residential communities in Orlando.
Authentic Real Estate Team handpicks the best of the best communities in Orlando to bring you the best of the best homes and amenities.
And all at the best of the best prices around.
So scroll below to search by community and find a great deal on your future home today.
Or call Authentic Real Estate Team and schedule to see one of our amazing communities in person.

Royal Cypress Preserve Homes For Sale
Havencrest Authentic Real Estate Team
Solaire Apartments For Sale
Paradiso Grande Authentic Real Estate Team
Vista Cay Orlando For Sale
Lake Buena Vista Resort Condos For Sale
Authentic Real Estate Team: Your Definitive Realtor For The Best Deals!
While many realtors claim to be able to get great deals, few have a ten-year track record to prove it.
Over the last decade, Authentic Real Estate Team has helped more than 200 clients get the best deals on Orlando real estate.
Now let us help you.
As your premier Orlando-area realtor, we have the market knowledge to help you find homes of all shapes and sizes.
And with ten years of experience fighting for our clients' needs, we have the skills to get you a great deal.
Contact Authentic Real Estate Team today and tell one of our licensed realtors how we can best serve your needs.
The Best Orlando Real Estate Agent
List Your Condo In Floridays Resort (Or Another Orlando Location)
Thinking of putting your Floridays Resort Orlando condo up for sale?
While it's true anyone can list a home, if you want to make the most successful sale possible, it's only possible with a realtor.
That's because simply listing your home is only one step in the selling process.
But to get a great deal requires more a aggressive, comprehensive approach, including:
renovating, depersonalizing, and staging your home for the Orlando market
high-quality photography and video
social media-, mail-, and email marketing
showings and open houses
creative, flexible negotiation
and much more!
On top of all that, consider the following:
No matter how familiar you are with the local housing market, nor how familiar with the art of negotiation, remember you likely won't be negotiating with buyers, but with buyers' agents.
And they'll be ready to put up a fight.
As their client's fiduciary, the buyer's agent must do everything in their power to get their client's offer accepted.
Therefore, your best shot at getting the best deal is with a fiduciary of your own, doing everything in their power for you.
In short, your best shot at a successful sale is with Authentic Real Estate Team.
Sell My House Fast Orlando!
The Best Floridays Resort Orlando Property Management Services
With their incredible location on International Drive, our handpicked inventory of Floridays Resort condos for sale make for some of the best real estate investments in Orlando.
Of course, a prime location will only get you so far; without quality property management services, you might as well just let your renters squat.
But Authentic Real Estate Team is here to help.
As an all-in-one real estate firm, we don't stop at sales.
We offer a full range of property management services, from booking, to housekeeping, to maintenance and repairs, so you can get the full range of returns on your investment.
And of course, as always with Authentic Real Estate Team, you'll pay less.
Meet The Best Orlando Property Management Services!
Support for Investing In Floridays Real Estate
Need help funding your Floridays real estate investment?
Authentic Real Estate Team has you covered!
Because let's face it, as hard as you work for your success, it takes money to make money.
And sometimes, you just need someone to believe in you.
Authentic Real Estate Team believes in you, and we're here with the gentle push you need to get started.
So whether you want to borrow from our in-house financing department, or from our trusted network of private lending houses and banks, we have the range of options you need to borrow your way.
Call our offices today!
The Best Of Orlando Property Investment
Buy Your Second Home In Floridays Resort With Authentic Real Estate Team
Florida is the snowbird capital of the United States, and it's not hard to see why.
With mild winters that rarely dip below 50 degrees, and no end of fun and relaxing things to do, the Sunshine State is an ideal place to own a seasonal home.
And Floridays in Orlando is one of its most ideal communities.
With their prime I-Drive location, Floridays Resort condos for sale put everything you want and need at your fingertips.
Enjoy the fun of I-Drive's many amusement parks, carnival-style attractions, and museums, and the convenience of its huge roster of restaurants, from fast food chains to gourmet eateries and all cuisine in between!
You'll also enjoy the added security of Floridays own management company, Paramount Hospitality, watching your home while you're away.
Moreover, thanks to Orlando's Central-Florida location, you can enjoy summers up north with the peace of mind that your assets are safe from the brunt of hurricane impacts.
Explore our full inventory of Floridays Resort real estate today to find your home away from home in Orlando.
The Best Of Second Home In Orlando For Sale
See The Best Of Orlando FL Homes For Sale!

Is a condo too tight a squeeze for your needs?
Or maybe Orlando's tourist district is too, well, touristy?
Whatever kind of property you're looking for, wherever in the Orlando area you're looking for it, Authentic Real Estate Team has the scope, reach, and variety to help you find what you're looking for.
And best of all, we have the skills to help you buy it for less.
So whether it's a residential or investment property, whether a condo, townhome, single-family or estate home, whether near Disney, UCF, or somewhere in between, Authentic Real Estate Team has the best of the best homes for sale in Orlando, FL.
Explore our full inventory now, and if you see something you like, call our headquarters and schedule a showing.
The Best Houses For Sale In Orlando Florida!
Make the Right Choice: Find The Best Deals On Floridays Real Estate For Sale
So to review, if you're looking for a profitable investment option, or a convenient home away from home, in Orlando, look no further than Floridays Resort.
Floridays real estate gives you what you need to succeed in the City Beautiful.
And with Authentic Real Estate Team, you an get it for a great deal.
To learn more about this great opportunity, or to schedule a tour, call our team of realtors today!