290 Properties found in this filter
1/25
Whether you're shopping for residential or investment real estate in Orlando, there's no shortage of ways a community pool can improve your life, and no shortage of neighborhoods with pools. Orlando Homes for Sale has handpicked the best communities with community pool in Orlando. Call us today to find out more!
Why Buy a Property in an Orlando Neighborhood With a Community Pool?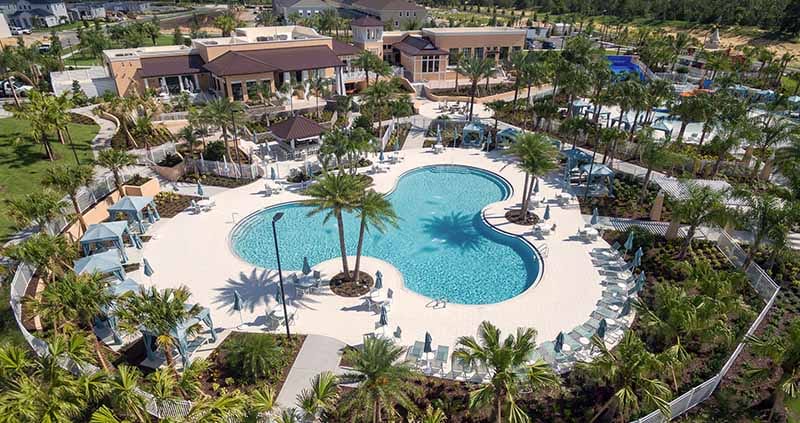 1. Antidote to the Florida Heat
Did you know summer temperatures in Orlando can reach 100 degrees Fahrenheit or more?
But with access to a shared pool, you don't have to sweat it.
2. Increase Rentability
Want to decrease your time to rent, and increase your rates, for your vacation home?
In that case, access to a pool can be a key differentiator.
3. Increase Salability
Community pools also decrease your average days on market and let you set a higher asking price.
4. Cheaper Than a Private Pool
Private inground pools cost an average of $35,000 to $60,000 in Florida.
But a community pool can be yours for the price of an HOA fee.
5. Get More Exercise
A pool is a great way to stay in shape, offering a low-resistance, full-body workout for all ages.
The Best Communities With Community Pool in Orlando
Looking for the best neighborhoods with pool in Orlando?
As Orlando's best realtor, we handpick the best communities, with the best homes and amenities.
Royal Cypress Preserve Homes For Sale
Havencrest Orlando Homes For Sale
Solaire Apartments For Sale
Paradiso Grande Orlando Homes For Sale
Vista Cay Orlando For Sale
Floridays Resort Orlando For Sale
Lake Buena Vista Resort Condos For Sale
See All Types of Homes That You Can Get in Neighborhoods in Orlando With Community Pool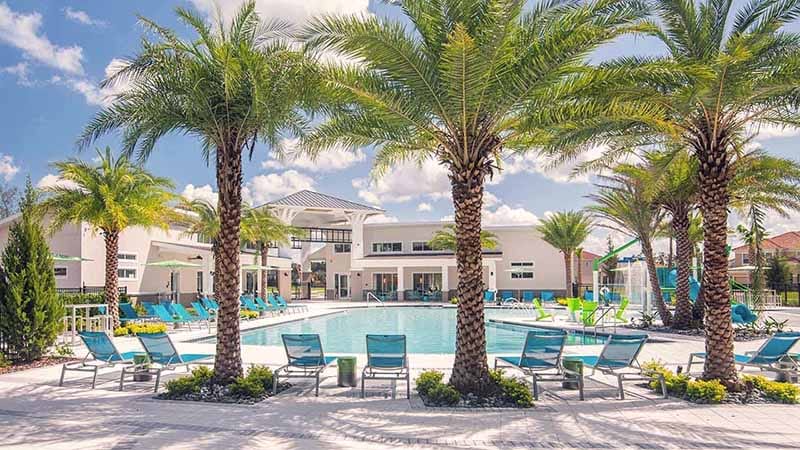 The homes we buy are a reflection of our unique selves and needs.
Therefore, let Orlando Homes for Sale help you find the home that reflects you in one of our handpicked neighborhoods with social pools.
Our inventory includes:
Orlando Vacation Homes For Sale
New Homes For Sale In Orlando
Houses For Sale In Orlando Florida With Pool
Luxury Homes For Sale In Orlando
Orlando Lakefront Homes For Sale
Single Family Homes For Sale In Orlando FL
Orlando Villas For Sale
Condos For Sale In Orlando
Townhomes For Sale Orlando
Homes For Sale In Orlando With Guest House
The Best Realtor for Homes in Communities With Pool in Orlando!

In order to get the best deal on homes with neighborhood pools in Orlando, you need Orlando's best realtor – Orlando Homes for Sale.
The Best Orlando Real Estate Agent
Property Management Services in Orlando FL
Using your community home as an investment rental?
Let Orlando Homes for Sale help you keep your home viable with leasing, booking, and other property management services.
Meet The Best Orlando Property Management Services!
Sell Your Home in Communities With Public Pool in Orlando
Need to sell you home in Orlando?
Orlando Homes for Sale can help make your need an opportunity, with a full range of seller's services designed to get you top dollar in less time.
Sell My House Fast Orlando!
See the Best Homes for Sale in Orlando FL!
As Orlando's number-one luxury home dealer, we curate only the best of the best homes on the Orlando market.
The Best Of Orlando Real Estate!
Investment Property: Orlando Communities With Pool
Our selection of Orlando neighborhoods with pool make ideal locations for your next investment property.
Get the safety of a gated entrance, as well as the appeal of world-class amenities.
And of course, with Orlando Homes for Sale, get a great deal.
The Best Of Orlando Property Investment
Orlando Communities With Pool for Second Home
Want to make Orlando your own subtropical winter wonderland?
If so, our communities feature heated pools that let you swim all holiday season!
The Best Of Second Home In Orlando For Sale
Get the Most Updated Orlando Real Estate Market Data and Statistics!
The data are in, and they're all in agreement.
In short, if you've been waiting for the right time to buy a community home in Orlando, that time has come.
See All Orlando Real Estate Market Statistics
Looking for Homes for Sale in Communities With Pool in Orlando? Talk With Us Now!
In conclusion, if you're looking for the best neighborhoods with pool in Orlando, look no further than Orlando Homes for Sale.