Homes for sale in
Havencrest Orlando Homes for Sale

5 to 5 Bed

4 to 4 Bath

4654 - 4654 SqFt
Available
homes
1,973 properties found
Page 1 of 165
Do you want to live or invest in one of Orlando's best locations? Then Havencrest Authentic Real Estate Team might be for you! Situated just off Apopka Vineland Road, Havencrest orlando homes for sale features one- and two-story homes by Taylor Morrison, amazing amenities, and convenience to major points of interest.You and/or your renters will be less than 20 minutes from Disney, I-Drive, and Downtown Orlando, with plenty of restaurants, shopping centers, and grocery stores nearby, as well as the highly desirable towns of Windermere and Dr. Phillips.

Thus, Authentic Real Estate Team selection of Havencrest are both convenient and, for investors, highly profitable. Get in touch with us today to make Havencrest a haven for your family or investment future. Or, to learn more, read this helpful buyer's guide!
Why Buy a Home in Havencrest Orlando?

However you intend to use your home, Havencrest makes it possible.
Here are just a few reasons why you should buy a home in Havencrest:
1. Havencrest Orlando Homes For Sale: A Location to Love
Whether you're looking for a great place to live or invest, Havencrest's prime location puts you where you want to be.
Nestled beside Apopka Vineland Road, and with quick access to I-4, Havencrest boasts convenience to Disney World, I-Drive, Universal Studios, Downtown Orlando, the Orange County Convention Center, and many other points of interest.
That makes it a popular place to stay for both vacationers and business tourists, meaning high occupancy year round.
It's also just minutes from the upscale towns of Windermere and Doctor Phillips, where high home values drive up values on Havencrest homes, too.
Of course, Havencrest's great location isn't just an advantage for investors.
With no shortage of grocers, retailers, and restaurants nearby, Havencrest makes a convenient place to live seasonally or permanently, as well.
2. Successful Short-Term Rentals
With their prime Orlando location, houses for sale in Havencrest are in high demand from tourists.
Your home will land on the radars of all kinds of vacationers, whether they're looking for lodging near Disney World, Universal Studios, or I-Drive.
Furthermore, at just 15 minutes from Downtown Orlando and 19 minutes from the Orange County Convention Center, Havencrest is popular with business tourists, too.
In short, a short-term rental in Havencrest makes a great addition to any investment portfolio.
3. High Rate of Appreciation
Of course, our houses for sale in Havencrest don't just pay out in rental fees.
From its population to its infrastructure, Orlando is growing like never before, and Havencrest's central location puts it smack dab in the middle of the growth.
Thus, as long as new attractions, restaurants, commercial spaces, and homes continue popping up around Havencrest (and according to the market statistics, they will), your home will continue to appreciate in value.
4. Famously Great Weather
Florida takes its good weather seriously.
Hence its official nickname, the "Sunshine State."
And when it comes to great Florida weather, Orlando didn't fall far from the tree.
With an average of 233 sunny days a year, and winter highs averaging in the low 70's, Orlando is as pleasant and comfortable as they come.
Therefore, our houses for sale in Havencrest, Orlando let you enjoy more time outdoors, and save more money on winter heating.
You'll love defying Father Winter with a January swim in your heated pool.
And best of all, so will your renters.
5. High-Quality Homes
Havencrest is a haven for high-quality homes.
Developed by well-known builder, Taylor Morrison, these one- and two-story houses give you and/or your renters all the comforts of home in an exciting, all-inclusive resort setting.
Enjoy family dinners in formal dining spaces, as you gather around meals cooked in your fully equipped, state-of-the-art kitchen.
You'll also enjoy big savings on energy and repair costs, thanks to smart appliances and better building codes.
But perhaps most of all, you'll love ditching the cramped hotel rooms for the comfort and privacy of oversized master suites with king beds, his-and-hers bathrooms, and huge walk-in closets.
What Types of Homes for Sale Can You Find in Havencrest, Orlando?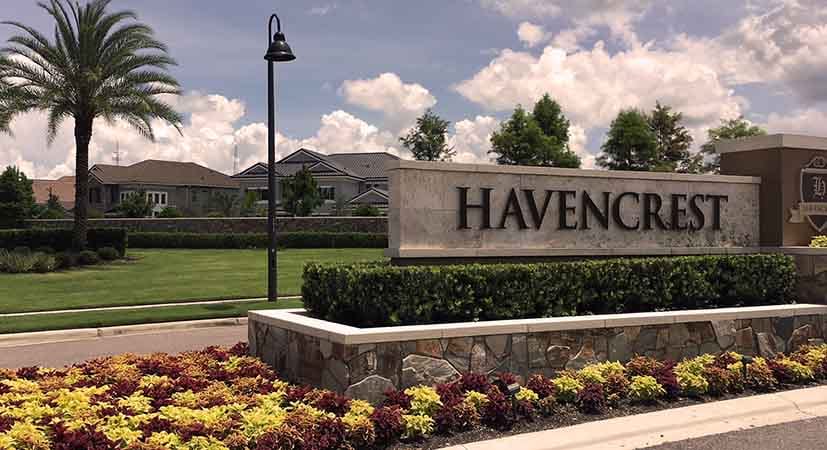 When you specialize in one particular property type, you'd better be sure yours is the best around.
Havencrest has taken this to heart.
Here you'll find only single-family homes, but don't you dare to call it a limited selection.
With the Taylor Morrison provenance, energy-saving design and appliances, and thoughtful attention to detail, these single-family homes are the best of the best.
Lakefront Houses for Sale in Havencrest Orlando
Do you ever dream that you're waking up?
We do too, but in our dreams, we're always waking up to lake views.
If you also dream of waking up to gorgeous views and endless recreation possibilities, Havencrest is your dream come true.
Lake views can raise your quality of life, and for investors, their financial profile.
Enjoy the high appreciation and high occupancy rates generated by that coveted lake view at Havencrest.
See In Orlando Lakefront Homes For Sale
Havencrest Orlando Homes For Sale: Single-Family
Our exclusive collection of one- and two-story single-family homes for sale in Havencrest are just what the renter ordered.
It's true – single-family vacation homes are the most in-demand kind, taking fewer days to rent, and earning you more money.
Now stamp the Taylor Morrison name on it, locate it just minutes from Disney and other huge attractions in Orlando, shake but don't stir, and watch the passive income come flowing in.
See All Single Family Homes For Sale In Orlando FL
Homes for Sale in Other Orlando Communities

Havencrest is one of Orlando's best vacation home resorts, but it's certainly got some competition.
Orlando is full of luxury gated communities with quality homes and amazing amenities.
And Authentic Real Estate Team has your key to the gates
Explore more great Orlando communities below!
Royal Cypress Preserve Homes For Sale
Solaire Apartments For Sale
Paradiso Grande Authentic Real Estate Team
Vista Cay Orlando For Sale
Floridays Resort Orlando For Sale
Lake Buena Vista Resort Condos For Sale
Authentic Real Estate Team: Your Definitive Real Estate Agent for the Best Deals!
Buying a home on your own is hard enough.
But getting the best deal on it is next to impossible.
Therefore, count on an Authentic Real Estate Agent to help you pay the price, for the home, you deserve.
The Best Orlando Real Estate Agent
List Your Home in Havencrest (or Other Orlando Location)
Looking to sell your home in Havencrest or elsewhere in Orlando?
Look no further than the premier Orlando realtor.
Whether you're selling in Havencrest, Windermere, Doctor Phillips, or abroad in the Greater Orlando Area, Authentic Real Estate Team has the local-market knowledge to help you succeed in your sale.
Sell My House Fast Orlando!
The Best Havencrest Property Management Services
Looking for property management for your second home or investment vacation rental in Havencreset?
Don't spread your hard-earned money all over town; save money and time, and get better results, with Authentic Real Estate Team specialized property management services.
We offer home watch, repair, maintenance, and more to help protect your assets, and selective booking services to help your investment dollar go farther.
Meet The Best Orlando Property Management Services!
Support to Buy Investment Homes for Sale in Havencrest, Orlando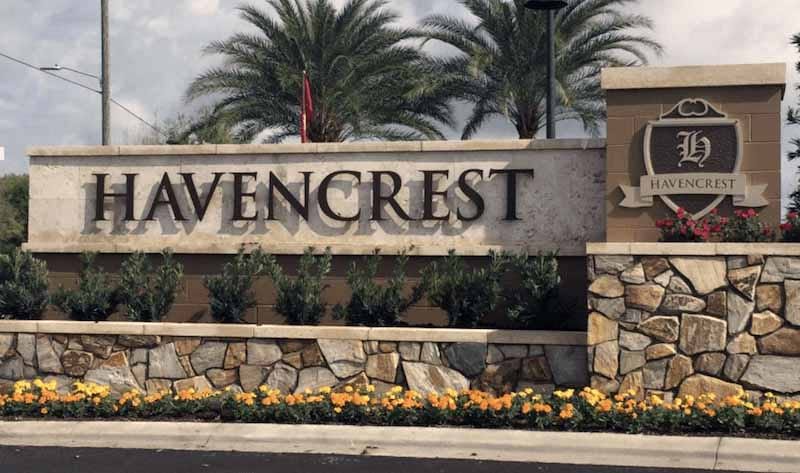 Need a hand getting your foot in the door of the Orlando investment market?
Orlando Homes For Sale can help you!
Because nobody succeeds entirely on their own, but sometimes, all it takes is that small push to get your started.
Whether through our in-house lenders, or another trusted institution, Authentic Real Estate Team can help give you that small push you can turn into big returns.
The Best Of Orlando Property Investment
Buy Your Second Home in Havencrest
Coming up on retirement? Work remotely? Why not own a second home in Havencrest!
Spend half the year in the paradise that is Florida in wintertime.
And while you're at it, enjoy five-star amenities, convenience to the best attractions in America, and the comfort of a luxury Taylor Morrison home.
The Best Of Second Home In Orlando For Sale
See the Best of the Best Orlando Real Estate for Sale!
Looking for the best Orlando real estate out there?
Authentic Real Estate Team Group has the best of the best.
As Orlando's number-one source for luxury houses, vacation villas, high-end condos and townhomes, and more, we have the quality and selection you need to reach your real estate goals.
Explore our full inventory of luxury homes for yourself, or call our offices to schedule a showing.
The Best Houses For Sale In Orlando Florida!
Make the Right Choice: Get the Best Deals on Havencrest Real Estate With Authentic Real Estate Team
To review, if you're looking for the some of the best single-family homes, in one of the best locations, in Orlando, look no further than Havencrest.
Havencrest is your personal haven in Orlando, and the pride of your investment portfolio, with the mix of location, amenities, and quality accommodations you need to succeed.
Now let Authentic Real Estate Team show you just how easy buying a home, and getting a great deal, can be.