Homes for sale in
Promenade Condos

3 to 3 Bed

2 to 2 Bath

1,775 - 1,775 SqFt
Available
homes
1,330 properties found
Page 1 of 111
Are you in search of resort-style living in a convenient location? Your search ends today with a Promenade Condos home from Orlando's condominium specialists, Authentic Real Estate Team.
With a lush subtropical setting, resort-style amenities, and convenience to Downtown Orlando, Promenade Condos lets you get away from it all while having it all within reach.
Enjoy the safety and seclusion of a gated, guarded entry, spectacular lake views, and a lakefront pool and spa, all just minutes from Orlando's best points of interest, including downtown, the Orlando International Airport, and Orlando's world-famous theme parks.
Looking for your next real estate investment? With historic growth in the surrounding region, and the allure of resort-style living inside the gates, Promenade Condos promises high rates for long-term-rental landlords and rapid appreciation.
Whether you want to live or invest in Promenade Condos, count on Authentic Real Estate Team for great deals.
Where Is Promenade Condos in Orlando FL?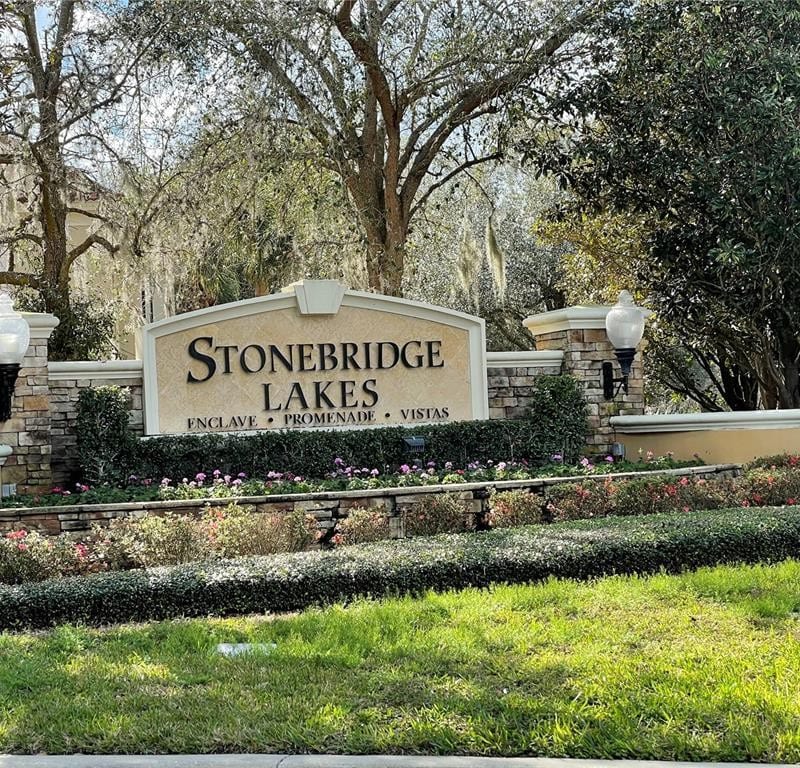 Promenade Condos is located in Orlando's MetroWest neighborhood.
Thus, it's ideally located for residential and investment buyers.
Owners and tenants will enjoy quick and easy access to Downtown Orlando, Universal Studios, International Drive, and other premier points of interest.
Yet, with a lakefront setting and the privacy of a gated entry, Promenade Condos feels worlds away from Orlando's residential and tourist crowds.
Why Buy A Home In Promenade Condos?
From access to local amenities, to world-class amenities right on site, to opportunities to make friends and make a difference in your community, there are no shortage of reasons why you should buy a condo at the Promenade condominium in Orlando.
Read on to learn more!
1. Live in the Heart of the City!
Always dreamed of living in the heart of the city?
At Promenade Condos, you can live in the middle of one of the most vital, fastest-growing cities on the world stage!
Orlando is growing, and downtown is the beating heart of it all.
Here you'll find a high concentration of restaurants contributing to Orlando's reputation as one of the best foodie cities in the US, a thriving tech sector which has led some to call Orlando the next Silicon Valley, and a vibrant arts and culture scene, embodied by a wealth of art galleries, show venues, and colorful murals on many of the façades. Planning to work downtown?
Save money while you save the planet by walking to work!
Moreover, with our collection of Promenade Orlando condos, you can have all your day-to-day needs within easy reach.
Enjoy convenient access to grocery stores, gas stations, The DMV, Courthouse, and more!
2. Incredible Amenities Right Inside the Building!
Promenade Condos isn't just close to an assortment of local amenities.
You'll also find an array of incredible amenities right inside the building!
Want a pool without paying for pool installation of the extra square footage of a house?
With a luxury condominium pool for the express use of owners and their guests, Promenade Condos lets you swim and save!
Want to maintain your physical fitness without maintaining an expensive gym membership?
With a fully equipped fitness center on site, making it to the gym has never been easier or more affordable!
Want a place to host your weekly game of mah-jongg?
The Promenade Condos card room is the perfect spot!
Still not convenient enough for you?
With 5-star concierge services, Promenade Condos brings all your wants and needs to you.
Whatever your wish, just call the front desk and make it the concierge's command!
3. Make New Friends and Get Involved in Your Community
Are you the social type?
Then a Promenade Condos condo might be for you.
Living in a condo is a great way to make new friends, as the shared nature of the building means you'll have lots of encounters with other residents as you come and go from your unit and use the shared amenities.
You'll also find opportunities for planned socialization, as many residents choose to host parties and other events on the pool deck and in other common areas.
Of course, it's not all fun and games at Promenade Condos.
You'll also find lots of ways to get involved in the day-to-day business of the building.
A condominium is a small democratic community, where everything from the choice of lighting to the choice of flooring gets a vote, and where every resident gets the chance to have their vote counted at the annual meeting.
Want to have even more control over your environment?
Run for board membership and take matters into your own hands!
What Types of Homes Will You Find in Promenade Condos?
Promenade Condos is Orlando's premier resort-style condominium, with 124 condo units for sale in a wide range of floor plans.
Promenade Condos for Sale
Our selection of Promenade condos come in options for 2 or 3 bedrooms, 2 or 2.5 baths, and between 1,775 and 2,345 square feet, with prices ranging from $285,000 to over $500,000.
All units, regardless of floor plan, come with everything you need for effortless modern living, such as fully equipped kitchens, master bedrooms with attached baths and large walk-in closets, open-plan living spaces, and private balconies.
Most units also feature stunning views of Turkey Lake.
Condos For Sale In Orlando
Promenade Condos Orlando HOA
Promenade Condos is an all-inclusive HOA community.
Fees average $25 and help fund a unique resort lifestyle for all residents, complete with:
Resort-style pool
Garage parking
State-of-the-art fitness center
Community dock on Turkey Lake
Nature trails
And more!
Authentic Real Estate Team: Your Definitive Realtor For The Best Deals In Promenade Condos

Promenade Condos is Orlando's definitive resort-style condominium, where the peace and privacy of gated lakefront living meets proximity to major points of interest.
And as Orlando's definitive condominium real estate specialists, Authentic Real Estate Team is your source for the best deals.
With the help of our partners at Authentic Real Estate Team, we can help get you through the gates of Promenade Condos for less, using our market access to jump on opportunities, and our experience and skills to fight for the price you deserve.
Talk with a friendly, professional Authentic realtor today and see how easy, affordable, and even fun, buying your Promenade Condos home can be!
The Best Orlando Real Estate Agent
List Your Home In Promenade Condos (Or Another Orlando Location)
Thinking of listing your Promenade condo for sale?
You'll have to do more than that if you want to get a great price.
Because in truth, anyone can list a home, but to selling as little time, for as much money, as possible, takes a more proactive, comprehensive approach.
And with Authentic Real Estate Team, that's exactly what you get.
As Orlando's one-stop real estate shop, Authentic provides a full suite of seller's services designed to minimize your time on the market and maximize your profits.
With an Authentic seller's agent, you'll have representation for every phase of your sale, such as:
As-needed repairs and renovations in accordance with a comprehensive market analysis (CMA)
Professional home staging
Pricing for perfection
Glamorous photo and video capturing your home's best, most salable assets
Listing your professionally photographed home on realtor.com, MLS, Authentic platforms, and more than 150 high-traffic real estate sites
A multimedia marketing campaign blending tried and true methods like lawn signage, showings, and open houses with state-of-the-art tools and techniques like social media marketing, email campaigns, and virtual tours
Negotiating with buyers or their agents
Formulating strategic counteroffers based on based on the CMA and your needs and goals
Title and escrow services
A smooth and satisfactory closing
Assistance with moving
And more!
The Best Promenade Condos Property Management Company
Want to use your Promenade condo as a long-term rental or second home?
With strong growth driving demand, and a prime location near Downtown Orlando, the Promenade condominium promises high average rates and fast appreciation.
But if you want to ensure you get the best return on your investment while maximizing the security of your home, property management is essential.
And that's where we come in.
As your all-in-one investment realtor in Orlando, Authentic Group has all your property management needs covered in Promenade Condos.
From leasing and marketing for your long-term rental, to home watch, maintenance, and repairs for your second home, count on Authentic to help you invest with success!
Meet The Best Orlando Property Management Services!
Support for Investing In Homes For Sale In Promenade Condos
Of course, before you can manage your investment to success, you have to buy it.
And in the big-ticket world of real estate investing, paying cash isn't always an option.
That's why, at Authentic Real Estate Team, we strive to help investors get the financial support they need.
Whether you want to finance your investment with our in-house lenders, or through our wide network of trusted banks and private lending houses, we're here to help you find the best loan for your needs and goals.
The Best Of Orlando Property Investment
Buy Your Second Home In Promenade Condos
Looking for a location for your second home in Orlando?
Look no further than Orlando's premier resort-style condominium, Promenade Condos!
Here, you can live a vacation lifestyle that lasts all season, with a subtropical climate, lush grounds, a lakefront setting, and a wealth of 5-star amenities such as a heated pool and fishing pier.
Moreover, you'll be just a short drive from Downtown Orlando and all of Central Florida's famous parks and attractions, including Disney World, Universal Studios, and SeaWorld.
Concerned about the security of your home while you're away for the summer season?
With a gated, guarded entry and HOA, your second home is in good hands at Promenade Condos Orlando!
The Best Of Second Home In Orlando For Sale
See The Best Of Orlando Real Estate For Sale!
Want to search outside the gates of Promenade Condos?
Whether you want to see condominiums in other locations, or you're open to other types of homes, it's almost always a good idea to step back and get the bigger picture.
And with Authentic Group Orlando, you can shop with confidence knowing that every home in our inventory was handpicked for superior quality and value.
So what are you waiting for; browse our full portfolio of Orlando real estate today!
See All Home Types For Sale In Orlando FL!
Want to save time and effort on your home search?
Whether you already sold the home you're in, or you accepted a new job in a new area, buying a new home is often a time-sensitive matter.
Therefore, we do our best to help buyers streamline their search, including by itemizing our inventory into helpful categories like home type.
Simply scroll down till you see the home type that best suites your needs, then click the link to see available listings on the Orlando market!
Orlando Vacation Homes For Sale
New Homes For Sale In Orlando
Houses For Sale In Orlando Florida With Pool
55 Plus Communities In Orlando FL
Single Family Homes For Sale In Orlando FL
Townhomes For Sale Orlando
Luxury Homes For Sale In Orlando
Orlando Lakefront Homes For Sale
Orlando Villas For Sale
Homes For Sale In Orlando With Guest House
Orlando Golf Course Real Estate
Gated Communities In Orlando FL
Pet Friendly Apartments In Orlando
Homes For Sale In Orlando FL With Boat Dock
Furnished Homes For Sale Orlando FL
Conservation View Homes For Sale In Orlando FL
Communities With Fitness Center In Orlando FL
Communities With Tennis Court In Orlando Florida
Open Houses In Orlando FL
Communities With Pool In Orlando FL
Homes In Orlando FL With 1 Acre
Two Story Homes For Sale In Orlando FL
3 Car Garage Homes For Sale In Orlando FL
Check Out The Best Study Of The Orlando Real Estate Market

Want to be sure you're making the right move?
Studying the local real estate market is essential to making a more propitious purchase.
From list-to-sell ratios to appreciation rates, to days on market, rental rates, demographic data, and more, the market statistics can help us know when, where, and what to buy.
So whether you're looking for a residential or investment home, study our monthly market update to buy better!
See All Orlando Real Estate Market Statistics
Make the Right Choice: Promenade Condos For Sale For The Best Deals!
So, if you want to live or invest in Orlando's premier condominium for resort-style living, Promenade Condos is the place for you.
And Authentic Real Estate Team is the team you need to buy better.